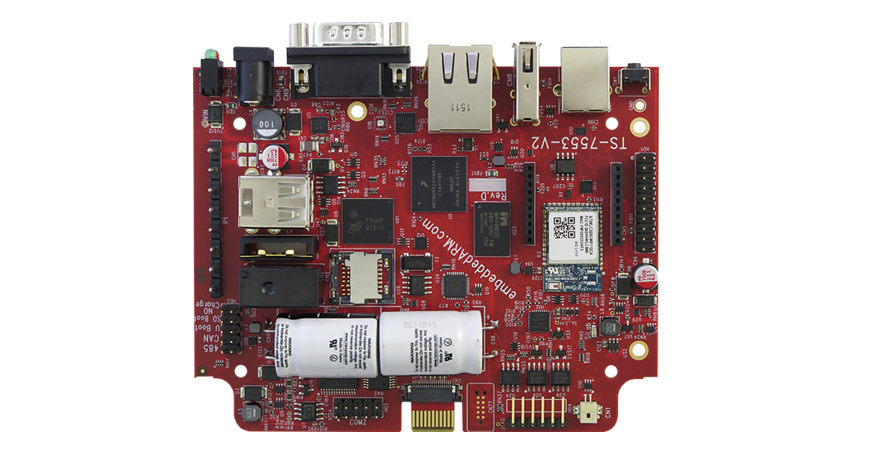 TS-7553-V2 – IoT-Ready SBC with Reliable Storage, Cell Modem, XBee, PoE
This versatile embedded single board computer hits on all the main points for a low power, cost effective, Internet-of-Things (IoT) capable, and ready-to-deploy OEM board with an emphasis on data integrity.
The TS-7553-V2 offers the ability to communicate seamlessly with several different networks simultaneously from a single device. Using the onboard peripherals the system can connect to Ethernet, WiFi, Bluetooth, USB, RS-232, RS-485, and CAN networks or devices. Built in module interfaces like the XBee/NimbeLink socket and internal USB ports allow expansion to other networks like Cellular, DigiMesh, ZigBee, Lora, and other proprietary or industry specific networks. This ability to communicate over a wide variety of wired and wireless interfaces puts the TS-7553-V2 in an excellent position to be an IoT node or gateway.
A Nine-Axis Micro-Electro-Mechanical System (MEMS) motion tracking device containing a gyroscope, accelerometer and compass is an on-board option for asset management, fleet management, and other applications which would require sensing motion or vibration in the environment.
The TS-7553-V2 is also well suited for applications which require a simple HMI interface. With an off the shelf, low cost enclosure that can include a backlit monochrome 128x64px LCD and four button keypad it is easy to create interactive menus for the user. An optional DIN mount makes it easy to mount to DIN rails for an fast off-the-shelf solution.
Applications with strict low power requirements will appreciate the work that's been done to reduce power consumption to less than 2 W in typical conditions and a 9 mW sleep mode. Power over Ethernet (PoE) is supported via a daughter card, if desired.
Highlights
Connected with Ethernet, WiFi, Bluetooth, XBee/NimbeLink, and USB radios
Robust TS-SILO Option Provides up to 30 Seconds of Hold up Power
Flexible Data Storage: FRAM, eMMC Flash, microSD
Extendable with Daughter Board Enabling Cell Modem and PoE Cards
The TS-7553-V2 single board computer features:
NXP i.MX6UL 698MHz ARM Cortex-A7 CPU
512 MB DDR3 RAM
4 GB MLC eMMC Flash, configurable as pSLC for added reliability
2x CAN Bus
1x RS-485
4x RS-232
1x TTL UART
1x Relay
1x XBee Interface (can support NimbleLink cell modem and XBee)
1x Cellular Modem
1x Wireless and Bluetooth Module
3x USB Host Ports, 1x External, 1x Internal, 1x XBee Socket
Dedicated console via USB Type B connector
1x Nine-Axis (Gyro + Accelerometer + Compass) MEMS MotionTracking Device
Software features include:
U-Boot bootloader
Linux Kernel 4.1.15
Debian Jessie distribution support
Many programming languages supported (C, C++, Python, node.js, etc.)
Source code examples available
Buildroot (specifically 2018.02)
Linux GUI development using QT, GTK, and more
Board price starting at $119. More information on TS-7553-V2 single board computer can be found on manufacturer: www.embeddedarm.com
Join 97,426 other subscribers

Archives