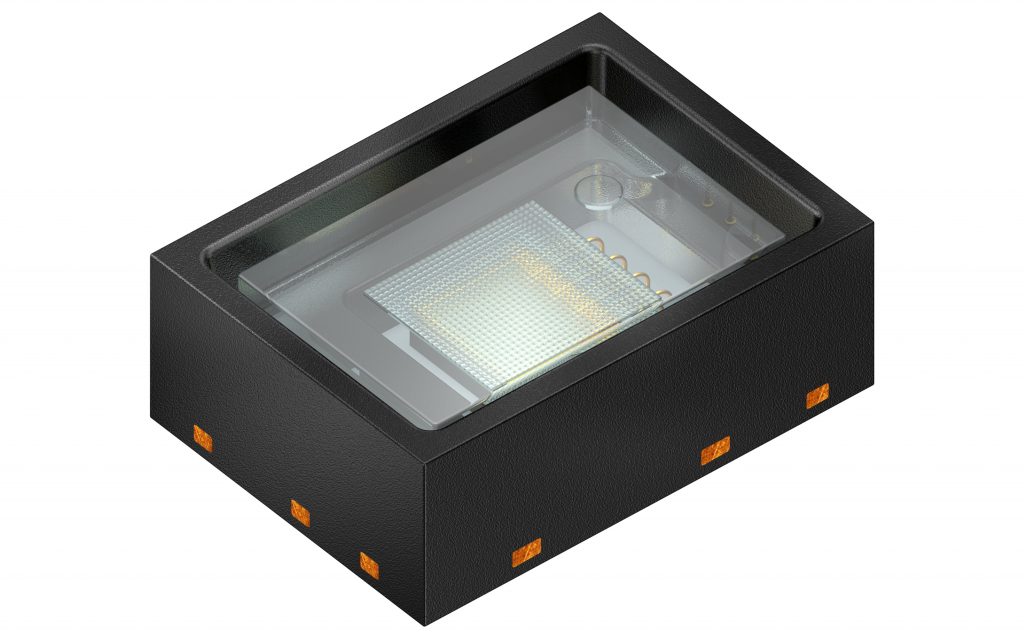 VCSELs integrate micro lens array for 3D sensing
Osram Opto Semiconductors has unveiled the PLPVCQ 850 and the PLPVCQ 940, the latest additions to its Bidos product family. Applications for the new Vertical Cavity Surface Emitting Lasers (VCSELs) include machine vision or facial recognition, as well as object or architectural scanning that involves mapping an area in 3D and positioning virtual furniture and other items. The application helps save time and money when designing spaces.  
VCSELs combine the high power density and simple packaging of an IRED with the spectral width and speed of a laser. Unlike laser diodes, VCSELs and are much less sensitive to temperature fluctuations. One of the most familiar applications for the technology is facial recognition for mobile devices. VCSELs illuminate the face with infrared light for cameras. The image captured by the camera is then compared to the image stored on the device. If they match, the device is unlocked. These 3D sensing applications now possible use PLPVCQ 850 and PLPVCQ 940 for Time of Flight (ToF) measurements.
The new VCSELs come with a compact black package measuring only 2.40 mm x 3.30 mm x 1.20 mm. Depending on the application, the customer can select the 2 W component with the appropriate wavelength – either 850 nm (PLPVCQ 850) or 940 nm (PLPVCQ 940). The infrared beam is formed with the aid of a special micro lens array to achieve exceptionally homogeneous illumination of the field of view (FOV). Another benefit of the VCSEL chip from the Osram subsidiary Vixar is the ease of installation.
We are delighted to add these highly innovative products to our VCSEL family. With these products we are setting new standards in emerging applications such as 3D sensing, and with our know-how we are looking to gain significant influence in this market
said Nina Reiser, Marketing Manager at Osram Opto Semiconductors.
The two new products will be available in the first half of 2019. For more information on VCSELs at Osram Opto Semiconductors go to: https://www.osram.com/os/products/product-promotions/vcsel/bidos-family.jsp
Subscribe to Blog via Email
Join 97,955 other subscribers
Archives