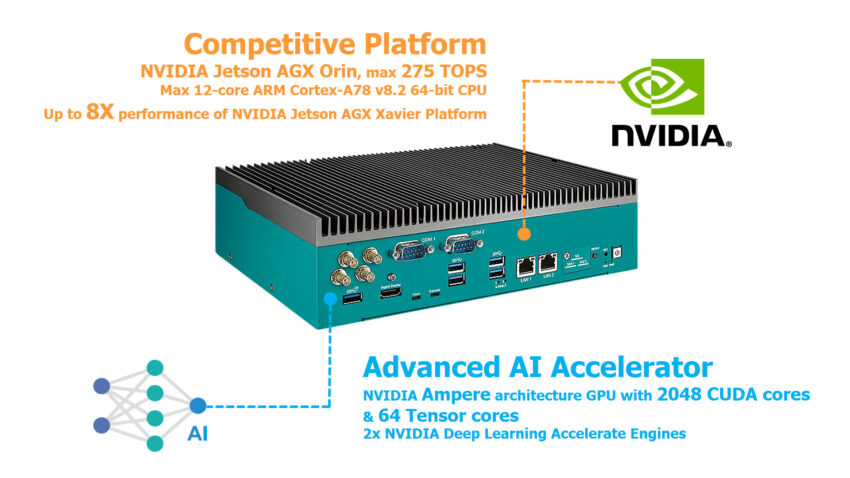 Vecow EAC-5000 Features NVIDIA Jetson AGX Orin SoM, Offering Server-Class Performance for Edge AI Applications
Vecow has launched a feature-rich edge AI computing system that guarantees power-efficient AI productivity, flexible integration, and mobile availability: the Vecow EAC-5000.
Designed to deliver faster and/or more energy-efficient performance for machine vision and automotive applications, the Vecow EAC-5000 embedded computer is powered by NVIDIA's Jetson AGX Orin system-on-module, the latest and most powerful module in the Jetson family, capable of delivering 275 TOPS of AI performance (more than 8 times the AI performance of the earlier NVIDIA Jetson AGX Xavier module). The NVIDIA Jetson AGX Orin module also boasts of an Ampere architecture GPU with state-of-the-art graphics and parallel computing techniques, a 12-core Arm Cortex-A78AE CPU running at up to 2.2 GHz, and the second generation of NVIDIA DLA (Deep Learning Accelerators) with 9x times the performance of the previous generation. With other features like a multi-standard encoder and decoder, JPEG Codec, and the second generation of a Programmable Vision Accelerator supporting common computer vision kernels, the module no doubt is on a higher level when it comes to the performance achievable by embedded system-on-module.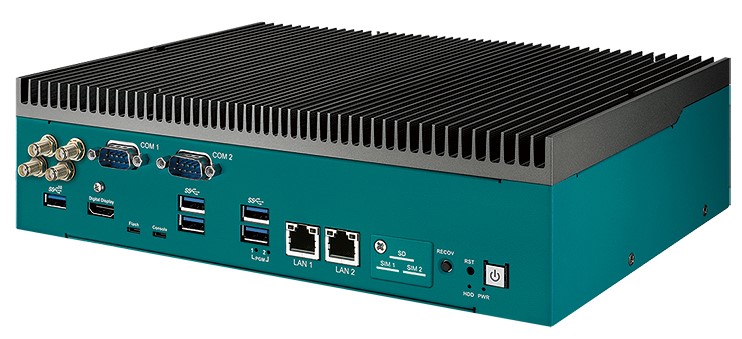 Vecow EAC-5000 is also characterized by various wireless connectivity options such as WiFi, 5G, 4G LTE, 6x antennas, support for up to 8x GMLS2 cameras, 1x PCIe x8 slot, 2 GbE LAN, 5x USB, 2x SIM card sockets, 1x software ignition control, a wide range input DC of 9V to 50V, and temperature range of -20 to 70°C. It can be wall mounted with a mounting bracket, and the company offers an optional DIN Rail mount too.
The EAC-5000 system comes in two variants, depending on the version of the module it comes with. The specifications highlighted below give in-depth details about that.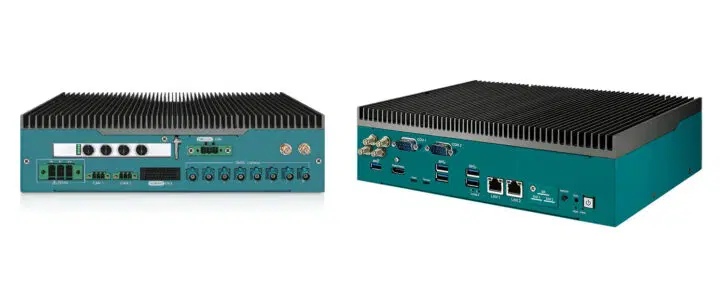 Specifications:
SoM: NVIDIA Jetson AGX Orin 32GB/64GB

CPU:

EAC-5000-R32: 64-bit 8-core Arm Cortex A78AE v8.2 processor @ 2.2 GHz with 2MB L2, 4MB L3 cache
EAC-5000-R64: 64-bit 12-core Arm Cortex-A78AE v8.2 processor @ 2.2 GHz with 3MB L2, 6MB L6 cache

GPU:

EAC-5000-R32: NVIDIA Ampere architecture with 1792 NVIDIA CUDA cores and 56 Tensor Cores @ 1GHz
EAC-5000-R64: NVIDIA Ampere architecture with 2048 NVIDIA CUDA cores and 64 Tensor cores @ 1GHz

System Memory:

EAC-5000-R32: 32GB 256-bit LPDDR5 @ 204.8 GB/s
EAC-5000-R64: 64GB 256-bit LPDDR5 @ 204.8 GB/s

DL Accelerators:

EAC-5000-R32: 2x NVIDIA v2.0 @ up to 1.4 GHz
EAC-5000-R64: 2x NVIDIA v2.0 @ up to 1.6 GHz

Vision Accelerator: Programmable Vision Accelerator (PVA) v.2.0
AI Performance:

EAC-5000-R32: 200 TOPS @ 50W / 100 TOPS
EAC-5000-R64: 275 TOPS @ 50W / 100 TOPS

Video Encode:
Video Decode:

EAC-5000-R32: 1x 8K @30; 2x 4K @60; 4x 4K @30; 9x 1080p @60; 18x 1080p @30
EAC-5000-R64: 1x 8K @30; 3x 4K @60; 7x 4K @30; 11x [email protected]; 22x 1080p @30

2x M.2 Key M 2280 socket
MicroSD card socket
1x 64GB eMMC 5.1
1x Digital Display interface up to 8K60
8x Fakra-Z connectors for GMSL2 automotive cameras
2x GbE ports
2x SIM card socket
Optional WiFi, 5G, 4G LTE connectivity through M.2 sockets
6x antennas for WiFi, 5G, 4G LTE, UMTS, GPRS
1x USB 3.1 Gen 2
4x USB 3.1
2x COM RS-232/422/485
2x isolated CAN BUS
1x PCIe Gen4 x8 slot
1x M.2 Key B socket
1x M.2 Key E socket
8x DI, 8x DO
1x Micro USB console debug port
1x Micro USB OS flash port
Power and Rest Buttons
2x User-programmable LEDs
16-mode Software Ignition control
3-pin Remote Switch terminal block
Remote power on/off and remote reset control
Power Input: DC 9V to 50V via 3-pin terminal block
Dimension: 260 mm x 182 mm x 69 mm
Weight: 3.8 kg
Temperature:

-20°C to 70°C (30W power mode)
-20°C to 55°C (Maximum power mode)
-40°C to 85°C (Storage)

Humidity: 5% to 95%, non-condensing
Operating System: Linux Ubuntu 20.04 OS with JetPack SDK
Certifications: CE, FCC, EN50155, EN50121-3-2
The rugged AI computing system is ideal for advanced edge AI applications such as robotic control, intelligent video analytics, in-vehicle computing, machine vision, mobile robots, etc.
Other useful details can be found on the product page, but no details on pricing and availability yet.
Subscribe to Blog via Email
Join 97,456 other subscribers
Archives