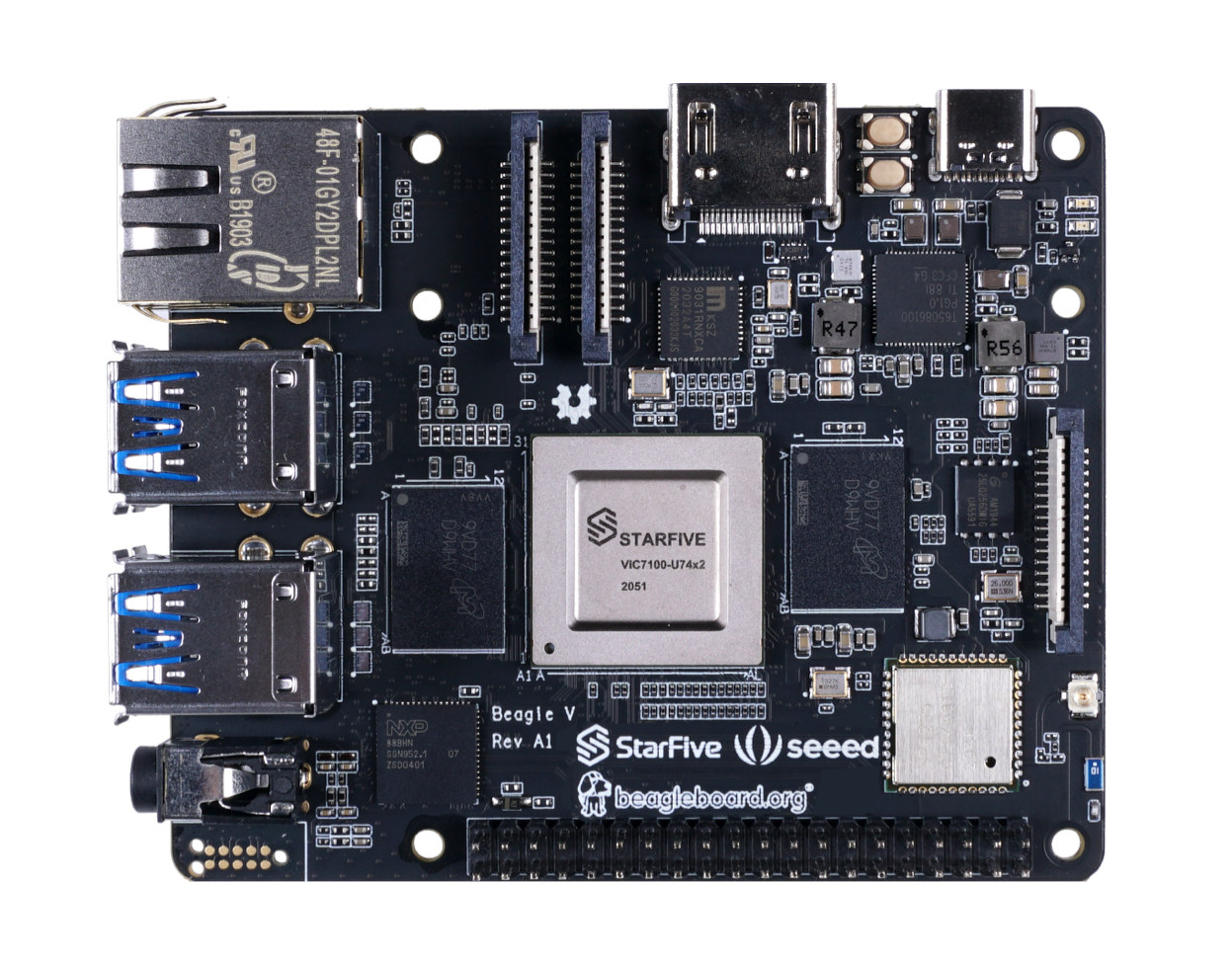 Two reliable parties, BeagleBoard.org foundation, and Seeed Studio have partnered with a leading RISC-V solutions provider, StarFive, to design the most affordable Linux-capable RISC-V SBC called BeagleV. So now, you don't have to spend several hundred dollars, or even over a thousand dollars to have a complete system that runs Linux on RISC-V hardware.
The $149 BeagleV is a perfect edge computing device with powerful AI performance. The board is equipped with RISC-V U74 dual-core with 2MB L2 cache @ 1.0GHz with 8GB of LPDDR memory, ISP/NNE, PCle 3.0, GbE, and dedicated hardware encoder/decoder supporting H.264 [email protected] The processor offers rich and powerful AI features including the Vision DSP Tensilica-VP6 for computing vision,  NVDLA engine, and the neural network engine.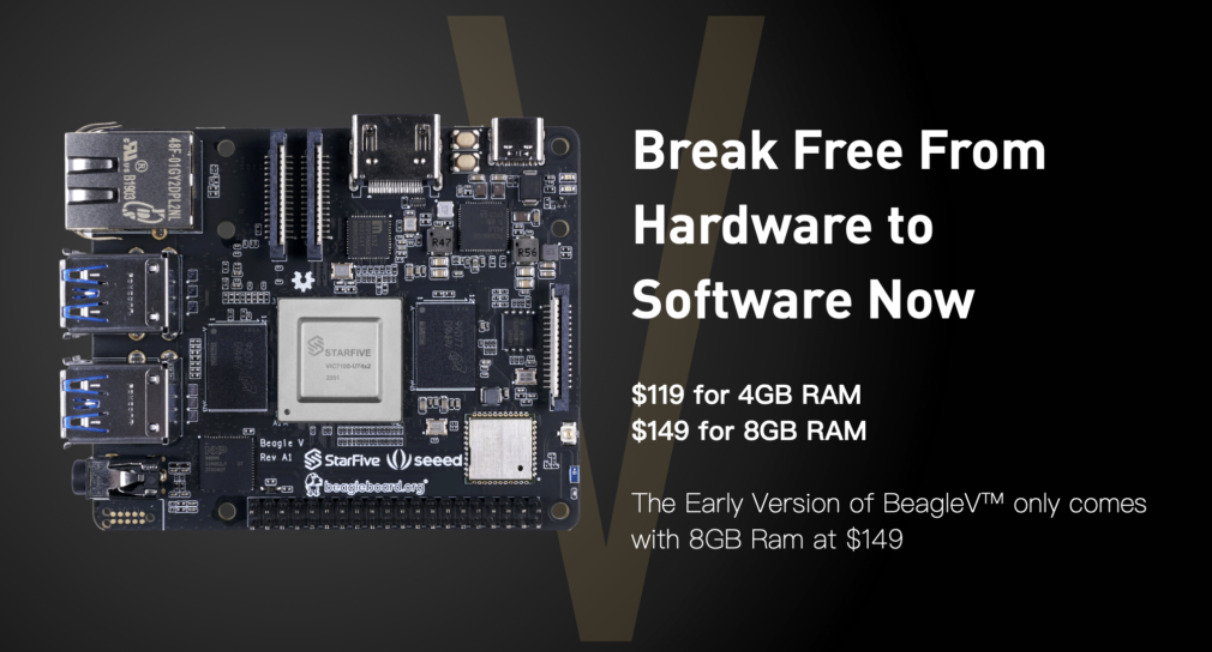 Features and Specifications:
SiFive U74 RISC-V Dual core processor running at 1.5GHz and with 2MB L2 cache
Highly integrated Vision DSP Tensilica-VP6 for computing vision
NVDLA Engine (configuration 2048 MACs running at 800MHz – 3.5 TOPS)
Neural Network Engine (1024 MACs running at 500MHz – 1 TOPS)
8GB LPDDR4 (2x 4GB LPDDR4 SDRAM)
1x MicroSD card slot (operating system and data storage)
2.4GHz 802.11b/g/n Wi-Fi 4
Bluetooth 4.2
Video Decoder/Encoder (H264/H265) up to 1 channel [email protected] or 8 channel [email protected]
Dual channels of ISP with each supporting up to [email protected]
Audio Processing DSP and sub-system
2x MIPI-CSI
1x MIPI-DSI up to 4Kp30
1x HDMI support up to [email protected]
MIPI-CSI TX support for video output after ISP and AI processing
JPEG Encoder/Decoder
4x USB 3.0 ports
1x GbE port
1x 3.5mm Audio jack
40-pin GPIO header (28 x GPIO, I2C, I2S, SPI, UART)
TRNG and OTP support
DMAC and QSPI support
1x Reset button
1x Power button, and,
[email protected] power supply with USB Type-C
Layout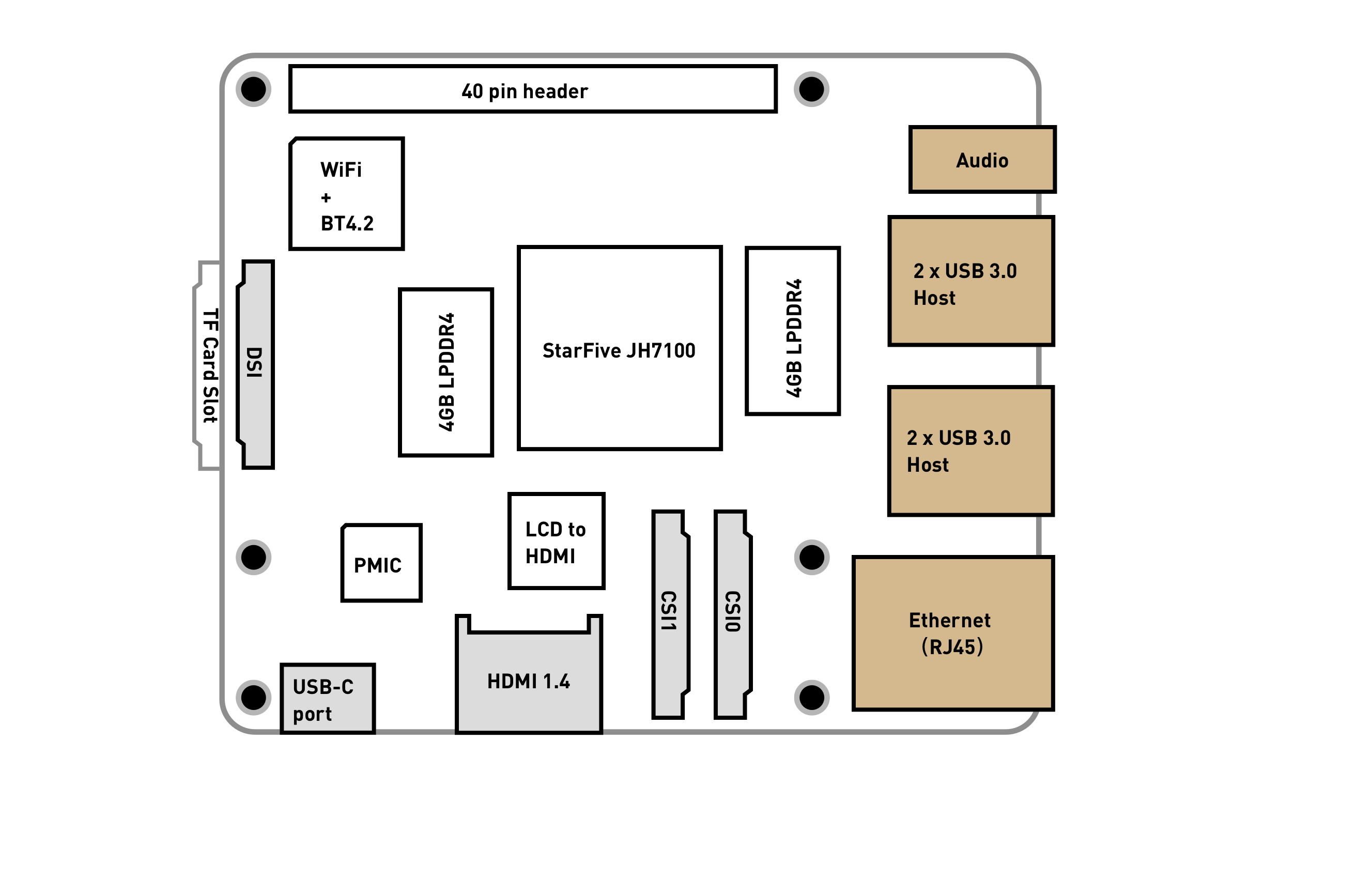 The first production batch of BeagleV due in March will be "GPU-less", while the next batch slated for September will integrate an Imagination Technology GPU core. The first version will also be coming with only the $149 8GB RAM model but subsequent production will eventually include a cost-reduced $119 4GB model.
Since the demand for the board is expected to be higher than supply, at least for the first batch, BeagleBoard.org foundation and Seeed Studio have asked those who are interested to pre-order now ahead of its May/April launch. They are to fill in an application form with details of their planned projects.
BeagleV will be open-source hardware, so we expect that design files, firmware, and the software will be made available publicly. The board will also be supported by mainline Linux, Debian-based software image, Fedora, and FreeRTOS.
Further details may be found on the official website.
Join 97,426 other subscribers

Archives