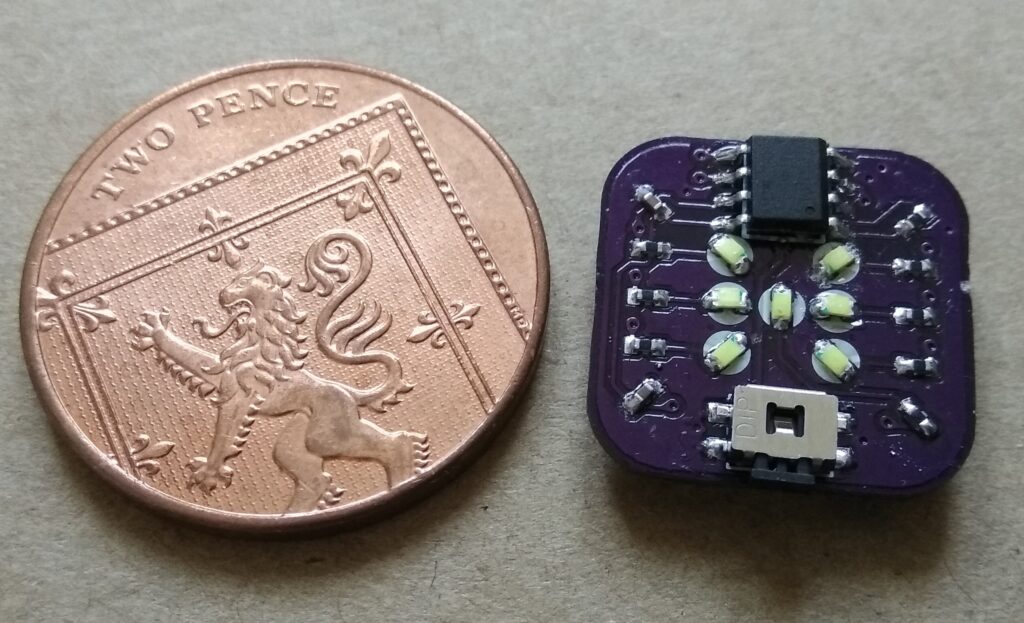 A Tiny Electronic Dice based on ATtiny25V
Zak Kemble @ zakkemble.co.uk shared another great tiny project. This time it's a tiny electronic dice based on ATtiny25V microcontroller. Sources available on GitHub. He writes:
Here's a simple, tiny electronic dice project using 7 LEDs, an ATtiny25V, a CR1616 coin cell and a few passives. Measuring just 18mm x 18mm and 4.9mm thick while weighing 2.1g.

Rolling The Dice
There's only one button, the roll button, which when held down will cause the dice to roll through numbers 1 to 6. After releasing the button the rolling will slow down until the last change where it will instead use a randomly generated number sourced from an XORShift random number generator algorithm (nabbed from here). XORShift algorithms are great for their speed and small code size while still maintaining excellent randomness. The final value flashes a few times, then after a further few seconds the dice turns off.
A Tiny Electronic Dice based on ATtiny25V – [Link]