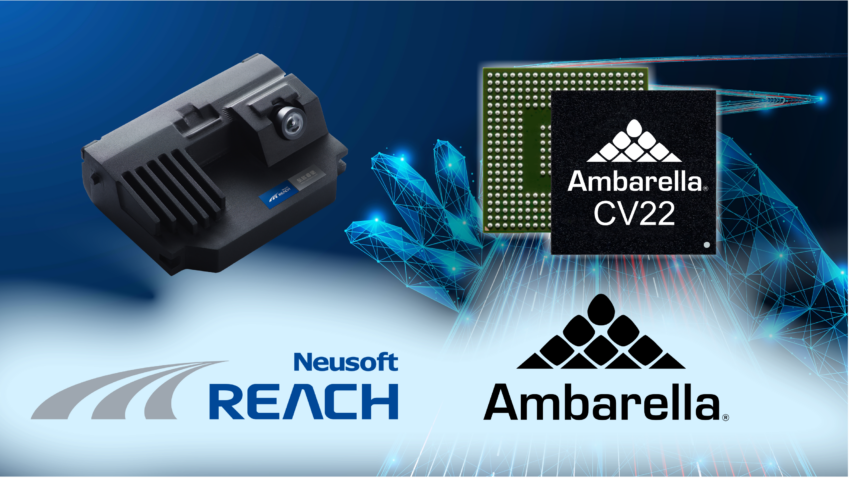 Ambarella and Neusoft Reach front ADAS smart camera in mass production

Ambarella and Neusoft have partnered to deliver smart sensing solutions for automotive manufacturers across the globe. The co-developed front advanced driver assistance system has gone into mass production in mainstream models of a Chinese car manufacturer. The solution involves Neusoft Reach's X-Cube 3.0 front-view smart camera that is equipped with Ambarella's CV22 AI vision system-on-chip (SoC).
Neusoft Reach has been able to achieve significant improvements in the performance of its AI models through the utilization of Ambarella's CVflow AI architecture, which has a unique unstructured sparsity capability. The unique unstructured-sparsity capability of Ambarella's CVflow AI architecture allows for the creation of AI models that consume less power and memory while maintaining high levels of accuracy. This has a significant impact on the development of intelligent driving systems, which rely heavily on the processing of large amounts of data in real time.
The two companies have plans to continue their collaboration in China to explore new possibilities in the field of ADAS using Ambarella's advanced system-on-chips. They focus on developing Level 2 ADAS products for passenger cars in China, aiming to provide a safe and comfortable driving experience.
"Our CVflow SoCs provide a high-performance AI processing engine for Neusoft Reach's advanced neural network algorithms. Additionally, our integrated image signal processor continues to set the industry benchmark for image quality, while our efficient SoC architecture provides the industry's best AI performance per watt," says Fermi Wang, president and CEO of Ambarella.
Ambarella designed CV22 system-on-chip to combine CVflow architecture with deep neural network processing designed for next-generation applications in wearable cameras. The hardware uses 10nm process technology to combine low-power and high-performance capabilities for computer vision use cases.
Inside the CV22 is a quad-core Arm Cortex-A53 processor core clocked up to a frequency of 1.0GHz. The system-on-chip supports ThreadX and Linux operating systems for advanced image and video processing. It is able to achieve more than 800 MPixels input rate through dual independent sensor inputs.
This cooperation between Ambarella and Neusoft Reach showcases our effective implementation of autonomous algorithms, providing innovative technology solutions for the industry while helping to create a new ecology of intelligent networked vehicles," says Liu Wei, deputy general manager of Neusoft Reach.
In our previous coverage of Ambarella, we discussed the launch of the CV5 AI vision system on chip that supported 8K video and 4K video processing along with CVflow computer vision processing in a single and low-power design architecture.
Join 97,426 other subscribers

Archives