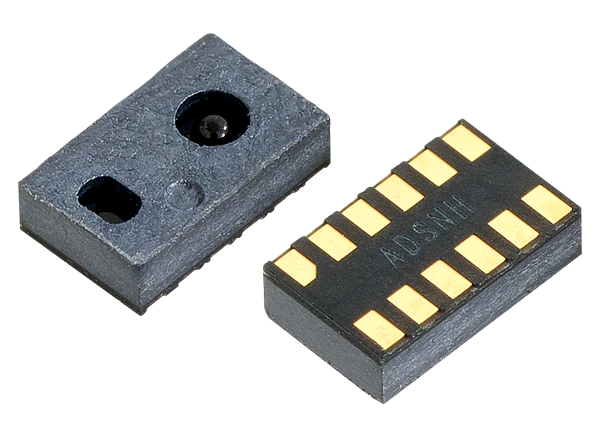 ams OSRAM TMF8805 – 1D Time-of-Flight sensor with 940nm integrated IR VCSEL
The TMF8805 is a true direct time-of-flight sensor and processing system in a highly integrated modular package. It integrates a 940nm Class 1 eye-safe VCSEL, a high-sensitivity SPAD array, precision time-to-digital converter and a low-power microcontroller sub-system.
The embedded histogram algorithm can detect cover glass and objects behind glass, selecting the object with highest SNR while compensating for dirt and smudges on cover glass. This device is ideally suited to world-facing camera LDAF applications, user presence detection, collision avoidance, object detection and other applications in the range of 2 to 250cm.
Features
20mm to 2500mm distance sensing at 30Hz
Direct ToF technology with high sensitivity SPAD detection
Delivers high SNR, wide dynamic range, and no multi-path reflections
Enables dark and sunlight environment distance measurement within ±5%
Provides best-in-class resolution ranging mode detection sensing
100k lux to 0 lux ambient light immunity
Enables accurate distance measurements
Provides high accuracy, greater distance between cover glass, dynamic cover glass calibration, dirt and smudge removal, and crosstalk compensation
Eye-safety circuitry stops VCSEL driver if VCSEL fault occurs
Optical filters with algorithm support enable high ambient light resilience
Fast Time-to-Digital Converter (TDC) architecture
Sub-nanosecond light pulse
On-chip histogram processing
940nm VCSEL Class 1 Eye Safety
High-performance on-chip sunlight rejection filter and algorithm
2.7V to 3.3V supply voltage
1.8V I2C interface
-30°C to +70°C operating temperature range
8-pin 2.2mm x 3.6mm x 1.0mm OLGA package
Additional features
20 – 2500mm distance sensing @ 30Hz
940nm VCSEL Class 1 Eye Safety
High-performance on-chip sunlight rejection filter and algorithm
Industry's smallest modular OLGA 2.2 x 3.6 x 1.0 mm package
Block Diagram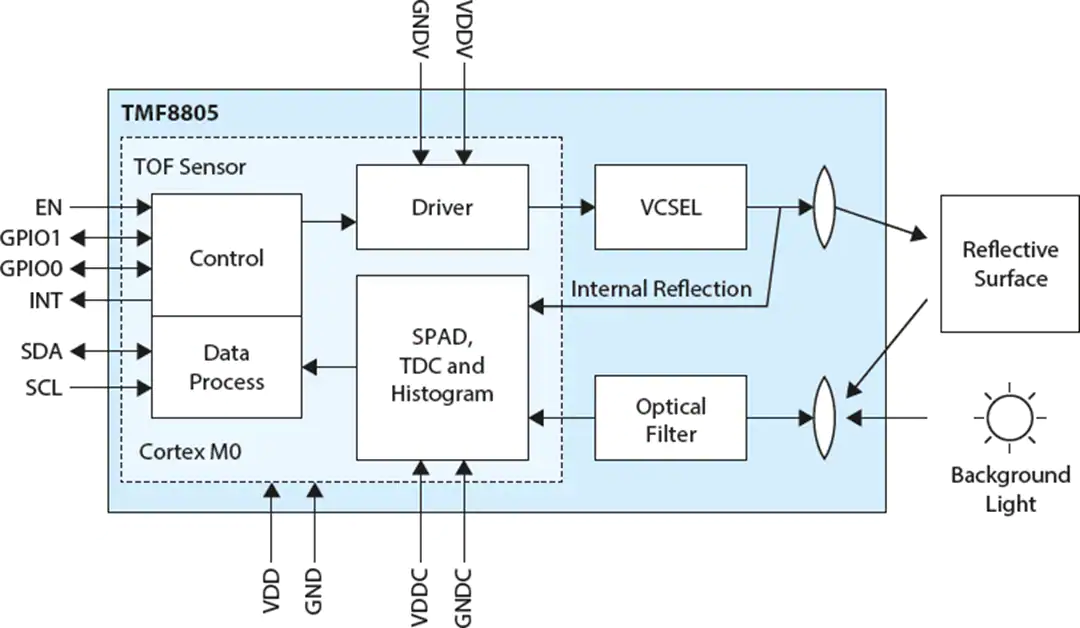 more information: https://ams.com/en/tmf8805
Join 97,426 other subscribers

Archives