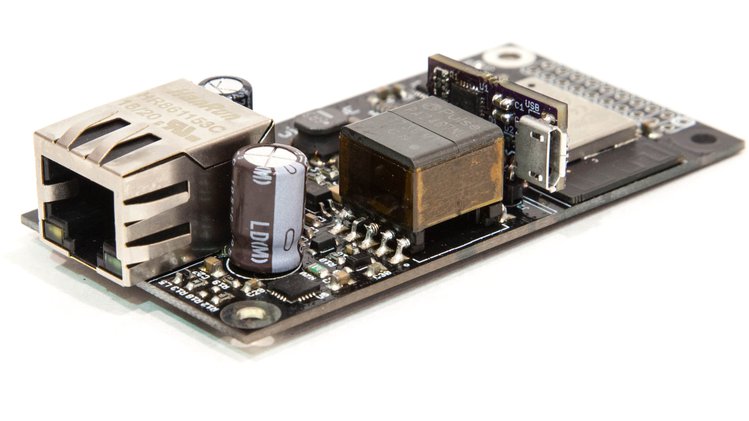 An ESP32 core board with wired Ethernet connectivity and PoE
The wESP32 is an ESP32 core board with wired Ethernet connectivity and Power over Ethernet that was designed to help Makers quickly create zero-setup single-wire-install connected devices. By combining a powerful microcontroller with excellent community support, 13 W of power, and reliable connectivity in a compact footprint, the wESP32 gives you a head start in your next IoT design and allows you to focus on your application.
Espressif Systems ESP32-WROOM-32 module with all the features, performance and community support that it brings to the table
Optional wESP32-Prog module for programming and/or serial console can be plugged in as needed or soldered in permanently
IEEE 802.3at Type 1 Class 0 compliant PoE with 12.95+ W of power available at the default 12 V output setting for V+
Optional 5 V output setting for V+ configurable by solder jumper with 5 W of power available
3.3 V output with up to 6 W output power available (power taken from V+)
Applying external power to V+ is supported, in case PoE is not available
Applying power through the wESP32-Prog USB port is supported (only provides 5 V on V+)
High performance RJ-45 jack with optimized data path provides excellent data throughput allowing iperf UDP scores up to 90 Mbit/s
Compatible with PoE Mode A (power over data pairs) and PoE Mode B (power over spare pairs) and Auto-MDIX allowing the use of straight and cross-over Ethernet cables
Designed with full data and power path isolation to comply with the IEEE 802.3at 1500 Vrms isolation requirement
High quality PCB with 2 oz copper and mounting hole designed to sink heat away from the PoE PD controller for optimal thermal performance
20-pin header footprint with 3.3 V, V+ power and 15 of the ESP32 GPIOs available for your application
The project is comming on CrowdSupply soon. UPDATE 9/10/2018: The project is live on Crowdsupply.
Join 97,426 other subscribers

Archives