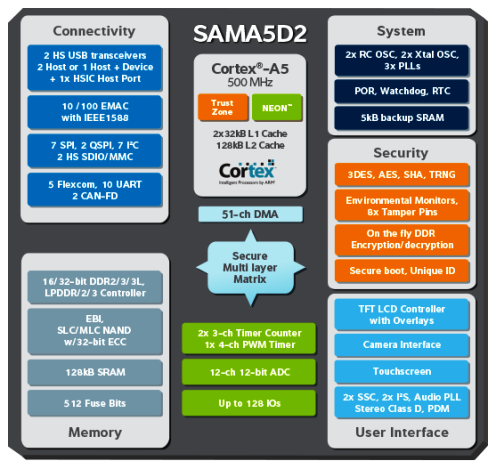 Atmel's latest processor uses less juice
by Martin Cooke @ elektormagazine.com:
Atmel has announced a new series of Atmel | SMART ARM® Cortex®-A5-based microprocessors (MPUs). Firmly targeted at IoT applications they are said to deliver the world's lowest power consumption for all MPUs in their class. They deliver sub 200 µA in retention mode with context preserved, 30 µs ultra-fast wake-up and a new backup mode with DDR in self-refresh at only 50 µA. Among the built-in features of the Atmel | SMART SAMA5D2 series includes a complete audio subsystem, lower pin-count and ultra-small package. The integrated PCI-level security capabilities will find applications in IoT devices, wearables and point of sale (POS) equipment.
Atmel's latest processor uses less juice – [Link]