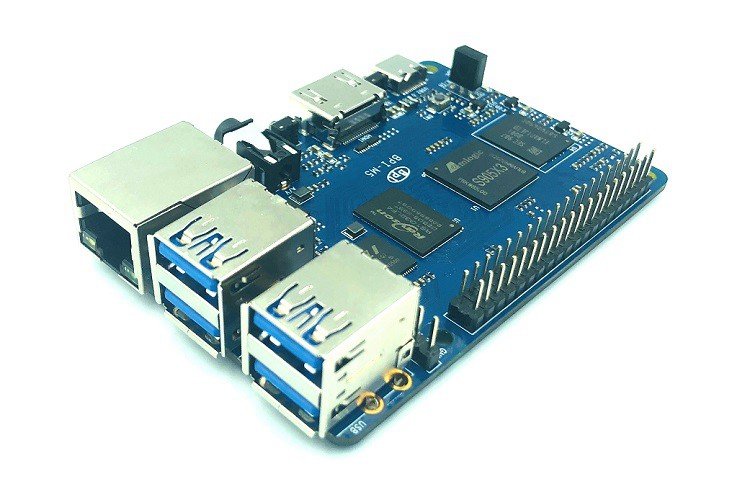 Banana Pi BPI-M5: A New Player in Multimedia Boards
A common trend with the Pi-branded boards, is that they are starting to stir away from the given name and getting their own territory. We have seen that recently with the Orange Pi series, and the new Banana Pi BPI-M5 is another good example of it. But what SinoVoip Co. has in store for us this time?
The Banana Pi BMI-M5 is released after an 18-month stint of its predecessor, the Banana Pi BPI-M4, which was very well received by the maker community, and we think the BPI-M5 will not be an exception in this regard. Regarding its capabilities, we can classify it as somewhere among the lines of the Raspberry Pi 4 and the Odroid C4, with the latter actually using the same Amlogic S905X3 processor. From the outside, you can see the interesting I/O packed into this board, with USB 3.0, ethernet, HDMI, audio jack, and power via USB Type-C, so we are very well served in that regard.

But what about specifications, is there anything to put it above its competitors, or the opposite? Let us take a look at them:
Amlogic S905X3 Quad-Core Cortex-A55 ARMv8.2-A 64-bit processor, clocked at 1.5 GHz
ARM Mali-G31 MP2 GPU
Memories: 4 GB LPDDR4 RAM + 16 GB eMMC on-board Flash and Micro SD card slot
Connectivity: Gigabit Ethernet (10 / 100 / 1000 Mbps), and optional USB Wi-Fi dongle
Video: HDMI 2.1 output (up to [email protected] with HDR, CEC, EDID)
Audio: 3.5 mm audio jack and HDMI digital output
Peripherals: 4x USB 3.0 ports, IR, switches (reset, power and U-boot) and LEDs (power and activity status)
GPIO: 40-pin header with 28 GPIO pins (with access to UART, I2C, SPI and PWM) and power (3.3 V, 5 V and GND)
Power: 5 V @ 3 A via USB Type-C
Dimensions of 92 x 60 mm and weight of 48 grams
OS: Android and Linux

As you can see by its specs, it goes about toe-to-toe in every lane with the Odroid C4, but it provides some nice advantages, with the on-board 16 GB Flash memory and the flexible power scheme provided by USB Type-C being the most noticeable ones. You also have access to the wide range of add-ons designed specifically for the Banana Pi series of boards, from which you can find sensors, touch panels, a remote control and other interesting modules. Lastly, it looks like there is already a wide set of documents that can be a nice starting point, if you decide to pick up the Banana Pi BPI-M5. It can serve you well on a wide variety of projects, such as a media center, for example, and you can also take advantage of Android, but you are not limited there. There is a lot you can do with it. Regading the price, you can get it on AliExpress for around $53.
Banana Pi BPI-M5 AliExpress link: https://www.aliexpress.com/item/1005001871842695.html?spm=2114.12010611.8148356.2.12b130d9qB91Mt
Join 97,426 other subscribers

Archives