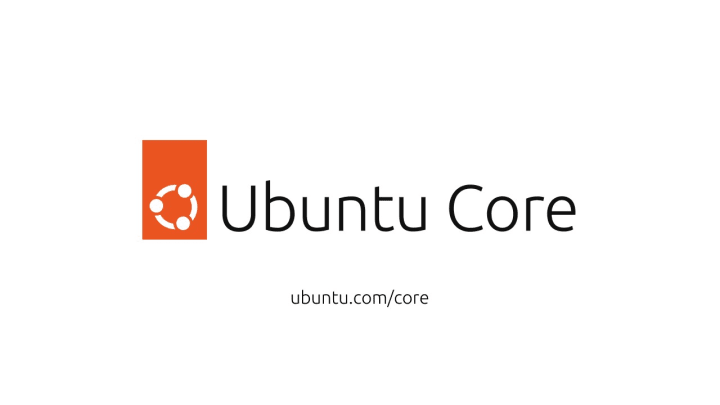 Canonical's Ubuntu Core 22 for IoT Devices Is Now Available for Download
Canonical, a privately held company and partner with leading silicon and hardware companies like Advantech and Lenovo, has announced a new version of an operating system for nearly all public cloud workloads and emerging categories of smart gateways, self-driving cars, and advanced robots.
The robust and fully containerized Ubuntu Core 22 from Canonical, optimized for IoT and embedded devices, is now available for download.
"Our goal at Canonical is to provide secure, reliable open-source everywhere – from the development environment to the cloud, down to the edge and to devices," said Mark Shuttleworth, CEO of Canonical. "With this release, and Ubuntu's real-time kernel, we are ready to expand the benefits of Ubuntu Core across the entire embedded world," Mark added
The Ubuntu Core 22 introduces support for real-time computing in robotics and industrial applications. It is aimed at helping manufacturers deal with the challenges of deploying devices on time and within budget.
The company also provides enterprise security support and services to commercial users of the operating system. Customers benefiting from their 10 years of experience with security maintenance of kernel, OS, and application-level code are already feeling satisfied with it. Brad Kehler, COO at KMC Controls had this to say. "KMC Controls' range of IoT devices are purpose-built for mission-critical industrial environments. Security is paramount for our customers. We chose Ubuntu Core for its built-in advanced security features and robust over-the-air update framework. Ubuntu Core comes with 10 years of security update commitment which allows us to keep devices secure in the field for their long life.  With a proven application enablement framework, our development teams can focus on creating applications that solve business problems."
The Core 22 can be best described as one that is extremely secure, resilient, and low-touch. Advanced security features include secure boot, full disk encryption, secure recovery, and strict confinement of the OS.
The Ubuntu Core 22 also has:
Validation sets to permit a set of snap revisions to be installed and updated together
Ability to migrate devices from Ubuntu Core 20 to Ubuntu Core 22
Quota groups to set CPU and memory resource limits per grouped snap services
MicroK8s support for an easily deployed, streamlined, embedded Kubernetes experience
Initial MAAS & cloud-init support
Factory reset option to autonomously restore a device to its initial state
Additional information on the Ubuntu Core 22 can be found on the company's website. Hopefully, we will start seeing a series of blog posts that drives deep into the features of the OS.
Join 97,426 other subscribers

Archives