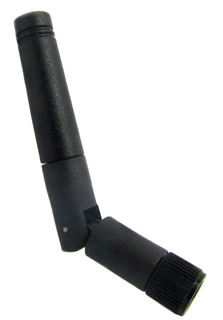 Even a small figurine can play a big performance
New aerial from 2J will surely not surprise you by its size, however features of the antenna are worth noticing.
2JW035 antenna measures only 52,5mm and is intended for WiFi and Bluetooth devices in 2.4 a 5GHz bands. The gain is 5dBi and the VSWR value is below 2.6:1. A big advantage of this antenna is a possibility of its versatile placing, as it contains a hinge.
So as to suit various customers´ requirements, the producer offers a possibility to order this antenna with three various connectors:
2JW035-C20Nb is equipped with hexagonal black SMA connector
2JW035-C675 is equipped with a round SMA connector
2JW035-C442, which is also our standard stock type is equipped with a round black reverse-polarity SMA connector (RP).
For special applications, there´s also a possibility to order this antenna in a custom specified colour.
Detailed information can be found in the 2JW035 datasheet.

Even a small figurine can play a big performance – [Link]