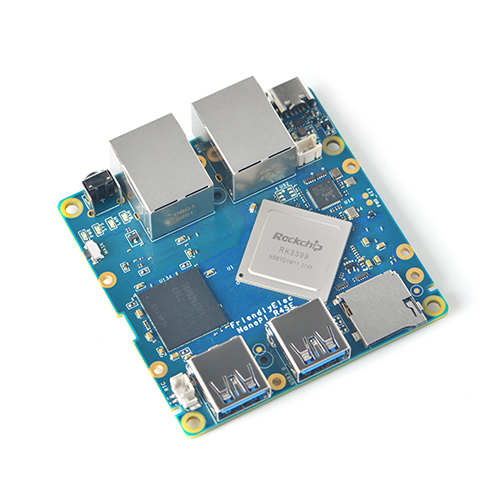 FriendlyElec launched a Rockchip RK3399 powered single-board computer for NAS applications
In a follow-up to the earlier NanoPi R4S, FriendlyElec has announced the release of the NanoPi R4SE, an open-source platform with dual-Gbps Ethernet ports designed for IoT applications.
The new NanoPi R4SE is powered by a Rockchip RK3399 hexa-core processor with a clock speed up to 1.5GHz. A microSD card can be used to install the 16-bit eMMC flash module, which has 32GB of storage. The majority of the features in this model are the same as in the previous NanoPi R4S, including dual GbE (RJ45) network ports, one of which is served by the SoC and the other by the PCIe controller.
However, the GPIO and USB 2.0 connectors have been removed, and the router is now only available with 4GB LPDDR4 and no alternative for only 1GB RAM. Since archiving high throughputs is typically a barrier for router boards, the new onboard flash provides better read/write speeds than the previous model. Additionally, there are two USB 3.0 Type-A ports and a USB Type-C power connector (5V/3A).
Specifications of NanoPi R4SE single-board computer:
SoC: Rockchip RK3399

CPU: Hexa-core processor with dual-Core Cortex-A72 up to 2.0 GHz, quad-core Cortex-A53 up to 1.5GHz
GPU: Mali-T864 GPU with OpenGL ES1.1/2.0/3.0/3.1, OpenCL, DX11, and AFBC support, 4K VP9 and 4K 10-bit H265/H264 60fps video decoder

System Memory: 4GB LPDDR4
Storage: 32GB eMMC flash, MicroSD card slot
Networking: 2x GbE, including one native Gigabit Ethernet and one PCIe Gigabit Ethernet
USB: 2x USB 3.0 Type-A ports
Debugging: 3-pin debug UART header (1,500,000 bps by default)
Misc: 1x power LED, and 3x user LEDs (SYS, LAN, WAN), user button, 2-pin RTC battery connector, 5V fan connector, one MASK button for eMMC update
Power Supply:

5V/3A via USB-C connector
RK808-D PMIC and independent DC/DC enabling DVFS, software power-down, RTC wake-up, system sleep mode

Dimensions: 66 x 66 mm (8-layer PCB); enclosure: 72 x 72 x 29 mm
Temperature Range: -0°C to 80°C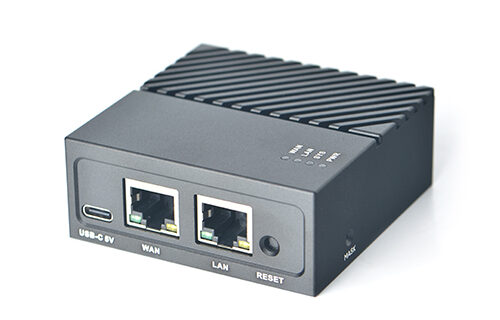 The hardware can be used as a portable compact PC to run Android or a lite version of Ubuntu Linux. A compact metal box with the dimensions of 72x72x29 mm can also be used to house the board. If you are thinking about purchasing this metal enclosure, it is very well-designed and is highly recommended, primarily if used in harsh industrial workplaces.
It supports the FriendlyWrt OS, a customized version of the well-known OpenWrt Linux distribution. Most users would find it highly interesting to use it as a personal firewall device because of a pair of 1GbE ports. It is an excellent platform for developing IoT applications, NAS applications, Samba file sharing servers, printer servers, etc.
More details on the technical specifications of the NanoPi R4SE can be availed from the FriendlyELEC's Wiki page.
Join 97,426 other subscribers

Archives