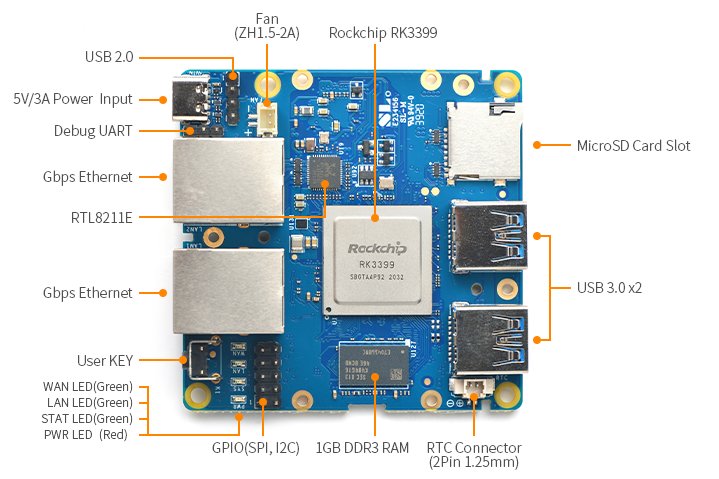 NanoPi R4S Headless SBC Supports Up To 4GB RAM and Features Dual Gigabit Ethernet and USB 3.0 Ports
FriendlyELEC is currently working on new RK3399 SoC based single board computer called NanoPi R4S. The company has not officially announced the board yet but it's existence was discovered by CNX software who came across a "hidden page" where the board was extensively talked about.
Unlike other headless SBCs that we have come across over the years like the Orange Pi Zero Plus or NanoPi R2S which are usually based on 32-bit Cortex-A7 or low power 64-bit Cortex-A53 processors coupled with up to 512MB to 2GB, the new NanoPi R4S headless SBC is powered by a Rockchip RK3399 hexa-core Cortex-A72/A53 processor and has up to 4GB RAM system memory. The NanoPi R4S also comes with two USB 3.0 ports and a dual Gigabit Ethernet, meaning you can connect it to your home or work network and use it as a headless computer.
Some of the key features and specifications of the NanoPi R4S headless SBC include: 
Rockchip RK3399 hexa-core processor; dual-Core Cortex-A72 (up to 2.0GHz) and quad-core Cortex-A53 (up to 1.5GHz)
Mali-T864 GPU with OpenGL ES1.1/2.0/3.0/3.1, OpenCL, DX11, and AFBC support
4K VP9 and 4K 10-bit H265/H264 60fps video decoder
1GB DDR3 or 4GB LPDDR4
1x MicroSD card slot
Dual GbE; one native Gigabit Ethernet and one PCIe Gigabit Ethernet
2x USB 3.0 Type-A ports, USB 2.0 via 4-pin header
2x 5-pin header with 1x SPI, 1x I2C
1x 3-pin debug UART header
1x power LED, and 3x user LEDs (SYS, LAN, WAN)
1x User button
2-pin 1.25mm RTC battery connector
1x 5V fan connector
5V/3A power supply via pin header or USB-C connector
RK808-D PMIC along with independent DC/DC, enabling DVFS, software power-down, RTC wake-up, system sleep mode
Dimension: 66 mm x 66 mm
Operating Temperature Range: -20°C to 70°C
Note that the NanoPi R4S headless SBC cannot be plugged it into a TV or monitor as a media center or desktop computer because it doesn't have a video out port.
There's no information about the operating system, but judging from the trend with past RK3399 products, the company should offer both Ubuntu and OpenWrt images. We also don't know what the price of the NanoPi R4S headless SBC would be yet, but we can tell it wouldn't cost much, judging too from the prices of the NanoPi M4 SBC that cost around $30-$35 for 1GB RAM model and $60-$65 for 4GB RAM model.
The company is yet to upload details of the SBC on their wiki page, but you can find more about the board including schematics and CAD files for both the 1GB and 4GB RAM, here.
Join 97,426 other subscribers

Archives