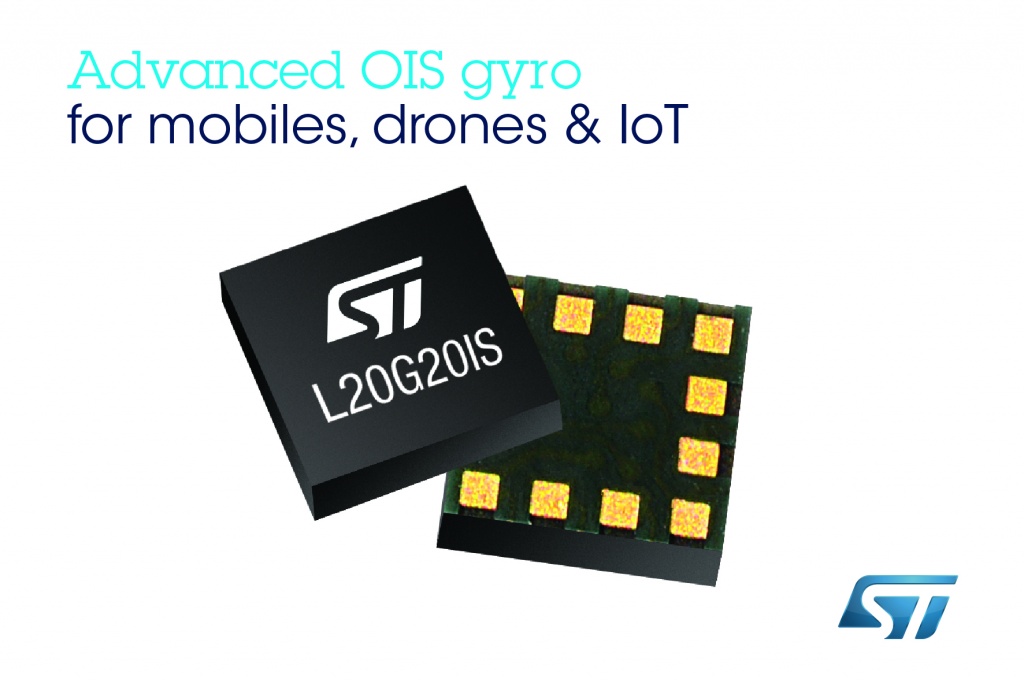 L20G20IS Gyroscope: The secret behind the perfect picture
STMelectronics introduces a super tiny two-axis gyroscope (L20G20IS), a Micro-Electro-Mechanical system (MEMS) designed for the optical image stabilization for Smartphones with less energy consumption compared to its predecessor (L2G2IS).
A gyroscope, or gyro for short, adds an additional dimension to the information supplied from the accelerometer by tracking rotation or twist. An accelerometer measures linear acceleration of movement, while a gyro on the other hand measures the angular rotational velocity.
The gyro and the accelerometer work together to detect the rotation of phone and other features like tilting of phone while playing racing games, enhancing the overall gaming experience or in this case, achieving optical image stabilization.
The L20G20IS ultra-compact square gyro uses 25% less surface to shrink camera module size, simplify circuit design and allowing development of thinner devices. The gyro fixes the thin substrates deformations resulted by smartphone moves to ensure consistent measurements for image stabilization.
Features:
±100 dps / ±200 dps full-scale range
5 degree phase delay · 3.8 mdps/√(Hz) rate noise density
Wide supply voltage range: 1.7 V to 3.6 V
Low-voltage compatible IOs
3- and 4-wire SPI digital interface
Embedded temperature sensor
Embedded self-test
Integrated low-pass filters with user-selectable bandwidth
Power-down and sleep modes for smart power saving
ECOPACK®, RoHS and "Green" compliant
Volume (2.0 x 2.0 x 0.7)mm
Zero-rate Level: 0.03dps/°C (range: -20°C to 75°C)
Also L20G20IS includes a sensing element and an IC interface capable of providing the measured angular rate to the application through an SPI digital interface. It is compatible with single- or dual-camera modules and is available now in the 12-lead 2mm x 2mm LGA package.
Zero-rate level: This value indicates "the deviation of an actual output signal from the ideal output signal if no acceleration is present", or more clearly the output value that will be generated when there is no movement on the device. This is very important for the phone, it needs to know when it is not moving to be able to stabilize the images with the appropriate values.
Results
Smaller but more efficient gyroscope! The L20G20IS boots 30% faster (in less than 70ms) consuming just 1.4mA (50% less of current than usually). Although, the temperature can affect the sensitivity and the zero-rate level of the gyro, producing wrong measurements for image stabilization by the phone. However, the L20G20IS device has a integrated temperature sensor to guarantee sharper images to the users even with long exposure times.
The smart-camera software saves even more battery with the power-down and sleep modes. Another improve is the  suppression ratio of 6dB, it gives outstanding optical correction to banish camera shake from smartphone photography.
Source:  Micro-Electro-Mechanical Systems (MEMS). ST is a world leader in MEMS devices for mobile applications, with more than 900 MEMS-related patents and patent applications worldwide.
Subscribe to Blog via Email
Join 97,456 other subscribers
Archives