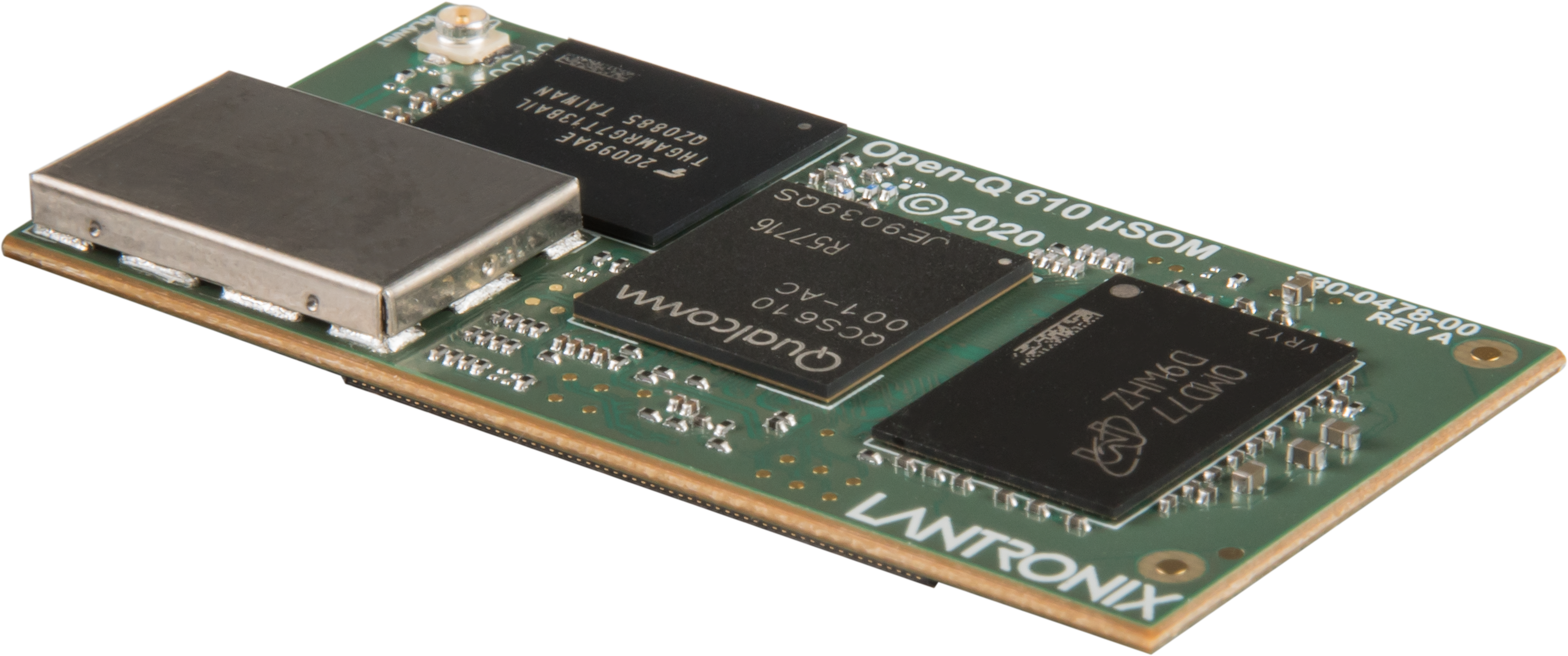 Lantronix Launches Open-Q™ 610 μSOM and Open-Q 610 Development Kit
Lantronix had announced its new Lantronix Open-Q™ 610 μSOM based on the powerful Qualcomm® QCS610 System on Chip (SOC). This micro System on Module (µSOM) is designed for connected visual intelligence applications with high-resolution camera capabilities, on-device artificial intelligence (AI) processing and native Ethernet interface. They also released a Qualcomm camera-focused development kit that run linux and an AI enabled octa-core Qcs610 Soc with triple 4-lane MIPI-CSI interfaces priced At $995 with shipments due in November. About the Open-Q 610 μSOM Paul Pickle, CEO of Lantronix says:
"Our long and successful relationship with Qualcomm Technologies enables us to deliver powerful micro SOM solutions that can accelerate IoT design and implementation, empowering innovators to create IoT applications that go beyond hardware and enable their wildest dreams"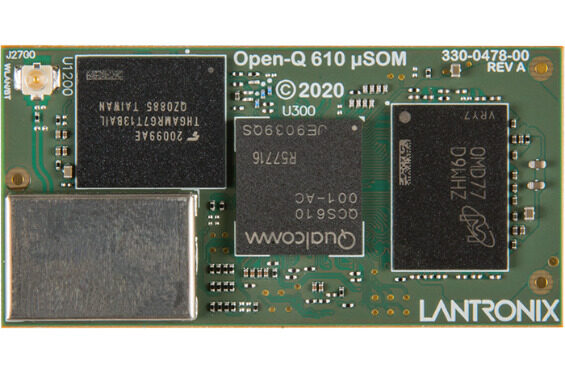 Lantronix's Open-Q™ 610 μSOM is an ultra-compact (50mm x 25mm) production-ready SOM based on the powerful QCS610 SoC, with built-in Neural Processing Engine for on-device edge AI capabilities. Aimed at connected visual intelligence applications, with advanced built-in image sensor processing such as staggered HDR, lens de-warp, dual camera stitching, and image de-fog, the 610 μSOM is the ideal platform for your next smart camera product. Available with a full-featured development kit for ease of evaluation and POC development, the platform is supported by a Yocto Linux SDK with Qualcomm optimizations, GStreamer audio/video framework, and AI support for TensorFlow Lite and Qualcomm SNPE.
The Open-Q 610 µSOM provides the core computing capabilities for:
Image processing
Artificial intelligence
Advanced audio processing
Low power sensor processing
The new Lantronix Open-Q 610 μSOM is based on the powerful Qualcomm QCS610 SOC, the latest in the Qualcomm® Vision Intelligence Platform lineup targeting smart cameras with edge computing. Delivering up to 50 percent improved AI performance than the previous generation as well as image signal processing and sensor processing capabilities, it is designed to bring smart camera technology, including powerful artificial intelligence and machine learning features formerly only available to high-end devices, into mid-tier camera segments, including smart cities, commercial and enterprise, homes and vehicles.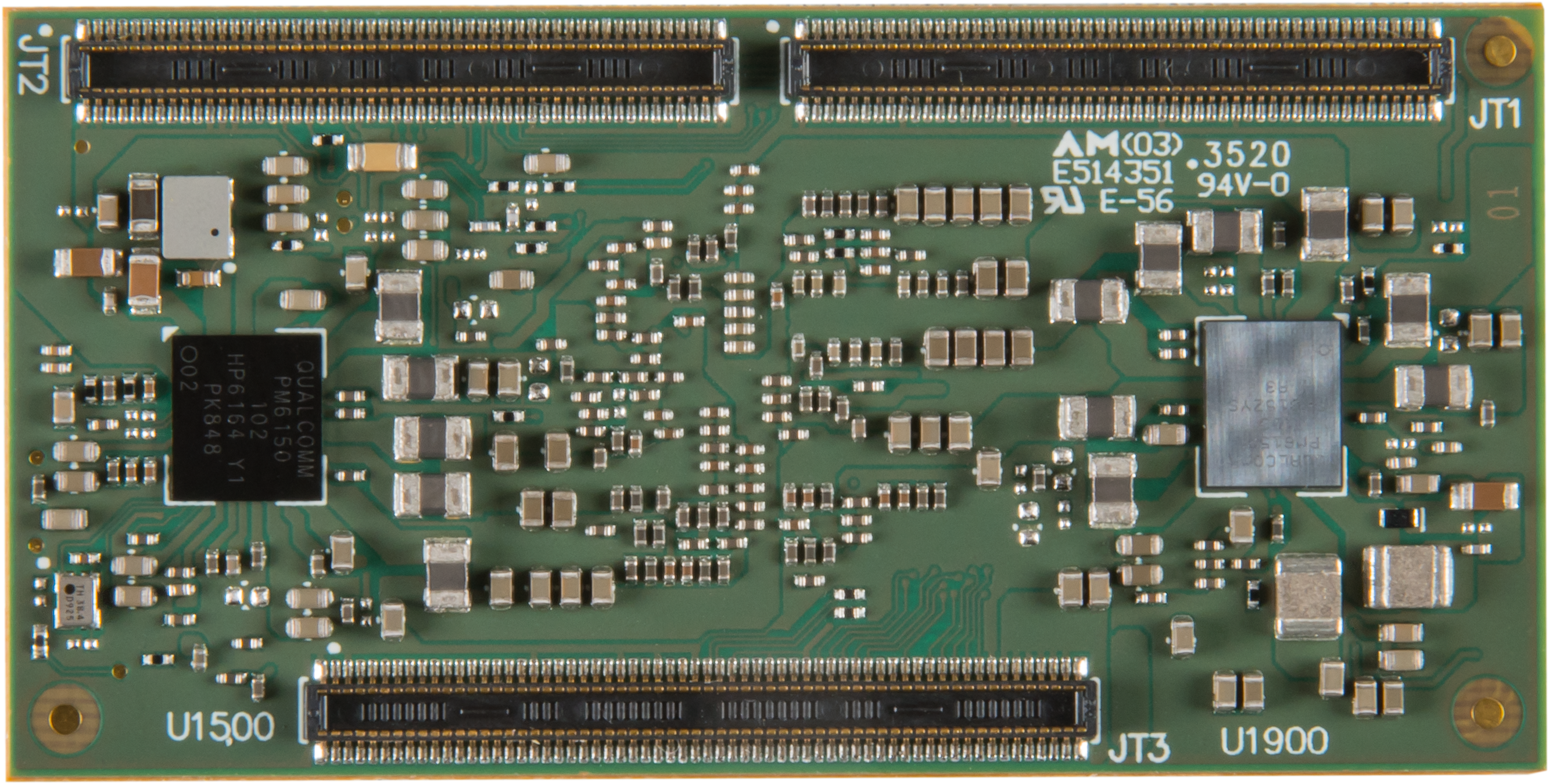 The Open-Q 610 μSOM follows other 50 x 25mm Intrinsyc μSOM modules such as Snapdragon 845 based Open-Q 845 uSOM. The Open-Q 610 μSOM ships with 2GB LPDDR4x and 16GB eMMC. The module integrates a native GbE controller and a Qualcomm WCN3980 module with dual-band 802.11a/b/g/n/ac and Bluetooth 5.x. Media interfaces include 3x 4-lane MIPI-CSI, 4-lane MIPI-DSI, DP 1.4 with Type-C support, and SLIMBus, SoundWire, and MI2S audio. Other I/O includes USB 3.1 and 2.0 plus SD, UART, I2C, SPI, and GPIOs. The 3.7V module is equipped with a PMIC.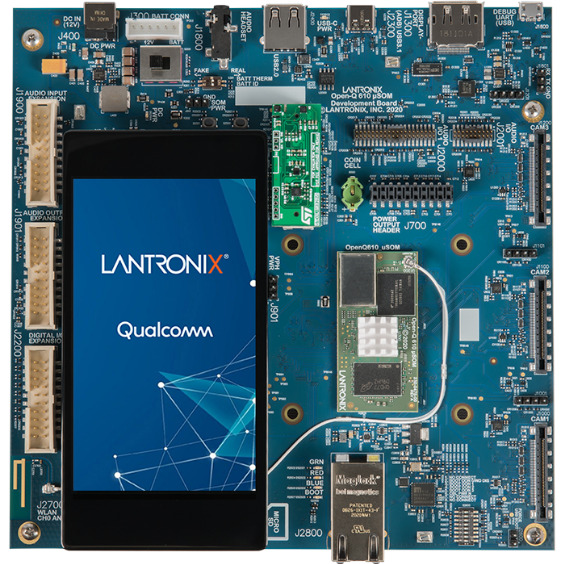 The companion Open-Q 610 Development Kit is a full-featured platform with available software tools, documentation, and optional accessories. It delivers everything required to immediately begin evaluation and initial product development. The development kit integrates the production-ready Open‐Q 610 µSOM with a carrier board, providing numerous expansion and connectivity options to support the development and testing of peripherals and applications. The development kit, along with the available documentation, also provides a proven reference design for custom carrier boards, providing a low-risk fast track to market for new products. The Open-Q 610 μSOM Development Kit is equipped with a single GbE, USB 3.1 Type-C, USB 2.0 host, and micro-USB serial debug ports. Available also is a dedicated DP 1.4 port that can be deactivated when running the Linux SDK.
There is no price available for the open-Q 610 μSOM. However, the Open-Q 610 μSOM Development Kit is available for pre-order at $995, with shipments due in November. More information about specification and documentation can be found on the Lantronix announcement, Open-Q 610 μSOM and Open-Q 610 μSOM Development Kit product pages, with the latter showing a shopping link.
Join 97,426 other subscribers

Archives