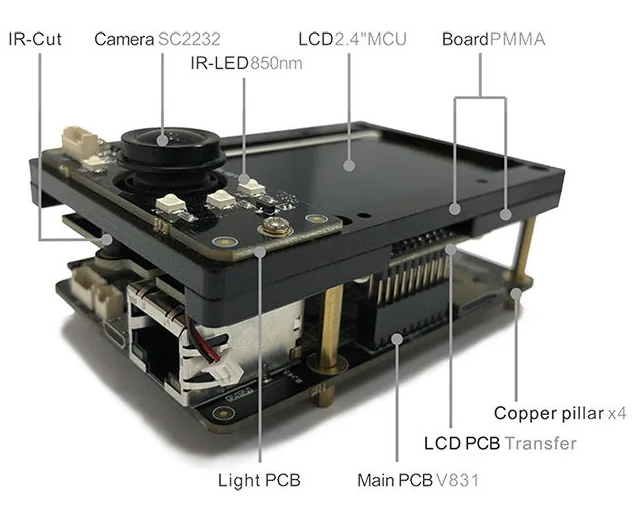 Linux-powered development kit is the first to have an AI-enabled Cortex-A7 camera SoC
Sochip partners with Allwinner to launch a new V831 development board that showcases an Allwinner V831 IP Camera SoC, the very first to include an AI chip. 
Allwinner has released quite a number of camera processors in the past, the V3, V316, S3, and many more, but none of them ever came with a built-in NPU aka AI accelerator. Things, however, have taken a new turn now as an Allwinner V831 AI full HD Camera SoC with NPU aka AI accelerator is used to power Sochip's linux-driven V831 development board.
Allwinner's high performance, low powered IP camera SoC integrates single-core ARM Cortex-A7 topping out at 800MHz frequency and supports H.265 video encoding of multiple streams up to 1080p @ 330fps. The SoC also features a 0.2 TOPS NPU for facial recognition and detection, Electronic image stabilization engine support, the latest generation of ISP image processor that supports up to 2688 x 2688 pixels, wide-angle distortion correction, PTZ calibration, SmartColor support for excellent display and other image correction algorithms that make it easy to achieve professional image effects.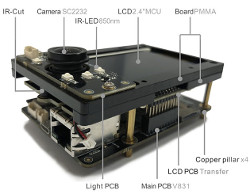 It is further equipped with 20-bit audio codec for audio input and output, crypto engine, 64MB DDR2, external eMMC 5.0 interface, NOR and SPI NAND flash.
Other features include:
2-lane MIPI-CSI interface
RGB output up to 320 x 240 @ 60fps
10/100 Mbps Ethernet port
TDM interface for connecting to external audio codec
Up to 54 GPIOs
USB 2.0 OTG
4x UART
12S
SPI
1x RTC
Dimension: 9 x 9 mm
Supply voltage: Core: 0.9V, I/O: 3.3V
Meanwhile, the 280 x 200 x 180 mm V831 development board consists of four parts: the main PCB powered by an Allwinner V831 processor, camera board, 2.4 inch LCD display and a "light" PCB with IR receiver that has a 2-megapixel image sensor for superior low-light performance. There is no mention of storage, so the board probably relies on the 64MB DDR2 RAM of the V831 SoC.
The V831 kit sells for $440 on Alibaba (shipping included) but there is no known price concerning the V831 IP Camera SoC. The board is targeted at those planning to design AI-enabled IP cameras with AI features while the Allwinner V31 SoC is useful for applications like security monitoring, driving recorders, switched digital video, and body-worn police cameras.
More details can be found on the V831 SoC wiki page.
Join 97,426 other subscribers

Archives