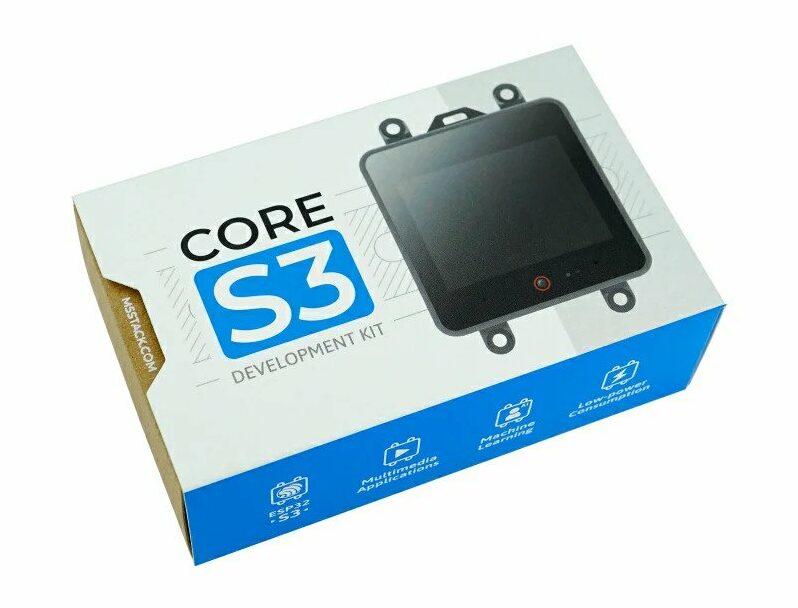 M5Stack CoreS3 is a compact development board with various onboard sensors

M5Stack has released the M5Stack CoreS3, a compact development kit. The M5Stack CoreS3 is integrated with the ESP32-S3 processor, which delivers enhanced performance and capabilities as it combines a highly efficient Xtensa LX7 processor core with a rich set of peripherals and interfaces, making it ideal for a wide range of IoT applications. The device is equipped with 8 MB of PSRAM and 16 MB of flash memory, providing enough space for program storage and data processing.
The M5Stack CoreS3 enables developers to build next-generation projects as it features a 2-inch IPS LCD screen with a resolution of 320×240 pixels, enabling clear visual output. The built-in 6-axis IMU sensor allows for motion sensing capabilities, opening up possibilities for motion-based applications.
Additionally, the M5Stack CoreS3 supports Wi-Fi wireless connectivity, enabling seamless integration with other devices and cloud services. This connectivity allows for real-time data transmission and remote control, making it suitable for IoT applications where communication and interoperability are essential.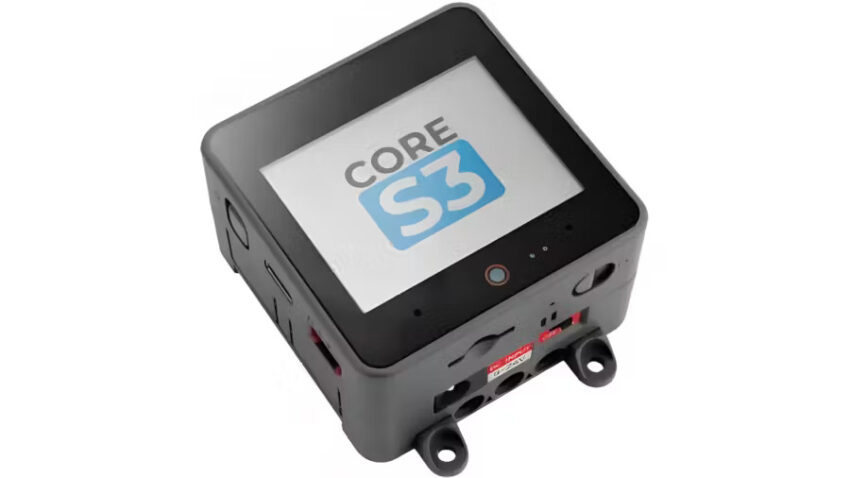 Specifications of M5Stack CoreS3:
MCU: ESP32-S3 system-on-chip featuring Xtensa LX7 processor
Display: 2-inch touch IPS LCD screen with a resolution of 320×240 pixels
Sensors: Proximity sensor, six-axis attitude sensor, and magnetometer
Power management: AXP2101 chip
Speaker: AW88298 16-bits I2S power amplifier chip
Dimensions: 54x54x16 mm
Weight: 73.3 grams
One key feature of the M5Stack CoreS3 is its compatibility with the M5Stack UIFlow software platform. UIFlow is a powerful programming environment that offers a visual interface and block-based programming for easy and intuitive development. It also provides support for the Arduino development platform, allowing developers to choose their preferred programming language and environment.
The M5Stack CoreS3 is equipped with a 300k pixel camera GC0308, which is built into the bottom of the screen. This camera enables developers to capture images and even incorporate computer vision capabilities into their projects. In addition to the camera, the CoreS3 also features a proximity sensor called the LTR-553ALS-WA. This sensor can detect the presence of nearby objects or individuals.
The CoreS3 is equipped with a built-in 6-axis attitude sensor called the BMI270. This sensor combines a gyroscope and an accelerometer, allowing developers to detect motion, orientation, and gestures. The device can be powered by an external DC power source with a voltage range of 9V to 24V, making it compatible with a wide range of power supplies. Alternatively, it can also be powered by an internal 500mAh lithium battery.
The M5Stack CoreS3 is currently available for purchase at $59.90 USD on the official product page.
Join 97,426 other subscribers

Archives