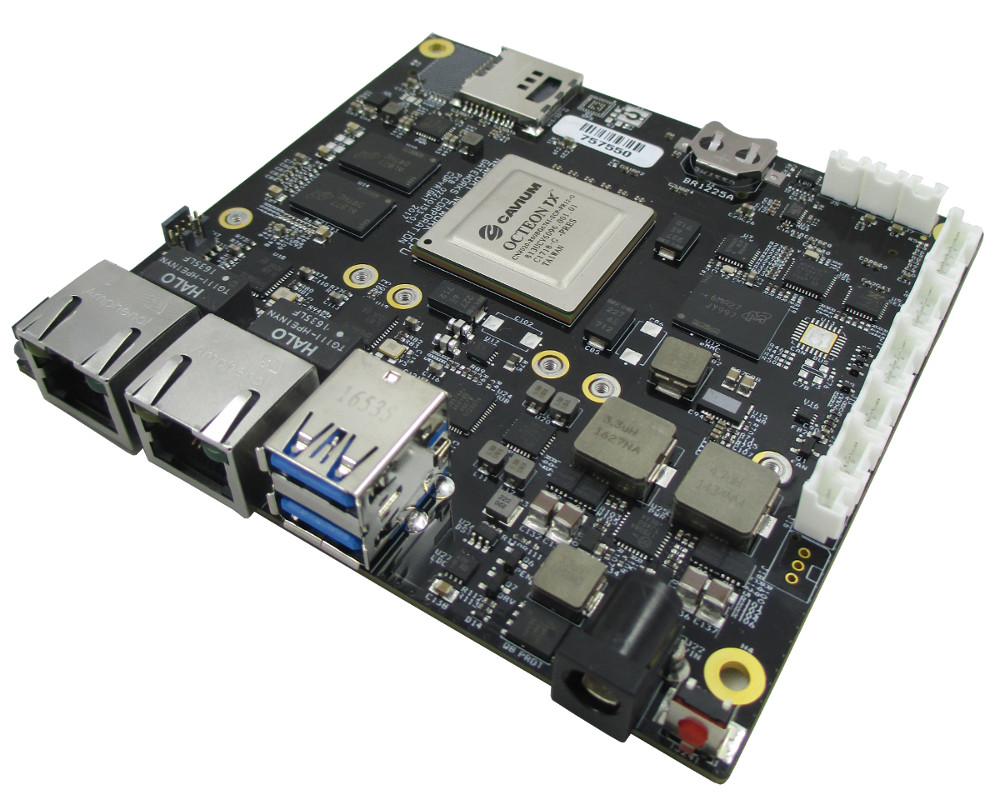 Newport Family of SBC Based on the Cavium Octeon 64-bit ARMv8 Processor
Gateworks Corporation announces the Newport Family of single board computers featuring eight standard models. These models range in size and features to provide a comprehensive and flexible solution to customers requiring a high performance, feature-rich embedded networking board. The Newport Family is based upon the Cavium Octeon TX 64-bit ARMv8 SoC, which has been designed specifically for high performance networking applications. The Newport Family of boards offers processors ranging from an 800MHz Dual Core up to a 1.5GHz Quad Core. The Octeon TX features large L1/L2 caches, rich I/O with support for the latest standards (PCIe Gen 3, SATA3.0, USB 3.0, DDR4), security and networking acceleration engines, hardware virtualization, low power (<4W) and IPSec performance of 8Gbps with only 2-cores.
"Gateworks is proud to be one of the first companies to offer a single board computer based on a Cavium Octeon TX processor. Gateworks selected the Octeon TX for its next generation of processor boards because it provides unparalleled performance and support for the latest interface standards, giving our customers a competitive advantage in their respective markets." notes Doug Hollingsworth, Gateworks Corporation VP of Engineering.
The Newport Family of network processor boards feature up to 8GB DDR4 DRAM, up to 64GB eMMC Flash, up to 5 GbE Copper Ethernet ports, up to 2 SFP ports for fiber support, microSD, SIM, USB3.0 and up to 4 Mini-PCIe expansion sites allowing support for a variety of peripherals including Wi-Fi radios, 4G/LTE cellular modems, mSATA drives and other Mini-PCIe cards. Optional features include GPS w/PPS support, CAN bus and a SHA-256 crypto-strong symmetric key-based authentication integrated circuit for secure deployments.
Additional standard features include digital I/O, RS232/RS485 ports, USB3.0, SPI/I2C expansion ports, wide voltage range input (8-60VDC), 802.3af/at PoE, industrial temperature operation and the Gateworks System Controller (GSC) that provides system health monitoring and advanced watchdog support, including the ability to power up and down the board at programmable intervals.
Board sizes range from a small GW6100 at 35mm x 100mm, up to the largest GW6400 at 140mm x 100mm. Board power consumptions range from 4W for the smallest board and up to 10W for the largest model. Both Ubuntu and OpenWrt open source Linux board support packages are provided with support for all on-board peripherals allowing developers to quickly develop and deploy applications. All boards are made in the USA at the Gateworks modern, ISO9001/AS9100 certified manufacturing facility in California.
Configurable Connectivity allows designers to tailor the system to meet their needs. From one to four Mini-PCIe expansion sockets; from one to five GbE Ethernet ports; two optional SFP Fiber Ports; CAN Bus; Serial RS232/RS485; GPIO; I2C; SPI; mSATA3.0; USB3.0 and GPS.
Configurable Processor Performance allows boards to be configured with a dual or quad core processor with speeds ranging from 800MHz to 1.5GHz.
Special Features allow the developer to provide a robust embedded solution. Features such as a real time clock with backup battery, voltage/health monitoring of all voltage rails and board temperature, GPIO, tamper switch with encryption key support, GPS and advanced power management are supported on the Newport Family boards.
Simple Customization provides easy feature and cost optimization. Designers can select CPU speed and number of cores, amount of DRAM and FLASH, selection of peripherals, as well as specifying the depopulation of unused components to minimize board cost.
Comprehensive BSP provides developers with OpenWrt and Ubuntu open source Linux board support package options for fast and easy development. Drivers for all on-board peripherals are included!
Made in the USA at the Gateworks' cost-effective, ISO9001/AS9100 certified SMT manufacturing facility that provides full product traceability, superior design assistance and responsive support.
The Newport Family includes these eight base models: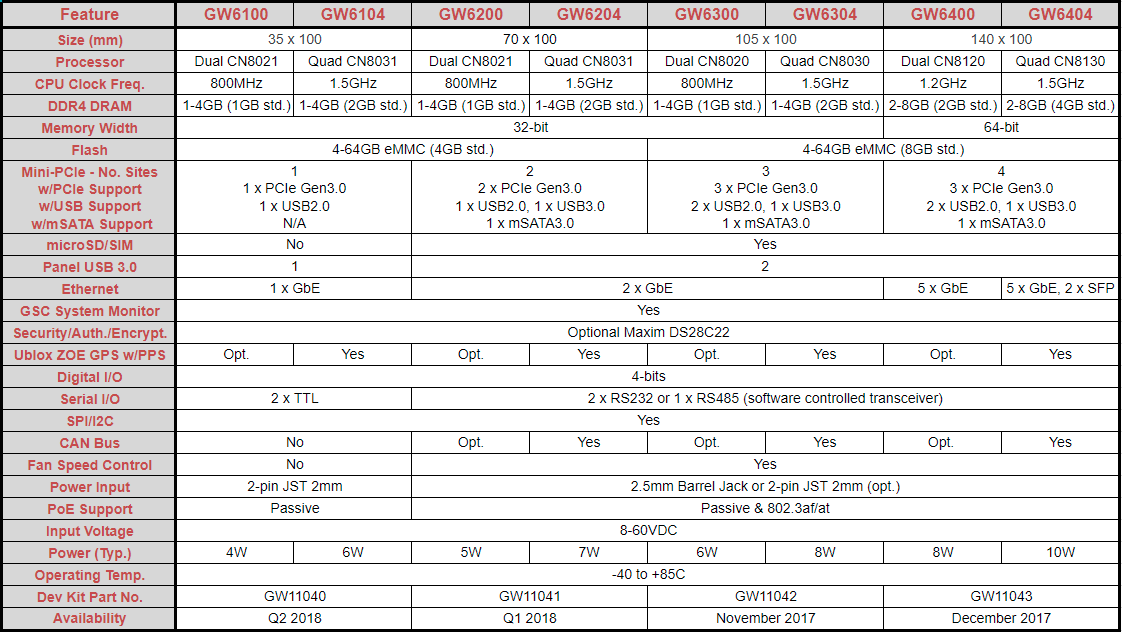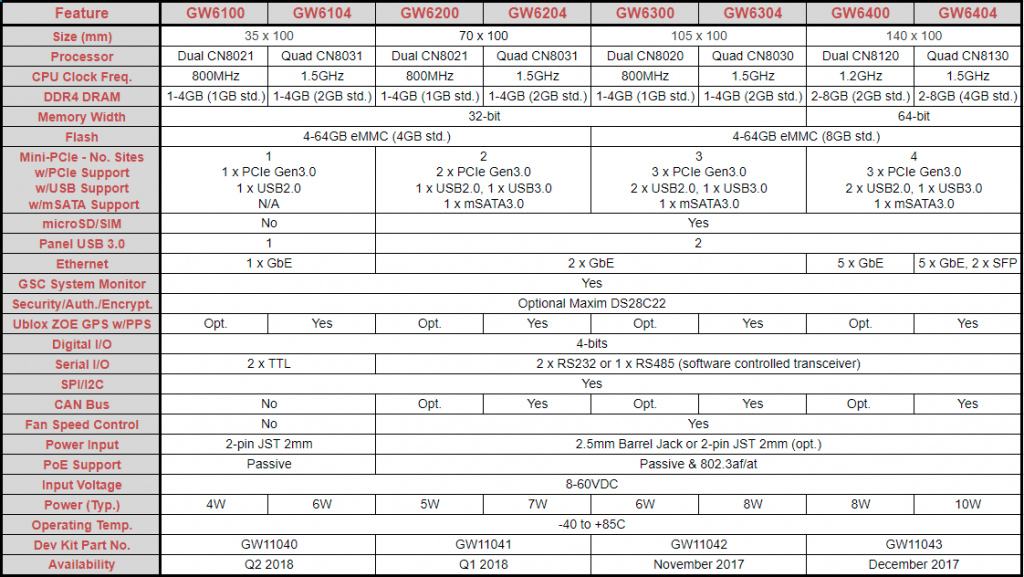 For Design/Evaluation and Development
Development kits are available that include the following: Board, USB JTAG/console adapter, power supply, cables and development software. For further information, visit the company's website at: http://www.gateworks.com
For additional information and pricing: Contact Gateworks sales at: sales@gateworks.com or phone +1 (805) 781-2000.
Subscribe to Blog via Email
Join 97,447 other subscribers
Archives