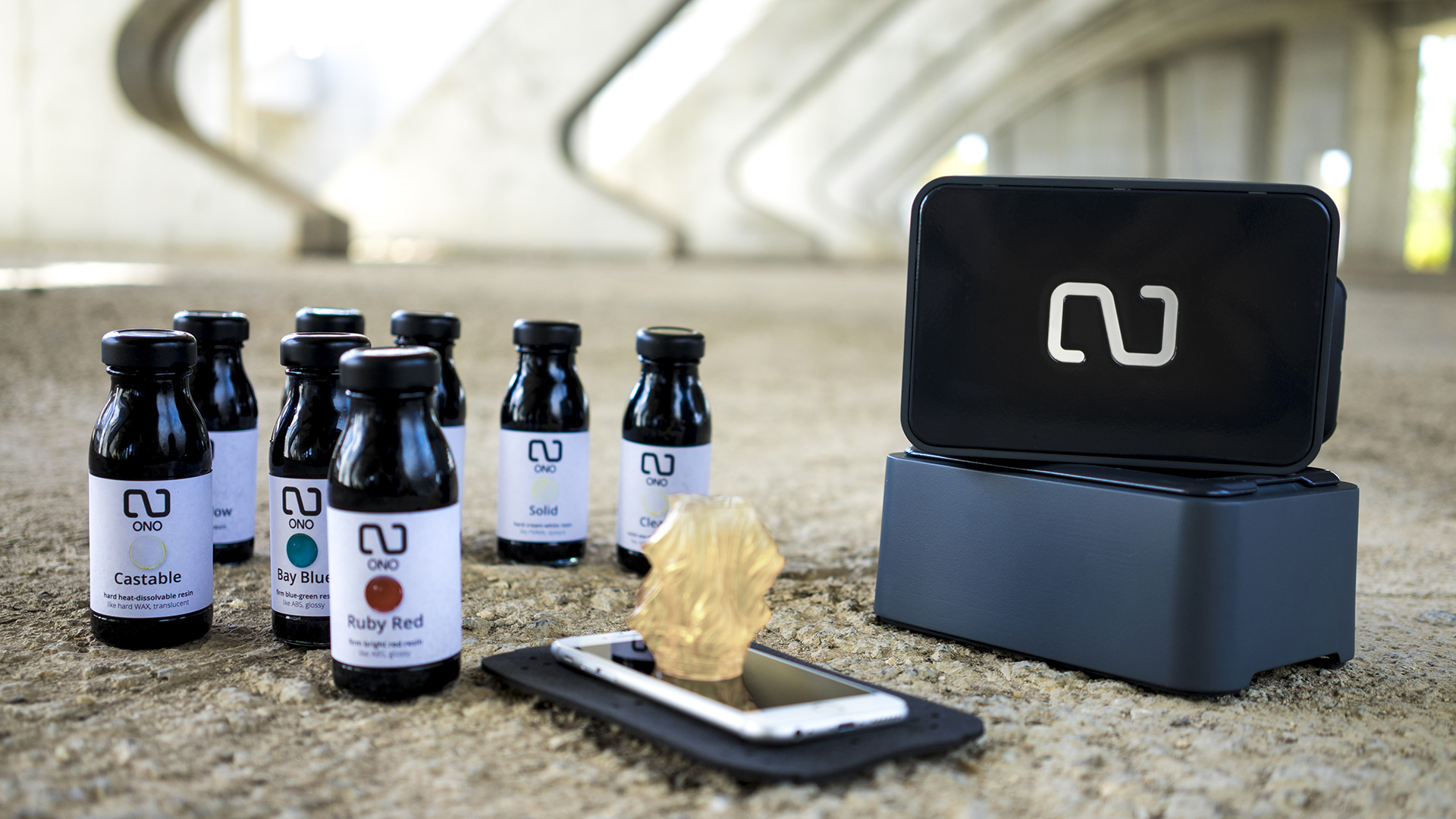 Born in 2014 from the simple idea of making 3D printing accessible for everyone, Filippo Moroni and Pietro Gabriele worked on new technology to develop a high quality 3D printer that was affordable and easy to use. Their goal was to make the most diffused printer in the world and to develop a worldwide community around it. After 2 years of hard work, ONO has developed and grown into the first 3D printer of its class. ONO is the first ever smartphone-powered 3D printer that depends on your smartphone screen resolution in its printed outputs.
Similar to DLP (Digital Light Processing) resin printers, ONO needs light to harden the resins. But instead of using an embedded source of light, it uses the light of your smartphone screen to power the operation. Thanks to the customized patented resins ONO uses, they can react perfectly to white light coming from your phone, thus there's no need for ultra violet light that is used for resin printers. All you need to do is to place your mobile on the phone pad and ONO will do the rest.
ONO has the following components: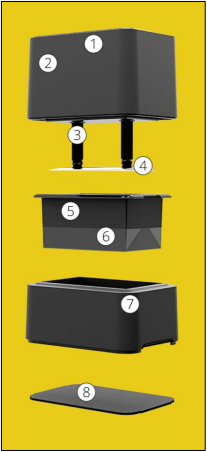 LED interface – The logo on the top of the printer flashes to show the status of the print
Motor housing – The top part of the printer which controls the raising of the build plate
Z-axis actuators – Drive gears connected to the motor and the build plate
Build plate – Aluminum plate where the part adheres
Resin tank – Removable tank where resin is poured prior to printing
Printing film – Thin, clear film which seals the resin tank
Adjustable base – The base can be raised or lowered so that the phone screen will sit flat against the printing film.
Phone pad – A soft pad that helps level phones with protruding cameras
The affordable $99 3D printer is portable and can be charged using any USB charger whether connected to wall plugs or a power bank. You can clean ONO easily thanks to the removable resin tank and the printing films.
ONO has the following specifications:
Printer Dimensions: 180 x 128 x 185 mm – 7.0 x 5.0 x 7.3 in
Printing Volume: 124 x 72 x 52 mm – 4.8 x 2.8 x 2.0 in
Phone compatibility: Any phone with a screen size below 5.8"
Accuracy: Up to 42 micron XY resolution, Up to 100 micron Z resolution
(XY resolution depends on the resolution of the phone screen.)
Printing Speed: 12 mm per hour
It's a simple process, after downloading the app you have to choose the design to b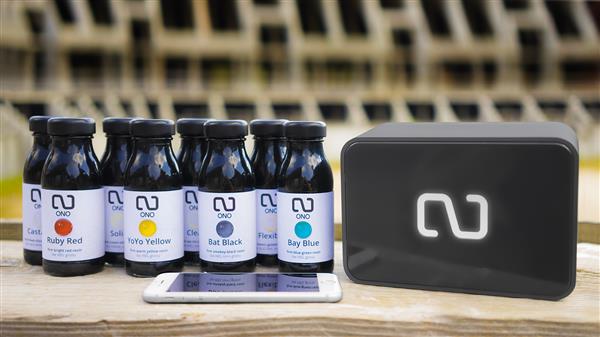 e printed and then plug in through the headphone jack. Finally fill the resin tank with the resin you prefer. ONO is providing multiple kinds of resins for different uses: solid, flexible, translucent, castable and clear! The $15 resin bottle is said to be able to bring out around 10 simple 3D printed objects, and the amazing thing is that unused resin can be recycled for future prints!
"We believe 3D printing should be accessible to everyone. This is why we set out to design ONO, the first ever smartphone 3D printer." – ONO team
You can check this video by Adafruit to know more about ONO during World Maker Faire 2016 featuring Giacomo Fornasini:
ONO is a rebrand of OLO, the first edition of the printer that was live on Kickstarter one year ago. More details about ONO can be found at the official website where you can sign up on its newsletter to be updated and to know when ONO will be available to buy.