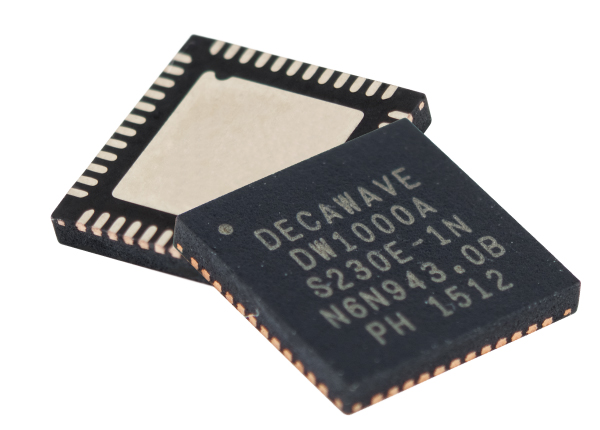 Qorvo Ultra-Wideband (UWB) Technology Portfolio
Recently, Qorvo, a leader when it comes to providing us with innovative RF solutions for our communication needs, acquired Decawave, a pioneer in UWB (Ultra Wide Band) technology dedicated to mobile, automotive and IoT applications. But what does this mean for us, engineers? Well, it means more options in the market, which is always a "yes, please!".
More in depth, it means a new lineup of products by Qorvo, making use of Decawave's UWB technology, more concretely, on the new DW1000 UWB transceiver IC, the world's first transceiver based on UWB techniques enclosed in a single chip. But what makes the DW1000 so special? Let's see: it enables you to develop cost-conservative RTLS (Real-Time Locating System) solutions with extremely precise indoor and outdoor positioning, of 10 cm! It provides a new approach to real-time location and indoor positioning systems, location-based services, wireless sensor networks and other IoT applications by providing accurate location awareness and communication. It is compliant with the IEEE802.15.4-2011 standard, capable of up to 6.8 Mbps communication speeds. Some other characteristics described by Decawave about this module are:
Centimeter accuracy that is 100 times better than WiFi and Bluetooth
High immunity to multipath and interference, which allows reliable communications in high fading environments
Latency 50 times faster than GPS
Affordable: low power, low cost and low processing, allowing for operation on batteries for long periods
High data rate (6.8 Mbps)
Up to 290 meters range
Small package size and footprint, allowing for its inclusion in cost-effective WSN and RTLS solutions
Regarding applications, you get a lot of uses for this new technology, the "where" to apply this product is certainly not a problem as you can, for instance, make mobile accessories with it that enable secure payments, keyless entry, enhance navigation and help find your device, deliver real-time performance analysis in sports, in drones for flight control, in smart homes to control the connected devices based on the location of the persons, in factories to improve operational efficiencies and personnel safety, among other things. Overall, the areas of interest are smart homes, smart cities, security, health, fitness, connectivity between people, industrial internet, mobile accessories and automotive.
About the options you get when using this UWB technology, you can acquire the DW1000 transceiver IC itself or modules and evaluation kits. You can even use this module easily with the Arduino platform, due to a compatible shield. Regarding the pricing, it can range from $23 for the DW1000 module to $255.75 for a full on development kit, which is neat for the set of features this technology enables you to do. Overall, we think there is a lot of room for exploration, specially because of how recent it is and the potential it carries.
DW1000 radio IC link: https://www.decawave.com/product/dw1000-radio-ic/
Join 97,426 other subscribers

Archives