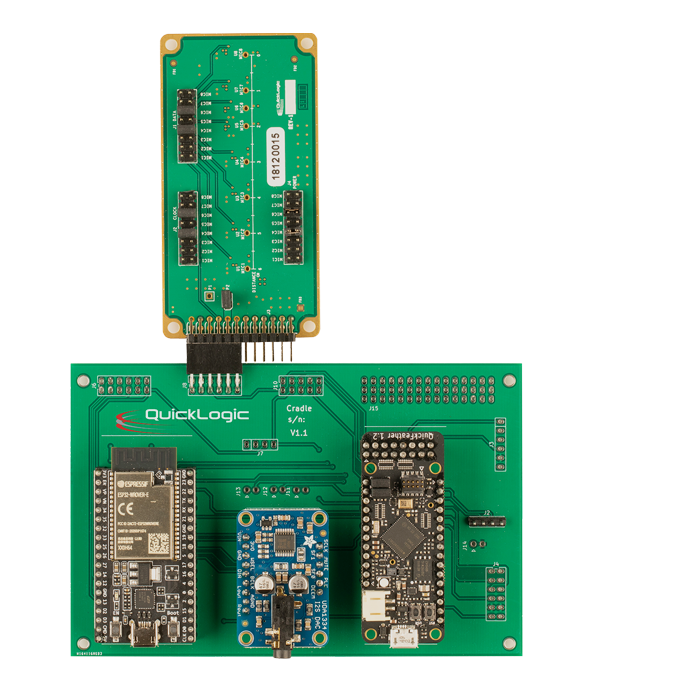 Quicklogic QuickFeather Alexa Close-Talk Reference design
While voice/speech-controlled embedded devices and systems are more popular thanks to the success of devices like the Amazon Alexa, their design is still quite a hassle due to the complexity of the engineering and algorithms involved. Since Alexa Skills became a thing, and Amazon opened up device APIs and SDKs that allow the integration of Alexa into devices, the hassle on the software side has reduced, but the hardware challenge still existed as there were no plug-and-play, easy-to-use, optimized audio modules in the market.
All of these reasons put together was why fabless semiconductor manufacturer, Quicklogic, developed the EOS S3 ultra-low-power multicore MCU which featured best-in-class audio front-end and powers Quicklogic's Quickfeather platform, which was developed to make building voice-based embedded solutions easier.
Based on (and compatible with) Adafruit's open-source Feather Board, the Quickfeather was designed to enable the next generation of low-power Machine Learning (ML) capable IoT devices, and this combined with the QuickLogic's Open Reconfigurable Computing (QORC) Initiative, and the EOS™ S3 Voice Processor, could be used to create superior user experience and long battery life voice-based system.
To shorten time to market for designers using the platform and make leveraging the potentials in these combinations easier, Quicklogics recently released the QuickFeather Alexa Close-Talk Reference design; created for Voice-Initiated, Hands-Free, Alexa Built-In Devices with Close-Talk Support.
According to Quicklogics,
"This is the first available always-listening, Close-Talk qualified smart hearable reference design based on QuickLogic's ultra-low-power Arm® Cortex®- M4 Microcontroller"
and it can be used by designers and manufacturers to "evaluate the "Alexa" Built-In Close-Talk experience, optimized for battery-powered products" and build Proofs-of-Concept.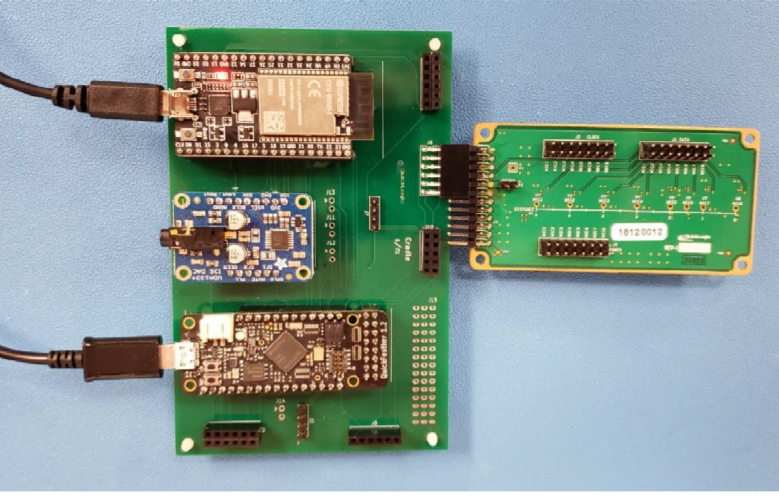 The EOS S3 integrates Sensory's Low Power Sound Detection (LPSD) technology and runs DSP Concepts' TalkTo noise suppression and beamforming technology that helps create an intuitive voice-based system, but beyond the reference design also shows how can integrate motion, and other Artificial Intelligence (AI) and Machine Learning (ML) use cases based SensiML's AI Software Platform that already supports QuickLogic's QuickFeather development kit.
Some highlight features of the Reference Design include:
Alexa Wake Word Engine (WWE) running in the EOS S3 voice processor
Hardware-optimized Low Power Sound Detection (LPSD) technology from Sensory™
Support for one or two microphone use cases with DSP Concepts' TalkTo noise suppression and beam forming technology
Connectivity to Alexa Voice Service via Wi-Fi
Built on top of 100% open-source hardware QuickFeather dev kit and QORC open-source software tools
Comes with a QuickLogic QuickFeather Development Kit including the EOS S3 Low Power Voice Processor – Supported by 100% Open Source Hardware Development Kit and Software Tools
Espressif ESP32-WROVER-E WiFi Development Kit for WiFi connectivity
Adafruit I2S Audio Decoder for supporting playback from Alexa Voice Service directly to a standalone speaker
QuickLogic microphone daughtercard that supports variable microphone spacing
QuickLogic sturdy PCB cradle to reliably connect all components together
The reference design board is available for sale on the Quicklogics website for $149.
More information on the features of the board and its purchase, along with a manual showing how to use it can be found on the products page on Quicklogic's Website.
Join 97,426 other subscribers

Archives