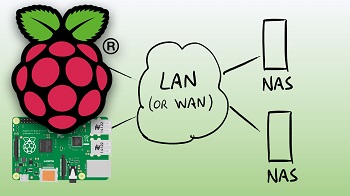 Raspberry Pi NAS Tutorial
Building NAS on Raspberry Pi is a very smart way to create DIY NAS for safe and efficient file management. NAS (or Network Attached Storage) Server is a network storage system to serve and share files to other client computers in a local network area. This enables multiple users to access and share the same file storage.
The NAS server can use different file sharing protocols to share the data via the network. The mainly used protocol is SMB (Server Message Block).
Additional protocols are NFS (Network File System), FTP (File Transfer Protocol), SFTP (Secure File Transfer Protocol), SCP (Secure Copy) and more.
The main hardware components of the NAS storage system are the media storage devices, mainly hard drives. If you have more than one storage device mounted on your NAS server, the storage devices can be arranged via a RAID controller (Redundant Array of Independent Disks) into logical and redundant storage containers for redundancy and safety reason. There are various RAID levels to protect the data in case of a disk failure. The most common are RAID-0, RAID-1 and RAID-5.
by eltechs.com