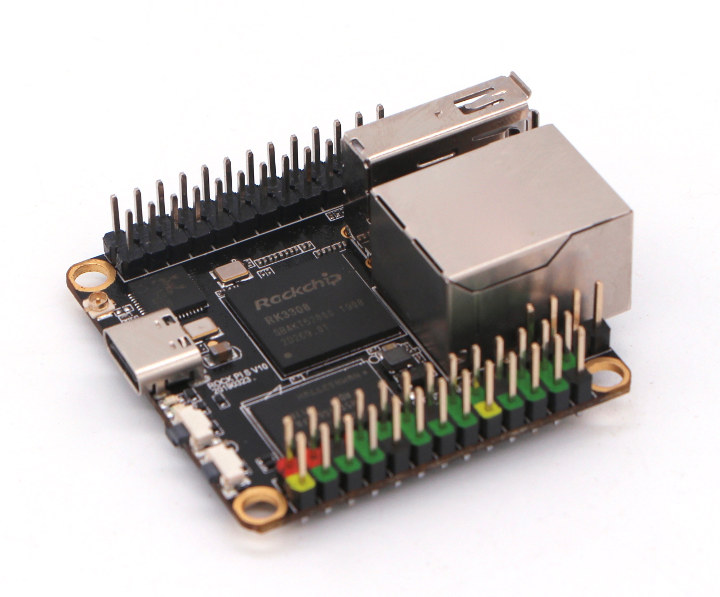 Rock Pi S – single-board computer with RK3308 for 9.90 USD
Radxa released info and pictures of a new very small single-board computer called Rock Pi S. The size of Rock Pi S is only 38×38 mm and the price should be 9.90 USD + shipping.
The board contains processor RK3308, 256/512 MB RAM, 100 Mbps ethernet connection, 1x USB 2.0, 1x USB 2.0 Type-C, optional WiFi 802.11b/g/n and BlueTooth 4.0, microSD card slot and 26-pins extension header.
The Rock Pi S is a single-board computer(SBC) that equips an RK3308 Rockchip by Radxa. It is assembled by a 64bits quad-core processor, USB, ethernet and voice detection engine at the size of 1.7 inches. The Rock Pi S is suitable for voice applications and some IoT projects. What 's more? The Rock Pi S has a 26-pin expansion header which includes 4 I2C interfaces, 3 PWM interfaces, 2 SPI interfaces, 3 UART interfaces, and one I2SO interface. All these functional interfaces can be embedded into 1.7 inch tinny Pi. This little board is able to support Debian system successfully, and there are wifi and blue tooth module on this board as well. It is a good idea to develop this board into a central controller of the media center with a tiny size and attractive price.
Features
Rockchip RK3308 Quad A35 64bit processor with built-in VAD
512 MB RAM
USB 2.0 OTG(type-C) + USB 2.0 HOST(type-A)
RJ45 10/100Mbit Ethernet
802.11 b/g/n Wifi +bluetooth 4.0 with external antenna connector
26 pin GPIO header
26 pin voice/audio header includes I2C, PCM, TDM, PDM, SPDIF, and HDMI ARC
Size 1.7×1.7 inch (~38.1mmx38.1mm)
Debian and Buildroot successfully tested
Rock Pi S onboard storage version with 4GB NAND flash
The board is not selling in this time, but you can ask for sample for testing
Update 20/9/2019: ROCK Pi S is shipping now. You can buy from Allnet or seeedstudio.com