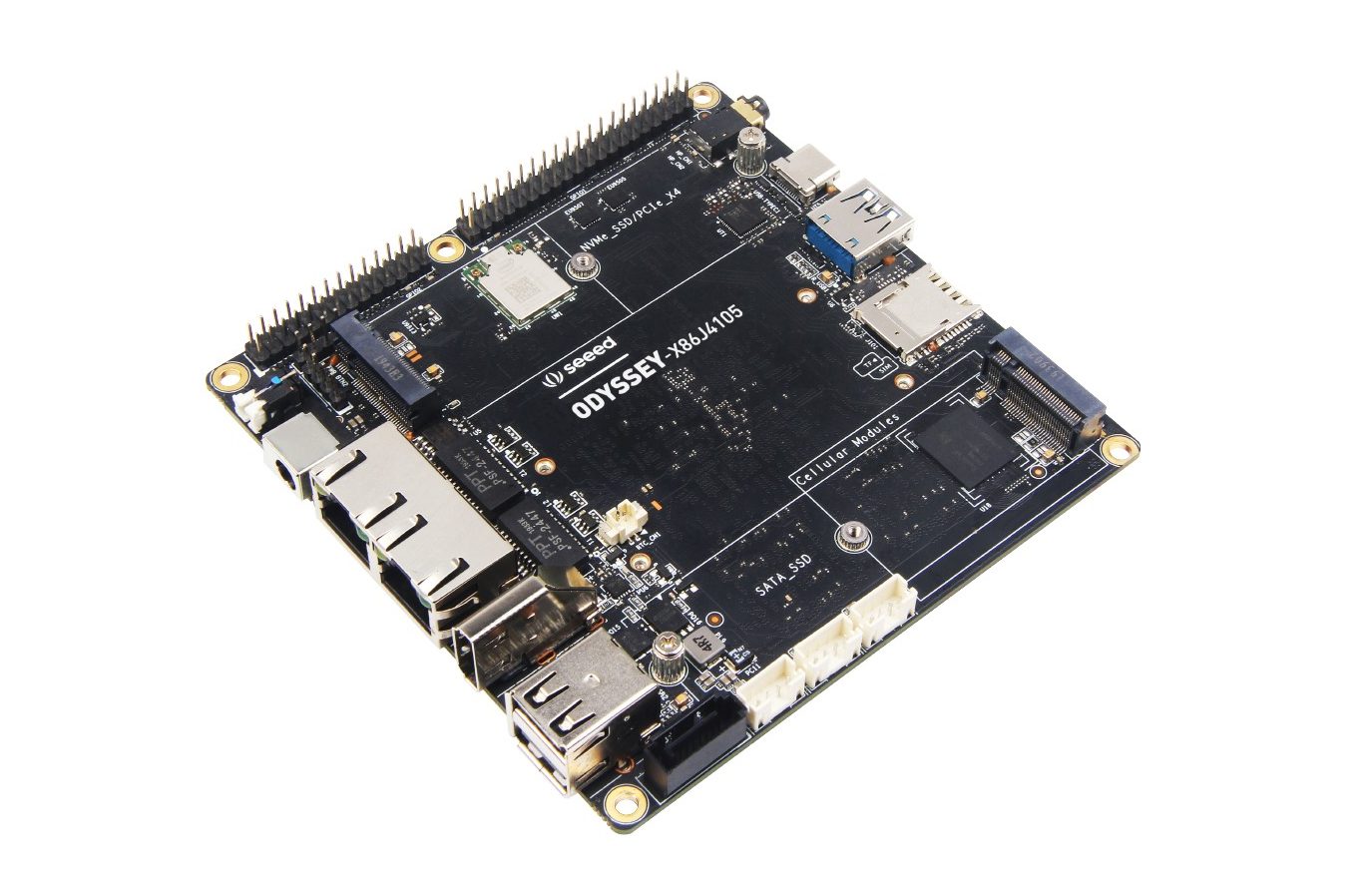 Seeed Launches ODYSSEY-X86J4105 – An Expandable x86 Mini Computer with Arduino support
Seeed Studio has launched the ODYSSEY Single Board Computer with an Arduino Coprocessor onboard, and an Intel Gemini Lake SoC is arguably the most expandable x86 Mini Computer available with an enormous amount of peripherals arsenal.
Odyssey comes as a family of SBCs (Single Board Computer) with the primary goal of deploying edge computing applications. The Odysseys are Windows 10 powered mini PC and are powered by an Intel Celeron J4105 Gemini Lake processor with Intel UHD GPU and a Microchip SAM D21 Cortex-M0. The SBC uses a Quad-Core J4105  running at 1.5GHz with a burst mode of up to 2.5GHz. Just like your typical Mini PC, the board includes an 8GB LPDDR4 RAM, an optional 64GB eMMC storage, onboard Wi-Fi/BLE, Dual Gigabyte Ethernet Ports, Audio Input and Output, USB Ports, HDMI, SATA Connectors, and optional 3G/4G cellular connectivity via M.2 card and onboard SIM card socket.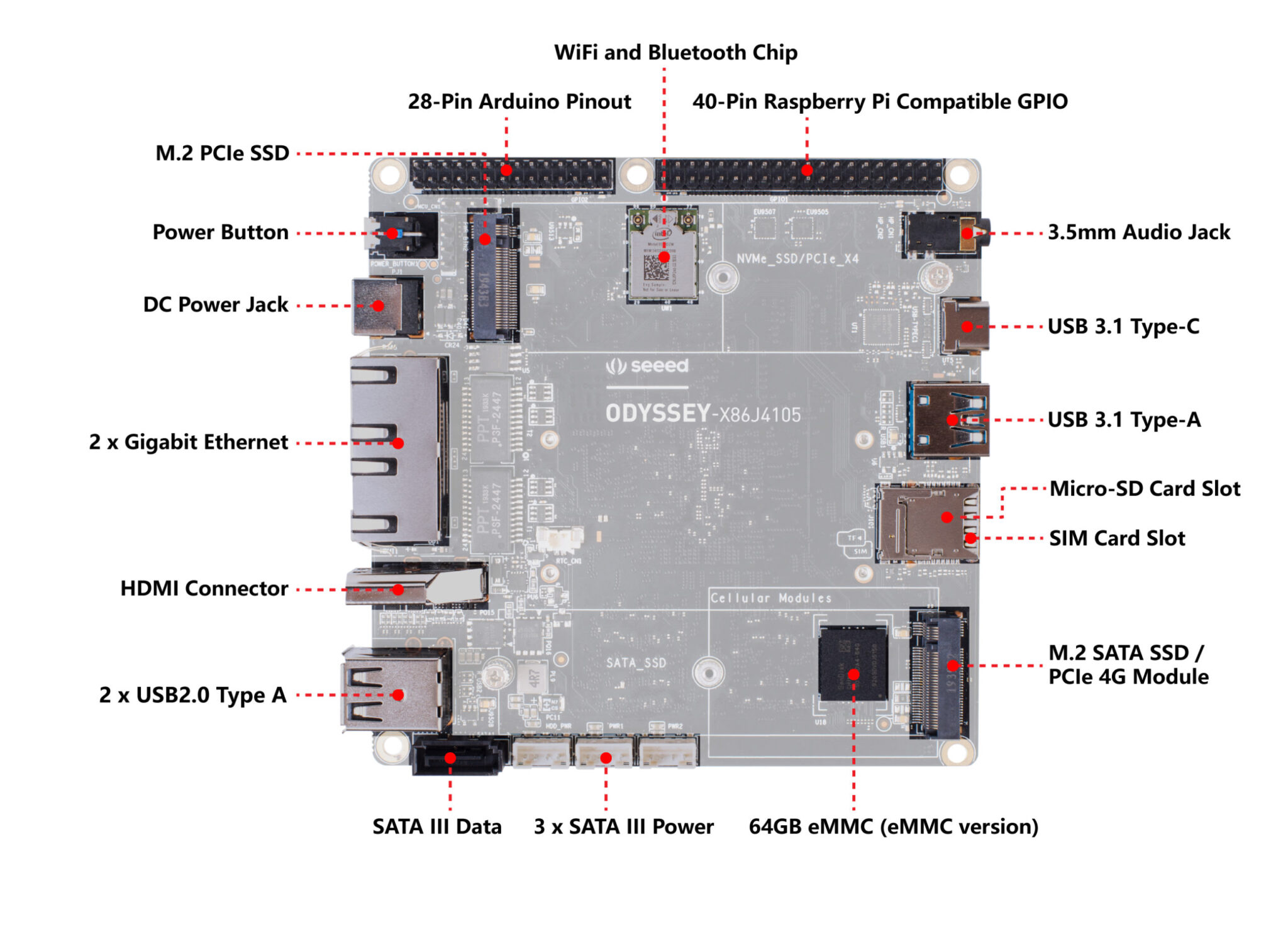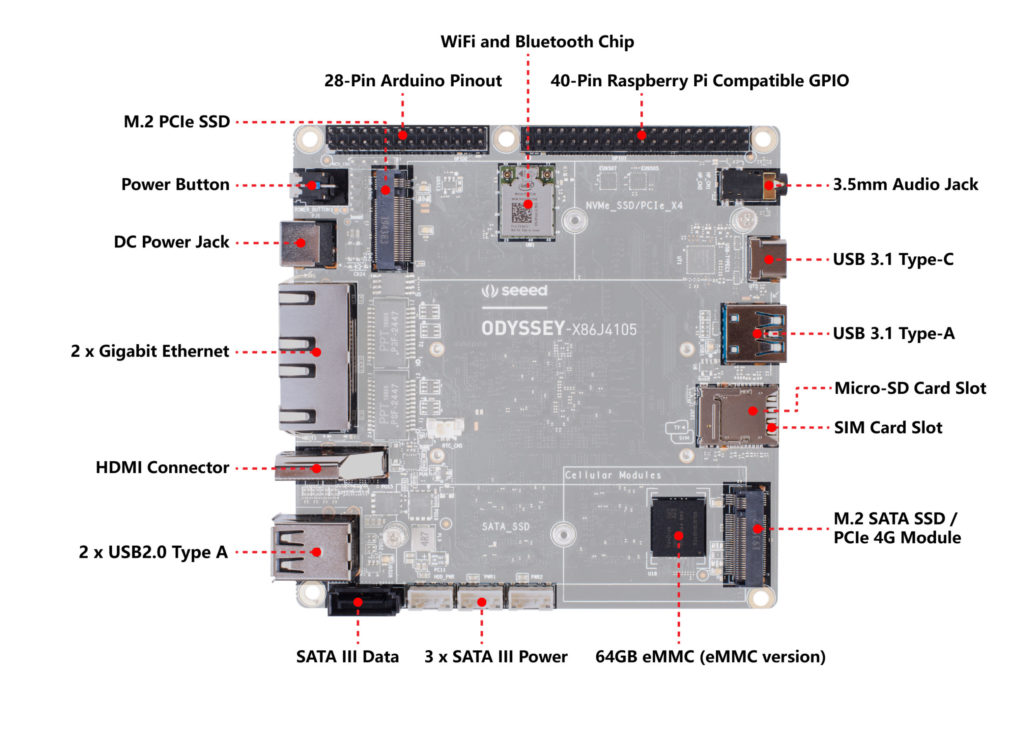 Key Features
Intel® Celeron® J4105, Quad-Core 1.5-2.5GHZ
Dual-Band Frequency 2.5GHz/5GHz Wi-Fi/ Bluetooth 5.0
Intel® UHD Graphics 600
Dual Gigabit Ethernet
Integrated Arduino Coprocessor ATSAMD21 ARM® Cortex®-M0+
Raspberry Pi 40-Pin Compatible
2 x M.2 PCIe (B Key and M Key)
Pre-installed with Windows10 Enterprise
Compatible with Grove Ecosystem
The Odyssey goes a step above typical Mini PCs, and the included Microchip ATSAMD21G18 coprocessor makes it ideal for working as an Arduino prototyping platform and allows you to connect and control sensors, actuators, and any other Arduino compatible hardware. The board is fitted with a 40-pin Raspberry Pi-compatible header and a 28-pin header for extending out the SAMD21G18. Aside from the possibility of the onboard 64GB eMMC, its SATA III data connector and three SATA power headers, mSATA socket, and micro SD slot allows the board to connect to any external memory unit and expanded the storage as much as possible.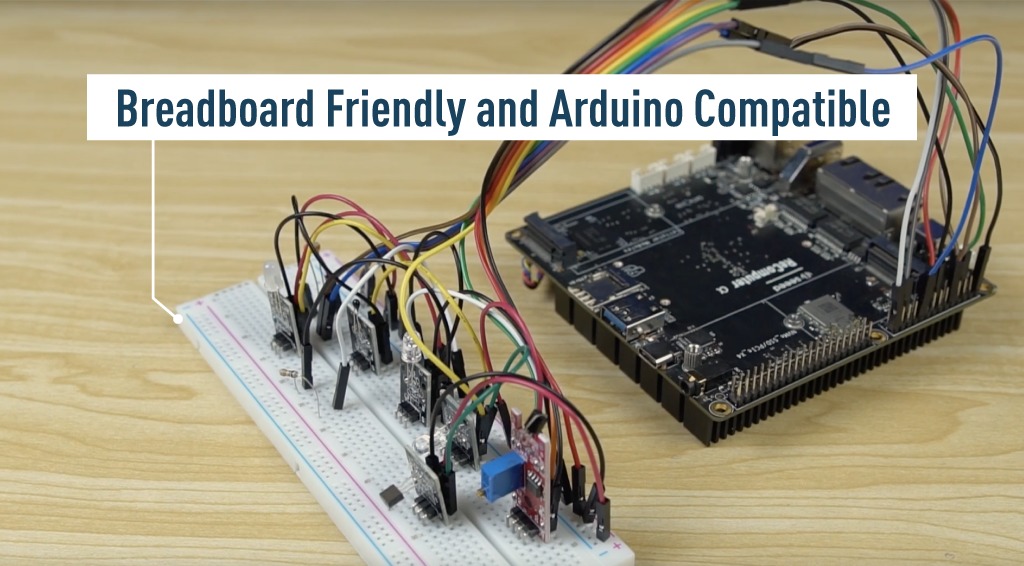 The board comes with two primary display ports: HDMI 2.0a (Up to 4096×2160 @ 60Hz 24bpp) and Display Port 1.2 (Up to 4096×2160 @ 60Hz 24bpp), but can also be extended through the USB 3.1 Type-C port where external peripherals can also be attached. The HDMI provides audio as well as through the microphone/headphone combo connector and front panel audio connector.
The Odyssey X86J4105 comes in 3 main versions, all who are identical in terms of board design.
ODYSSEY – X86J4105864: Comes with a 64GB eMMC onboard storage with Windows 10 Enterprise pre-installed but not activated.
ODYSSEY – X86J4105864(Win10 Enterprise Activated): Comes with a 64GB eMMC onboard storage with an activated Win10 Enterprise.
ODYSSEY – X86J4105800: without onboard eMMc storage or pre-installed Windows 10.
The Odyssey is currently not available for instant purchase, but it's available now for pre-order with an expected availability schedule for Mar 16, 2020. The ODYSSEY – X86J4105800 is available from $188.00, the ODYSSEY – X86J4105864 is available from $218.00, and the ODYSSEY – X86J4105864(Win10 Enterprise Activated) is available from $258.00.
Join 97,426 other subscribers

Archives