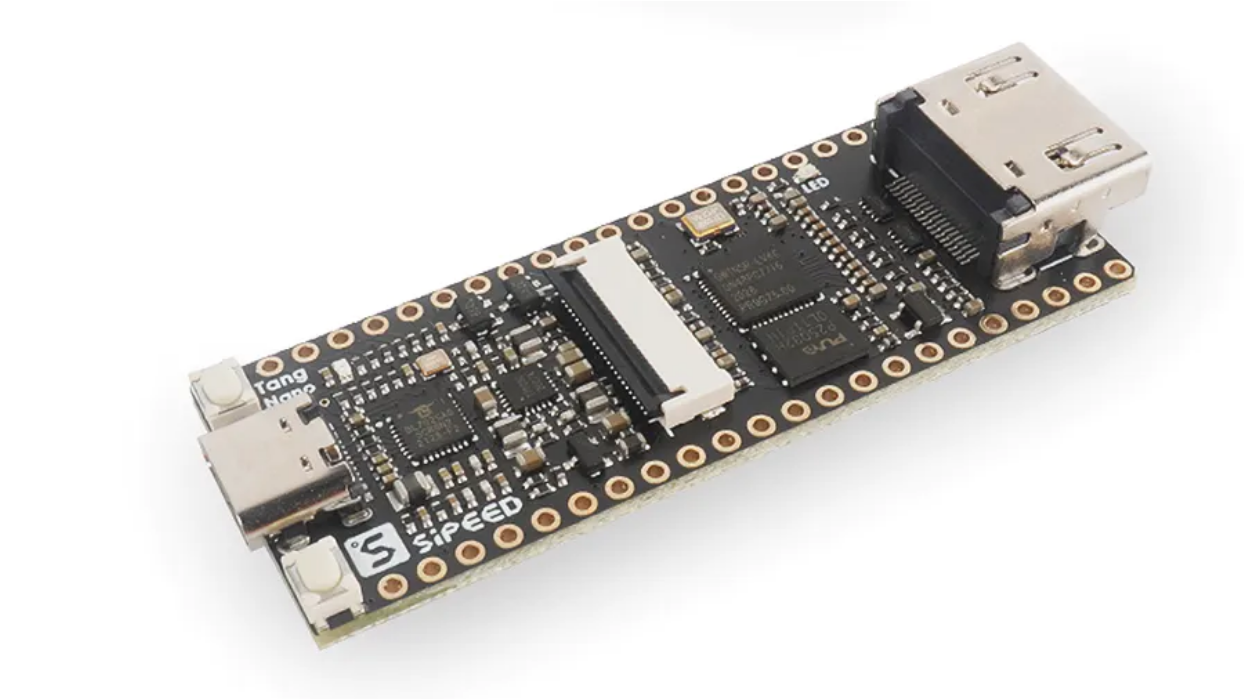 Sipeed Launched ALL-NEW Tang Nano 4K Board for $12
There had been a spoiler by Sipeed a few weeks back about the testing of yet another Tang Nano board. Yes, you are right, this is not the first Tang Nano board by Sipeed, but the first version came two years ago as a $5 development board built around Gowin GW1N-1 LittleBee FPGA. Electronic hardware leader Sipeed has released the Tang Nano 4K board featuring Gowin Semiconductor's LittleBee series GW1NSR-LV4C FPGA.
The board has a powerful upgraded version of the Gowin's LittleBee FPGA and a hardcore processor of Arm Cortex-M3 that was missing from its predecessor. Also, when compared to the first release of Tang Nano, the new module has 4608 LUTs which is more than 4 times. Tang Nano 4K board features significantly more registers to 3456 compared to 864 in its predecessor.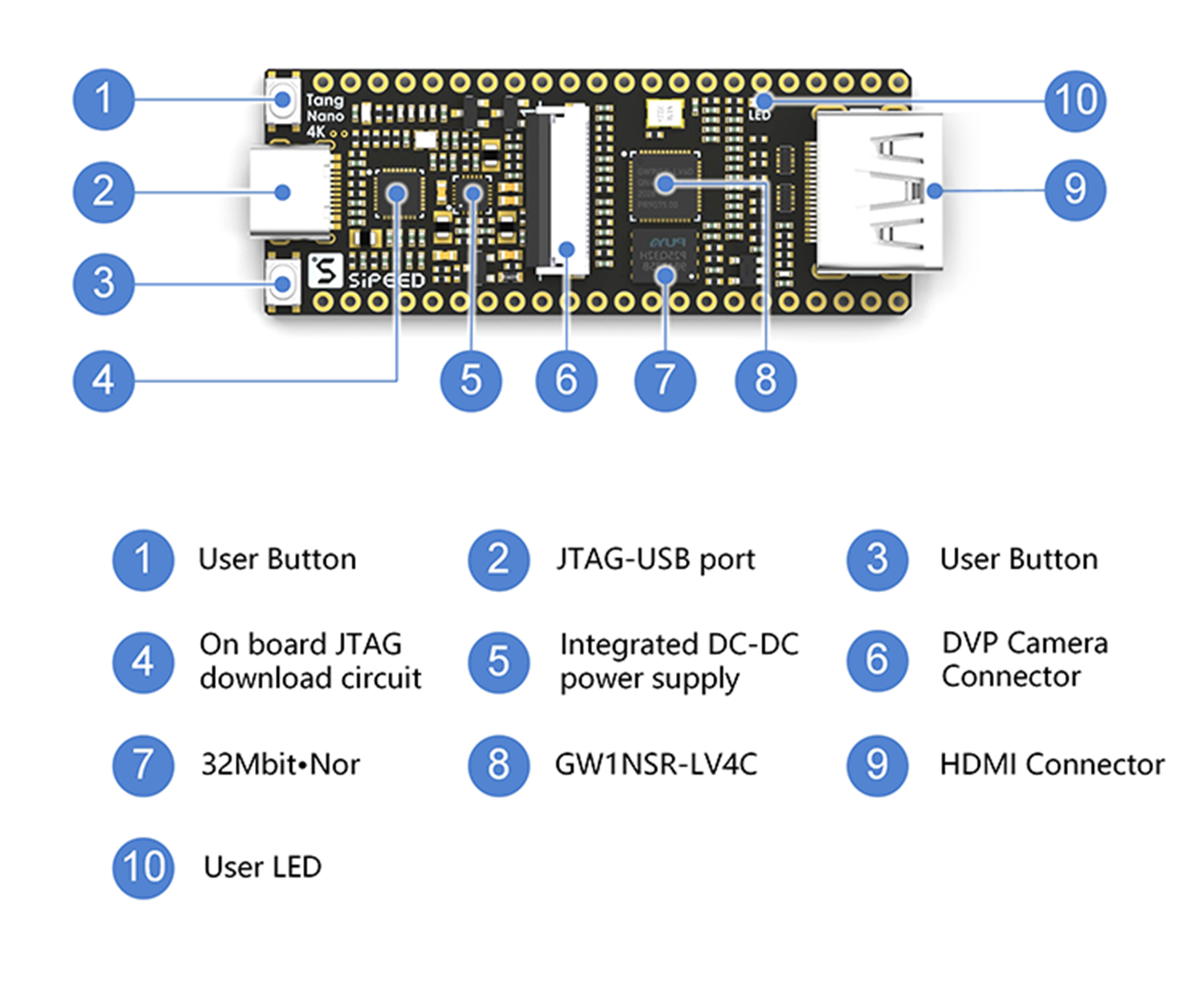 Specifications of Tang Nano 4K Board:
FPGA: Gowin GW1NSR-LV4C

LUTS: 4608
Register: 3456
Multiple Parameters: 16
SRAM: 180K
Flash memory: 256K
PLL: 2
Total I/O bank: 4

Processor: Arm Cortex-M3
Camera interface: OV2640
Display interface: HDMI
Dimensions: 60mm x 22.86mm
Power: USB Type-C port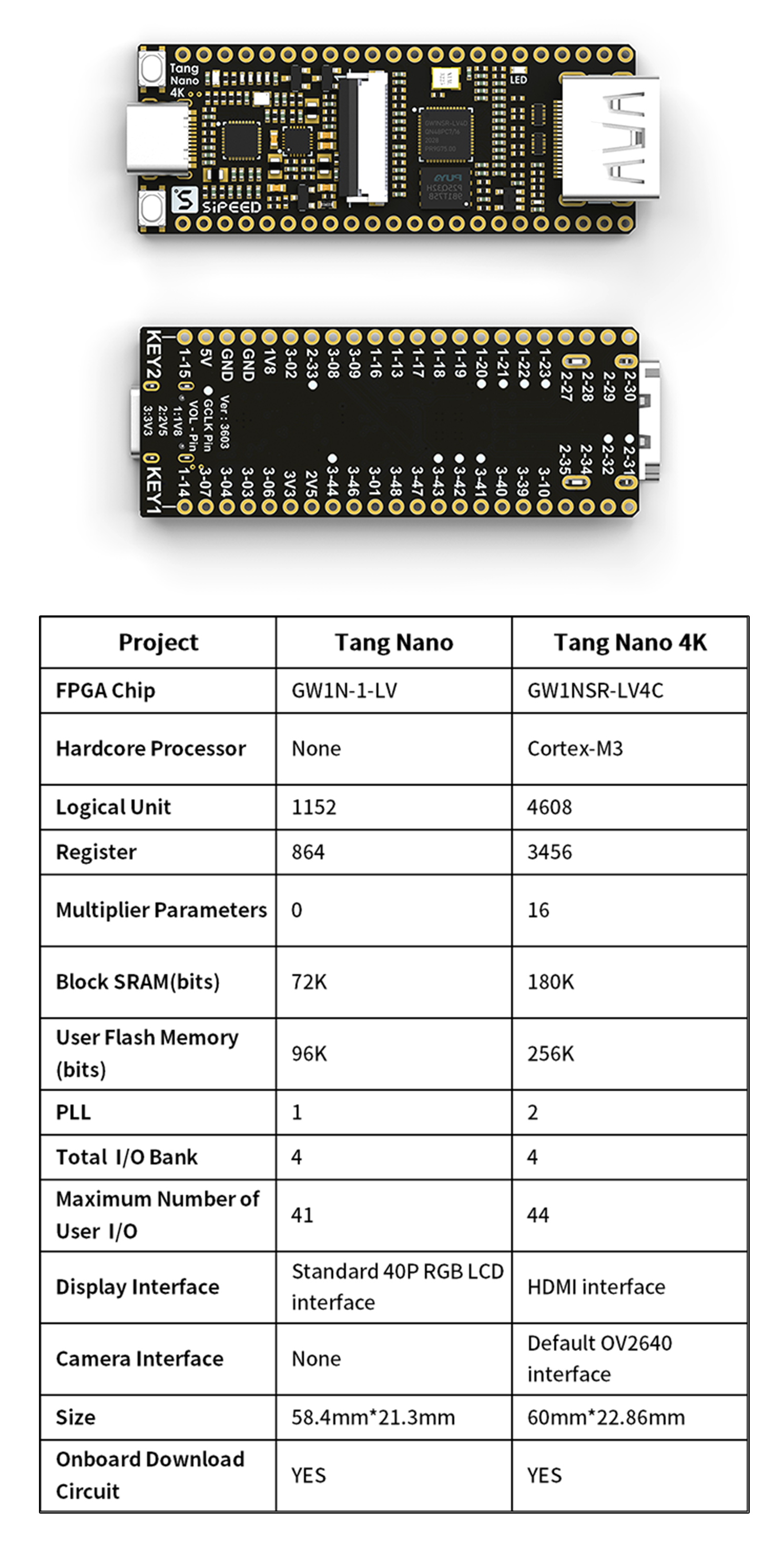 With its minimalistic design, the board is shipped with camera and display interfaces via default OV2640 interface and HDMI respectively. However, with the 32-bit Arm processor, you can expect decent performance with a slight delay in video interfacing. Note that the manufacturer is not too sure if the HDMI interface can do video-in as the Gowin official demo is for output. Also, the HDMI interface is capable of giving a maximum video resolution of up to 720p.
The hardware gets the maker-friendly USB Type-C port to power the board. Also, if you are interested in learning more about the integrated FPGA, visit the datasheet here. The manufacturer has provided a GitHub repository for contributing open source projects on the Tang Nano 4K board. If you purchase the sub-$15 board, I would suggest contributing to the GitHub repository that can help others get started with the hardware.
Sipeed clarifies that the baseboard is priced at $12 and if you wish to get it with OV2640 then it will be available at $15.
For more details and pricing information, head to the Aliexpress product page
Join 97,426 other subscribers

Archives