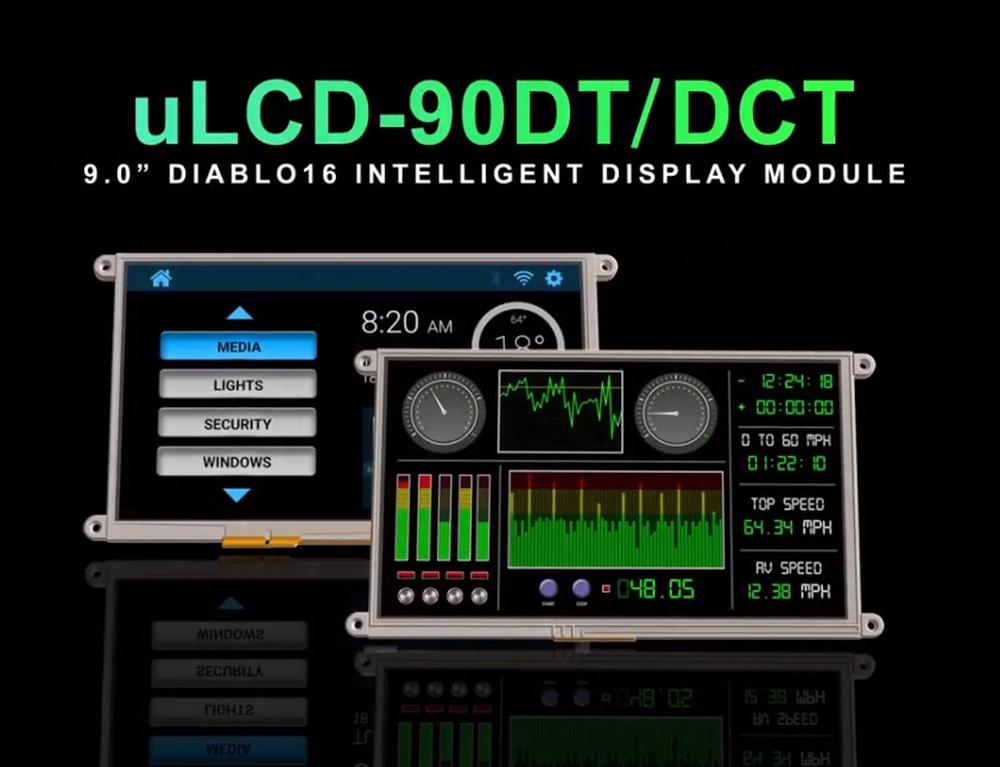 SOS electronic: 9″ intelligent embedded display uLCD-90
Apart from the simple and fast development of graphics applications, a larger display has been added to the pool of benefits of working with 4D Systems displays. New 9" module with resistive or capacitive touch panel and with adapters for Raspberry Pi and Arduino.
Intelligent displays with powerful (free) software for the simplest possible development of applications may already be familiar to you from several of our articles.
Display modules from 4D Systems have attracted many fans especially for the ability to easily and quickly develop an application in 4DGL (C-like) graphics or even graphically, practically by "drag and drop" method using a wide range of ready-to-use widgets.
The proprietary graphics processor (Diablo 16) provides enough power and I/O functionality to control the surrounding electronics. Thus for not very complex applications, these modules can replace the Host processor and become the core of the application.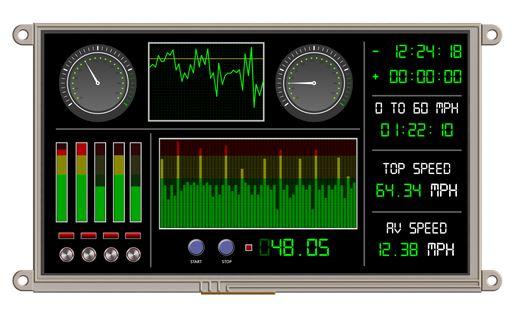 The 4D Workshop 4 IDE development environment provides a variety of ready-to-use buttons, sliders, switches, analogue gauges and other graphics that, thanks to a touch panel, can be used to replace classic electromechanical components to simplify wiring, reduce costs and increase device reliability.
Even 4.3 "and 7" display can accommodate a fair number of different indicators and controls to create powerful graphical manipulation (HMI). This is even truer for the new 9-inch uLCD-90DT and uLCD-90DCT, which has a 1.7x larger area than the 7-inch module.
The gen4 uLCD family design is the same for all available modules and all have a plastic white frame as well as pins on the FPC connector. However, uLCD-90 does not have an additional white plastic frame with eyelets for side mounting for screws but these eyelets are metal and are directly part of the LCD module design.
Advantages / Features:
9 " intelligent RGB display module 800×480 px
fast application development in a powerful development environment (freeware)
easy to use graphics
slot for uSD card
capable of standalone operation
single power supply 4 to 5.5V
The easiest way to connect the module to a PC and start working in the 4D Workshop 4 IDE is to use the 4D-UPA programming module.
A big advantage of 4D Systems modules is the mutual compatibility of modules and applications. The application written for the 4.3″ module can also be used for the 9″ module, but of course, it is necessary to adjust the placing of graphic elements (or add more of them) to use the significantly larger display area.
The uLCD90 is available with a resistive (uLCD-90DT) or a capacitive (uLCD-90DCT) touch panel as well as with adapters for Raspberry Pi and Arduino. The nominal supply voltage is + 5V (4-5.5V, approx. 760 mA).
Thanks to many years of cooperation with the manufacturer, we can deliver any 4D Systems product in a short time and at competitive prices.
If you need more information about 4D Systems products, SOS electronic is ready to help you at sales@soselectronic.com.
Join 97,426 other subscribers

Archives