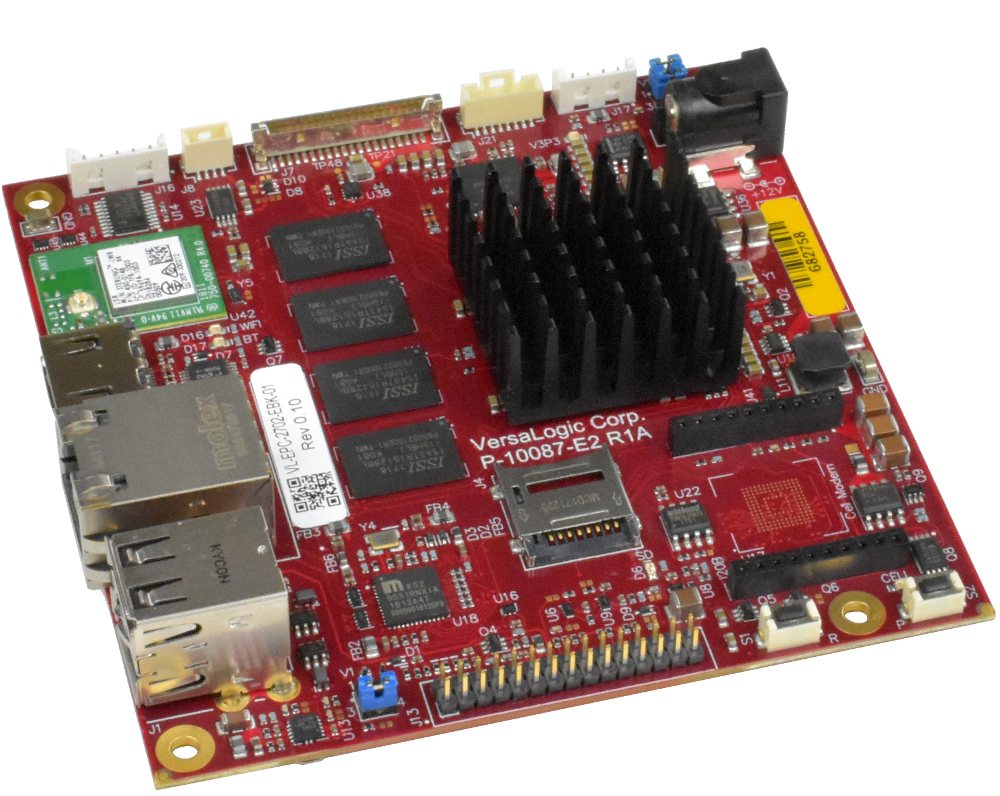 "Swordtail" i.MX6 SBC offers NimbleLink cellular expansion
Low power Arm-based i.MX6 Cortex®-A9 processor with soldered-on RAM, Gigabit Ethernet, Wi-Fi, Bluetooth® and fanless operation.
The Swordtail single board computer is a complete Wi-Fi and Bluetooth®enabled, Arm®-based embedded computer. Models are available with power-efficient, dual-core or quad-core i.MX6 CPUs. These boards are designed for applications that demand rugged, power-efficient solutions such as industrial machine automation, transportation, medical, kiosk, and industrial IoT applications. Swordtail boards have been designed to enable transactions and transmission of maintenance or diagnostic information without the presence of a wired data connection. Both Wi-Fi and Bluetooth radios are included on board, and a NimbleLink Skywire™ socket supports a wide range of optional cellular and other wireless plug-ins.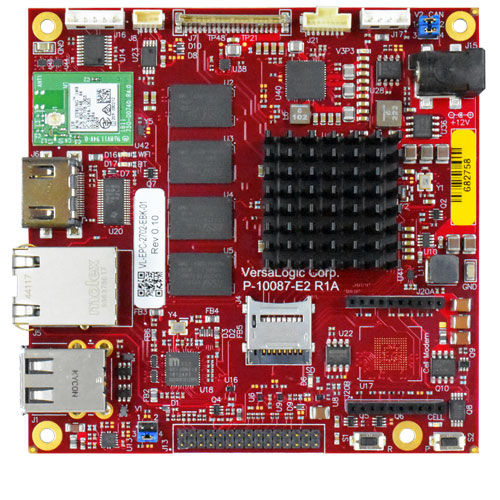 Unlike Arm-based "modules", Swordtail is a complete board-level computer. Additional carrier boards, connector boards, or I/O expansion boards are not required for operation. Swordtail boards are delivered with on-board soldered-down RAM, ready to plug-in and run. To simplify mounting and future upgrades, the Swordtail leverages the COM-Express standard for its footprint and mounting points.
The following specifications were listed for the Swordtail SBC
Processor — NXP i.MX6 Quad or DualLite (4x or 2x Cortex-A9 cores @ up to 800MHz); Vivante GC2000 GPU
Memory/storage:

1GB (DualLite) or 2GB (Quad) DDR3L SDRAM soldered, with up to 4GB optional
MicroSD slot (bootable) with optional 8GB card containing Linux
eMMC (MLC) socket with up to 32GB optional bootable storage

Wireless:

Single-band 802.11b/g/n and Bluetooth 4.2
NimbleLink Skywire socket (20-pin) for cellular and other wireless expansion
Optional antennas

Networking — Gigabit Ethernet port with network boot, latching connector
Media I/O:

HDMI v1.4 port with audio
24-bit LVDS for up to 1366 x 768 with backlight and I2C touch (with interrupt input)

Other I/O:

2x USB 2.0 host ports
CAN 2.0B
RS-232 debug
8x GPIO/DIO (3.3V)
I2C
Up to 3x PWM (reduces GPIO lanes)

Other features — 6-axis accelerometer/magnetometer; 10-year lifecycle support; optional cables
Operating temperature — -40 to 85°C with 0.5 linear meters per second airflow
Shock/vibration resistance — per MIL-STD-202G (vibration Method 204/214A; shock Method 213B)
Altitude resistance — to 4,570 meters
Power — 8-17 VDC input (12V nominal); consumption: 2.2W idle,; 2.7W (DualLite) or 3W (Quad) typical operating
Dimensions — 95 x 95 x 21.4mm; compatible with COM Express Compact footprint and mounting holes
Weight — 68 g
Operating system — bootable Yocto 2.1 Linux OS; compatible with other-friendly OSes
Like all VersaLogic products, the Swordtail SBC is engineered and tested to be rugged. It is fully validated for operation in unforgiving environments where extreme temperatures and mechanical shock and vibration occur. Each component has been carefully sourced, and the design optimized and validated, to ensure reliable operation in the field.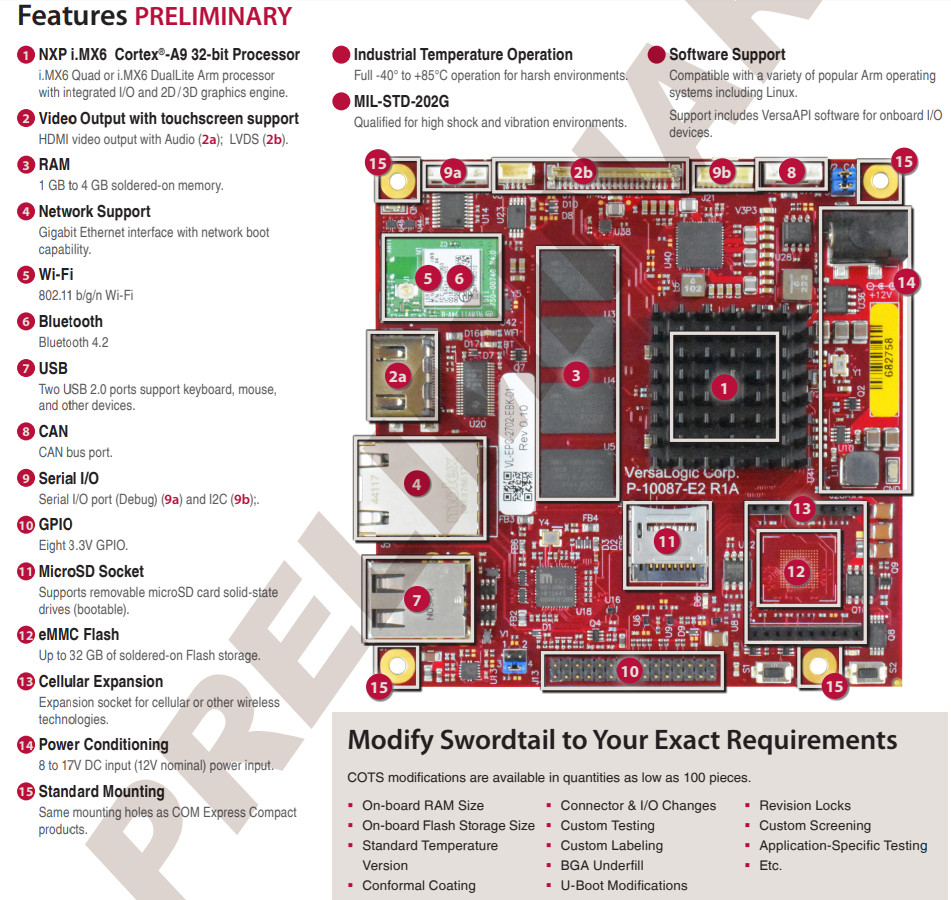 Swordtail embedded computer boards provide connectivity via Wi-Fi, Bluetooth, Gigabit Ethernet, USB, and CAN bus interfaces, as well as HDMI video and audio support and LVDS panel support with backlight and touchscreen signals. Additional on-board I/O includes I2C with interrupt input support, and GPIO lines.
The Swordtail will be available in Q2 from VersaLogic and Digi-Key, with OEM pricing starting at $239. More information may be found in Versalogic's Swordtail announcement and product page.