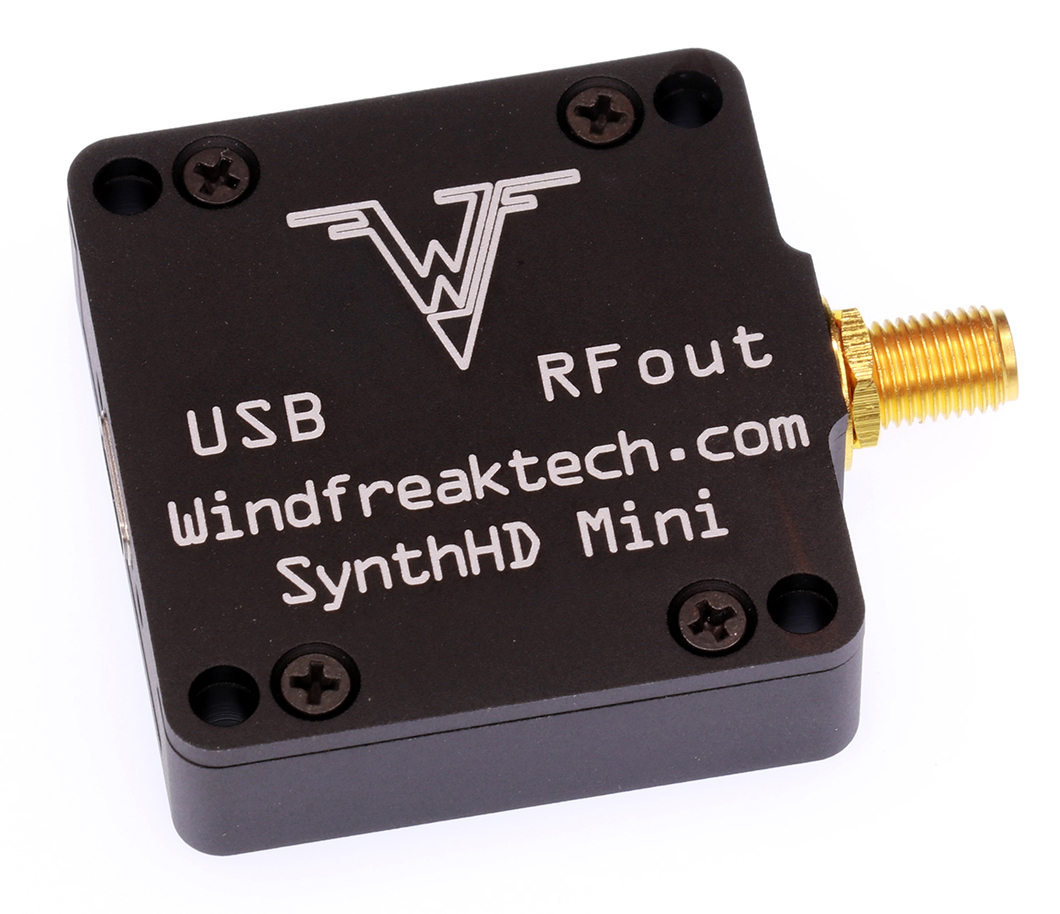 Ultra-Compact SynthHD Mini 15GHz Microwave Signal Generator
The SynthHD Mini is probably the world's smallest innovative, low-cost, pocketable RF signal generator – software-tunable from 10MHz to 15GHz in 0.01 Hz steps
Saelig Company Inc. has introduced the Windfreak SynthHD Mini, a software tunable RF signal source that generates signals from 10MHz to 15GHz with a 0.01Hz resolution and an output power of up to 20dBm. The generator also supports FM, AM, Pulse, Sweep, and List modulations. It can be programmed for standalone operation, running without any PC connection, to produce any frequency, power, sweep, or modulation setting or combinations thereof. When powered by 5V it becomes a highly mobile, low power, light weight solution for a wide range of RF signal generation needs.
This compact 1.6" x 1.6" x 0.5" RF signal generator can be powered from a controller running Windows, Linux or Android via its USB port, requiring 5V at 400mA. The output amplitude can be adjusted in 0.01 dB steps up to +20dBm and across a range of more than 30dB.
Specifications:
10MHz to 15GHz in 0.01Hz steps
-13dBm to +20dBm (typical) in 0.01dB steps
Select internal 27MHz reference or use external 10-100MHz reference
Pulse, AM, and FM internal modulation including FMCW radar chirp
Pulse Modulation with 1μS minimum width and 1μS resolution
Pulse, AM, and FM external modulation from DC – 10kHz
Powerful Trigger modes allow external triggering of most functions without a PC connected
Linear, %, and list mode (frequency and amplitude hopping) sweeps
All settings savable to the device for use without a PC
32 bit ARM processor onboard which is Arduino compatible
LabVIEW GUI executable and source code provided
Windows, Linux, and Android compatibility
This software-tunable generator is suitable for use in applications such as wireless communications systems, RF and microwave radios, software-defined radio, radar, automated test equipment (ATE), radiated immunity pre-compliance testing, electronic warfare, law enforcement, medical research, etc.
Designed and manufactured in USA by Windfreak Technologies, a producer of low cost, innovative RF products that are in use worldwide in a variety of technical applications, the SynthHD Mini is a highly mobile, low power, lightweight solution for sophisticated RF signal generation needs.
Join 97,426 other subscribers

Archives