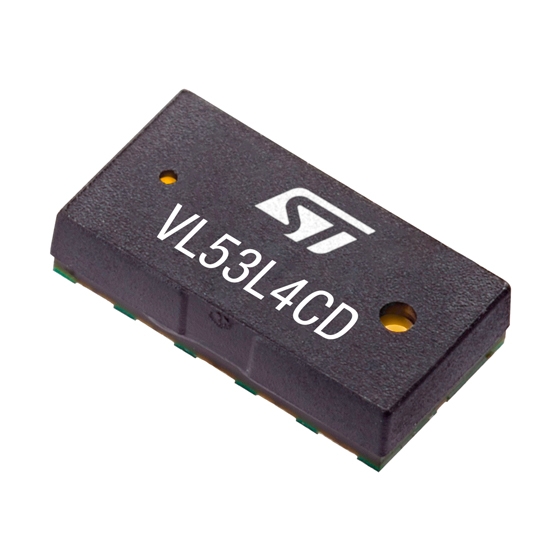 VL53L4CD Time-of-Flight High-Accuracy Proximity Sensor measure from 1 mm up to 1200 mm
STMicroelectronics' ToF sensor provides very accurate distance measurements from only 1 mm up to 1200 mm
Specifically designed for proximity and short-range measurements, STMicroelectronics' VL53L4CD provides very accurate distance measurements from only 1 mm up to 1200 mm. A new generation laser emitter with 18° FoV (field-of-view) improves performance under ambient light, with ranging speed up to 100 Hz.
With very low power consumption, thanks to an Autonomous mode with programmable distance threshold, the VL53L4CD is ideal for use in battery-powered devices. Its fully embedded on-chip processing helps reduce design complexity and BOM cost since less powerful and less expensive microcontrollers can be used. Like all ToF sensors based on ST's FlightSense technology, the VL53L4CD records an absolute distance measurement regardless of the target color and reflectance.
Housed in a miniature reflowable package that integrates a SPAD (single-photon avalanche diode) array, the VL53L4CD achieves excellent performance in various ambient lighting conditions and for a wide range of cover glass materials.
All of ST's ToF sensors integrate a VCSEL (vertical cavity surface emitting laser). It emits a fully invisible 940 nm IR light that is totally safe for the eyes (Class 1 certification).
Features
High-accuracy proximity ranging
High-performance proximity sensor
From 0 mm to 1200 mm with full FoV
Short distance linearity down to 1 mm
FoV of 18°
Autonomous low power mode with programmable interrupt threshold to wake up the host
Fast ranging frequency up to 100 Hz
Fully integrated miniature module
940 nm invisible laser emitter (VCSEL) and analog driver
Low power microcontroller running advanced digital Firmware
4.4 mm x 2.4 mm x 1 mm size
Pin-to-pin compatible with VL53L0X, VL53L1X, VL53L1CB, VL53L3CX, and VL53L4CX
Easy integration
Reflowable component
Single power supply 2v8
Can be hidden behind cover glass
I²C interface (up to 1 MHz)
Full set of C software drivers (Linux compatible) for turnkey ranging
Embedded processing for very low memory footprint in the host
more information: https://www.st.com/en/imaging-and-photonics-solutions/vl53l4cd.html
Join 97,426 other subscribers

Archives