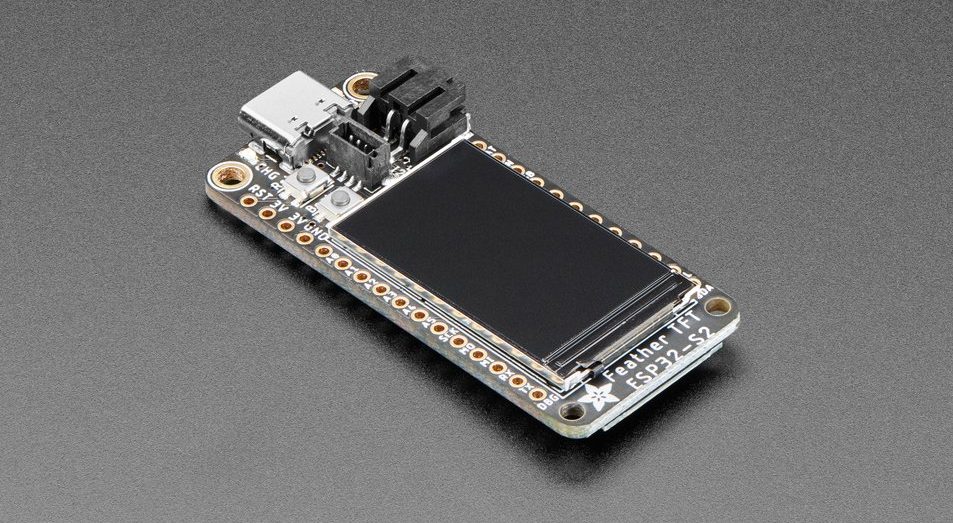 Adafruit Releases ESP32-S2 TFT Feather Board with Wi-Fi And Built-in Native USB
Adafruit feather boards have been successful in fulfilling the demands of the maker community. Yet another Adafruit ESP32-based TFT panel-mounted feather board with the support for CircuitPython or Arduino. Onboard IPS TFT color display gives you the flexibility to work on a 240 x 135 pixel density panel for mini gaming applications. In addition to the customizability of the hardware, it can be plugged on the breadboard, terminal block wing, and even Feather Doubler.
At the heart of the embedded hardware is the ESP32-S2 system-on-chip featuring a single-core processor running at 240 MHz but unfortunately no support for Bluetooth wireless communication. Of course, the chip won't be as fast as ESP32's dual-core processors, but the hardware is built for mini IoT projects with expandability through the massive community of Feather Wings. Low-power system-on-chip is designed to work on Wi-Fi with a native built-in USB and some exciting features like time-of-flight distance measurements.
Specifications of Adafruit ESP32-S2 TFT Feather
SoC: ESP32-S2 240MHz Tensilica processor clocked at 240 MHz frequency
Memory: 2 MB of PSRAM
Storage: 4 MB flash
Wireless connectivity: Wi-Fi
Display: Color 1.14″ IPS TFT with 240×135 pixels
Power: USB type C or LiPoly battery
Battery support: LiPoly battery monitor
Sensors: Stemma QT connector for I2C devices
Debug: Serial debug output pin
Software: CircuitPython or Arduino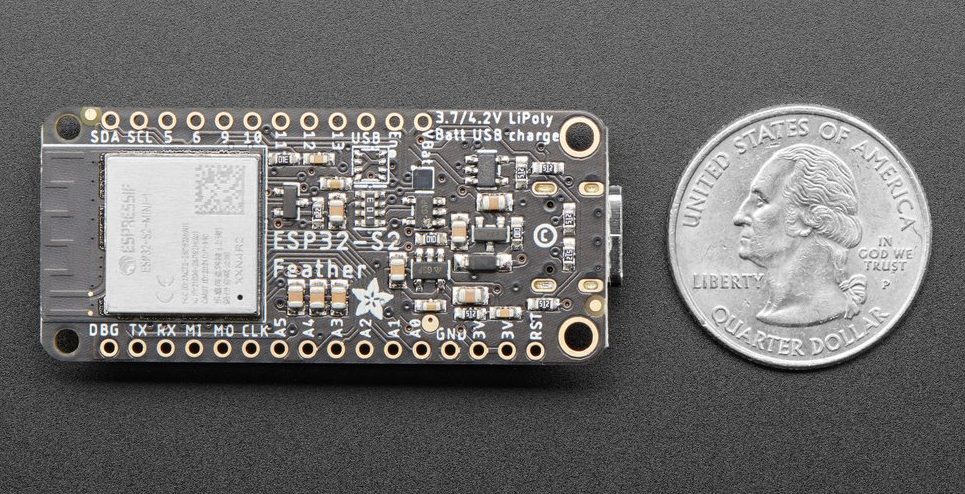 The embedded hardware comes with a Stemma QT connector for I2C devices to interface sensors for environmental applications. The TFT display onboard gives the option to highlight the environmental parameters fetched from the edge sensor devices. Don't forget the native USB, which means that it can act like a keyboard or a disk drive.
Low-power usage for the Adafruit ESP32-S2 TFT Feather board has a second AP2112 regulator, which is controlled with a GPIO pin. This can power off the Stemma QT port as well as the TFT display. Also comes an independent power pin for the NeoPixels that can be used to disable it for even lower quiescent power.
Currently, the hardware is out of stock, but you can find more details on the $24.95 Adafruit ESP32-S2 TFT Feather Board on the official product page.
Join 97,426 other subscribers

Archives