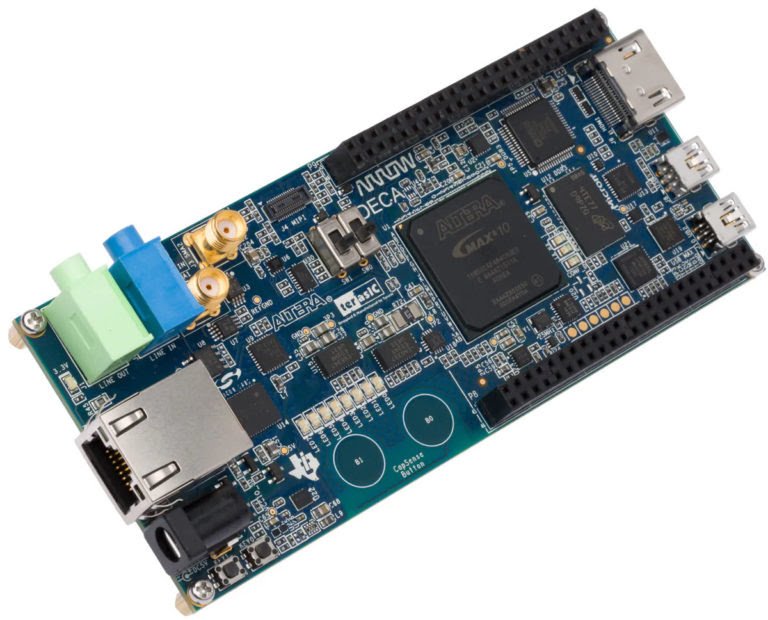 Arrow DECA Board With Intel's MAX 10 FPGA Now Sells For $37
A few years ago, when the Arrow DECA development board was introduced with Altera's MAX 10 FPGA, the board was offered for $169. Later on, Intel purchased the Altera FPGA business and the price of the board reduced to $65. The price has now dropped tremendously again and the board can now be purchased for just $37.
DECA features the Intel MAX® 10 FPGA with on-chip-RAM, user flash memory, and a high-speed DDR3 external memory. The board also comes with a wide range of sensors such as gesture, proximity, and ambient light, humidity and temperature, and accelerometer, as well as interfaces connecting to 10/100 Ethernet, USB2.0 OTG, SDHC, HDMI, and MIPI CSI-2. All these are targeted towards making the board exciting for many applications.
DECA is expandable via a BeagleBone compatible I/O expansion header and also supports the new Arrow BLE / WIFI Beaglebone cape.
DECA is perfect for system management, I/O expansion, communication control planes, industrial, automotive, and consumer applications. With this board, you can enjoy the power of tremendous re-configurability together with low-power high-performance FPGA.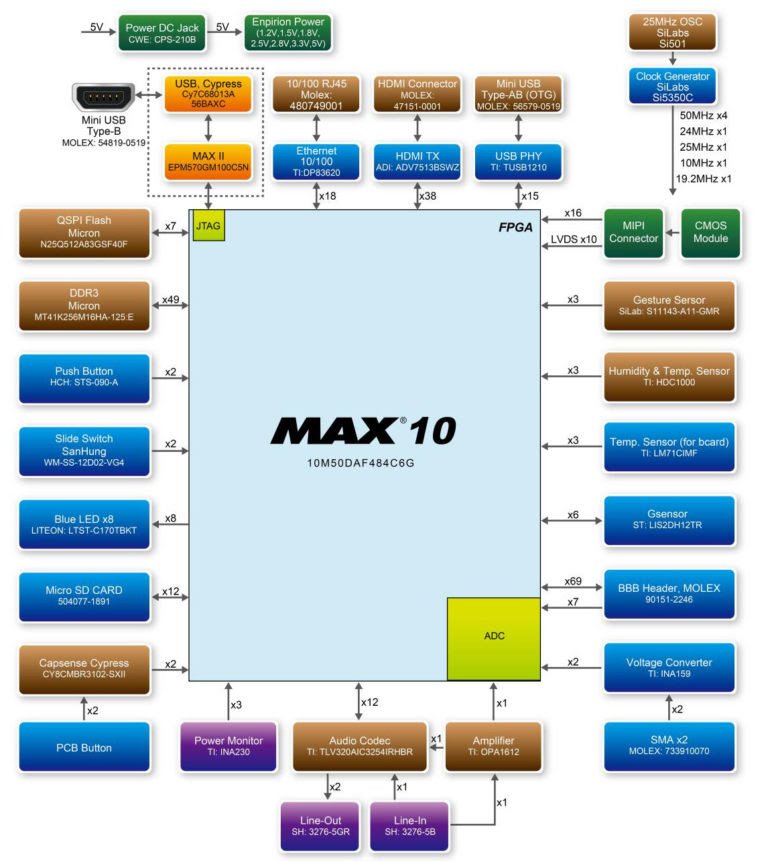 Specifications of the Arrow DECA development board include:
Intel MAX 10 FPGA (10M50DAF484C6G) with 50,000 logic elements, 1,638 Kbit block memory, 5,888 Kbits user flash memory, 4x PLLs (phase-locked loops)
512MB DDR3 SDRAM
64MB QSPI Flash
1x MicroSD card socket
HDMI v1.4 including 3D video support
24-bit audio CODEC with line-in, line-out jacks
MIPI connect for camera module
10/100M Ethernet (RJ45)
1x Mini USB 2.0 port
Proximity/ambient light sensor
Humidity & temperature sensor
Temperature sensor
Accelerometer
2x BeagleBone Black compatible headers
360x General Purpose Input/Output
2x ADC SMA inputs
3x 50MHz clock sources from the clock generator
Mini USB-Blaster II onboard for programming; JTAG Mode
2x CapSense buttons
2x push-buttons
2x slide switches
8x blue user LEDs
5V DC via power barrel jack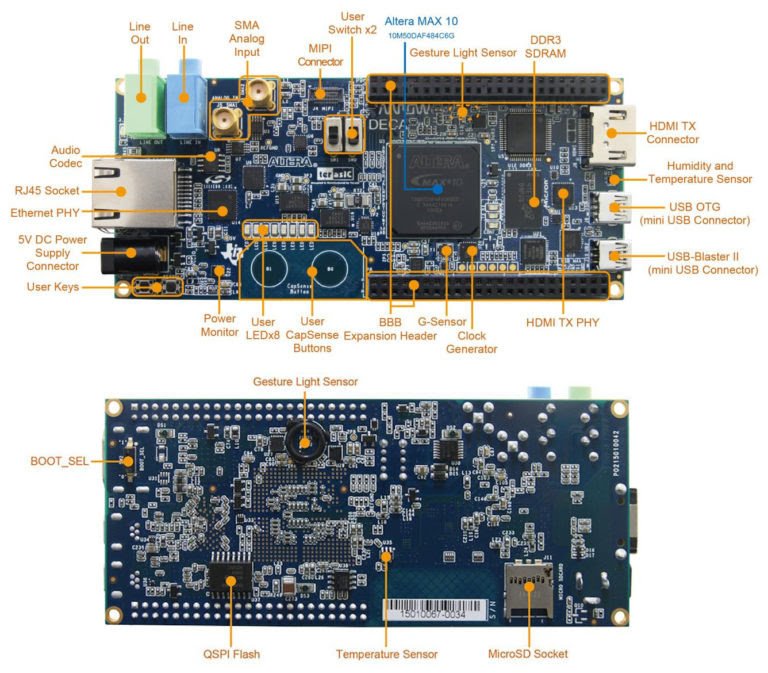 Asides from the fact that the board will now be sold for $37, members of the ArrowPerks loyalty program will also be considered for a fast free shipping scheme. The DECA development board will be shipped together with one Ethernet cable, two USB cables, a 5V DC power adapter, and a quick starter guide to help with getting started without much fuss.
The company also states that the board will support Linux now unlike when it initially required a PC running Windows 7 or greater with 4GB RAM, Intel Core i3 processor, and around 20GB of free hard disk space to run Quartus II IDE.
More details including datasheet, schematics, user manual online workshop documentation can be found on this website.