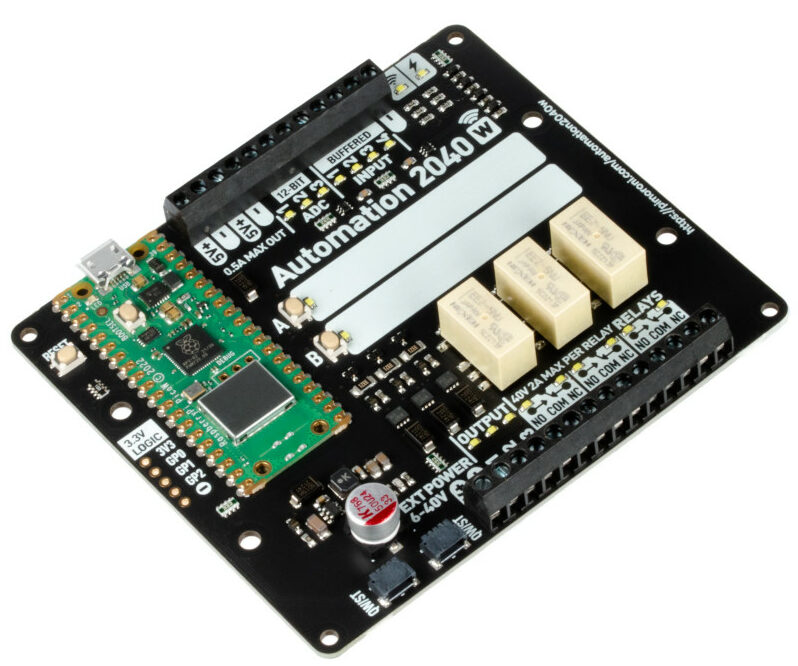 Automation 2040 W is a standalone monitoring and automation board with pre-soldered Pico W
UK-based Pimoroni has designed an all-in-one Automation 2040 W monitoring and automation system based on the Raspberry Pi Pico W development board module. As a standalone affair with pre-soldered Pico W, 2.4 GHz WiFi 4 wireless connectivity, and an extended voltage range of 6 to 40V, the Automation 2040 W seems to set the pace for other home automations boards that we have seen.
The board is equipped with rich interfaces and components such as relays, analog channels, powered outputs, and buffered inputs. 4x digital inputs and 3x 12-bit analog inputs are located along its top while 3x relays and 3x sourcing outputs providing up to 40V for things like pumps and larger motors are located at its bottom. Other features include 2x user buttons, 1x reset button, 2x Qwiic/STEMMA QT connectors for breakout sensors, an unpopulated header, and one status LED wired directly for every input and output so you can see when it's active at a glance.
The board is tolerant from 6V all the way up to 40V, and compatible with 12V, 24V, and 36V systems for all your home automation needs. It can also provide 5V outputs for lower-voltage applications.
The Automation 2040 W board can be used to control fans, pumps, solenoids, larger motors, electronic locks, etc. It comes fully assembled and requires no soldering.
Specifications Include:
Built-in Raspberry Pi Pico W with:

Raspberry Pi RP2040 dual-core Cortex-M0+ microcontroller @ 133 MHz with 264KB SRAM
2MB QSPI flash memory
2.4GHz wireless
1x micro USB for power and programming

3x 12-bit ADC inputs up to 40V
4x Digital inputs up to 40V
3x Digital sourcing outputs at V+ (supply voltage)

Max continuous current 4A
Max current of 2A at 500Hz PWM

3x relays supporting 2A up to 24V, 1A up to 40V
3.5mm screw connectors for inputs, outputs and external power
5-pin header with 3x GPIO, 3.3V and GND
2x Qw/ST ports
2x LED indicator buttons
Reset Button
WiFi and Power LEDs
M.25 Mounting holes
Power:

Requires 6 to 40V supply via screw terminals
Can supply 5V up to 0.5A for applications needing lower voltage
Board is compatible with 12, 24, 36 V systems

Dimension: TBD
OS: C++/Micropython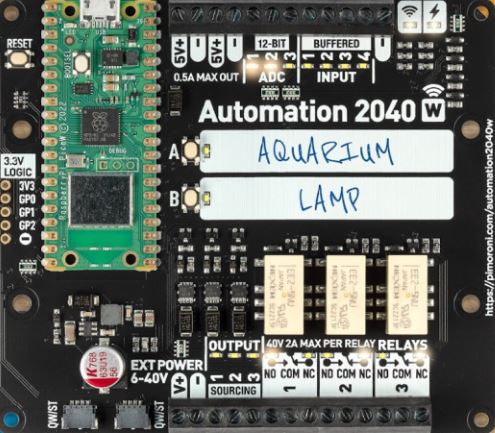 Software Support
The Automation 2040 W can be programmed with C/C++ or MicroPython. There is a Getting Started Guide to show you how to connect the board and program it with MicroPython.
Price and Availability
The board sells for $57.72, maybe a little bit on the high side anyway, but then it is a standalone device and should work with almost all home automation systems. There is also a compact Automation 2040 W mini version that goes for $38.48 but it comes with less I/Os.
Join 97,426 other subscribers

Archives