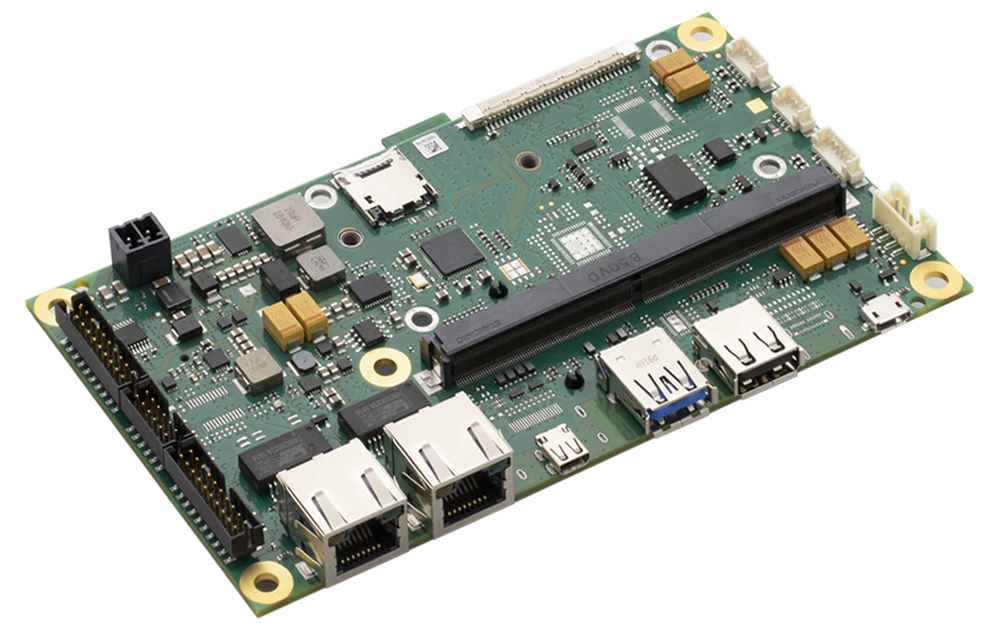 Avnet Integrated Announces New SimpleFlex Platform
Avnet Integrated announces its second SimpleFlex platform which is well-suited for HMI and IoT applications, and can be quickly adapted to a wide range of other applications with only minor configuration modifications. The ready-to-use SimpleFlex platform MSC SM2S-MB-EP5 is designed for use with Avnet Integrated's broad portfolio of x86- and ARM-based SMARC 2.0™ modules which encompasses the entire performance range from low power to high performance. Due to to its slim 3.5 inch form factor (146 x 80 mm), the SimpleFlex platform is a perfect fit for modern HMI applications with displays of 7 inches and larger.
The SimpleFlex platform MSC SM2S-MB-EP5 is flexible, comes equipped standard with the SMARC 2.0™ module (according to customer-specific requirements), and is easily configurable without requiring additional development time. More than 30 pre-validated interface combinations are available. There are four variants — two fully equipped platforms and two further optimized platforms with minimum configurations – each for x86- and ARM-based modules.
The SimpleFlex embedded platform is ideally suited for series production and may be ordered in large quantities to support high-volume production runs. Avnet Integrated assembles the application-specific platform in-house on fully automated production lines using state-of-the-art technologies and production processes for reliable implementation of customer-specific applications.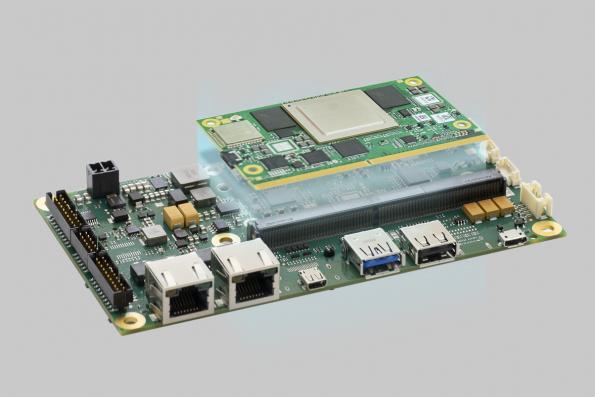 The SMARC 2.0 based SimpleFlex platform can be combined with displays and touch screens from Avnet Integrated to build a complete HMI system. Apart from a wide range of visualization systems and complex display solutions, typical applications include IoT gateways, medical devices, object recognition systems, professional infotainment systems, building automation systems, transportation applications and gaming systems.
Recently Avnet Integrated introduced the SimpleFlex platform MSC Q7-MB-EP5, designed for its modern Qseven™ module families. However, the new MSC SM2S-MB-EP5 platform, according to the SMARC 2.0™ standard, offers significantly more features such as a USB Type-C™ interface with DisplayPort as monitor interface or the connection of fast memory via PCI Express™.
Technical specifications
The SimpleFlex platform MSC SM2S-MB-EP5 embedded platform can be equipped with these modules:
MSC SM2S-IMX8MINI (Mini Cortex™-A53)
MSC SM2S-IMX8M (Cortex™-A53)
MSC SM2S-IMX8 (Cortex™-A72/A53)
MSC SM2S-IMX6 (Cortex™-A9)
MSC SM2S-AL (E3900) and MSC SM2S-ZUSP (Xilinx Zync)
Compatible with many industry-standard interfaces despite its compact dimensions.
Modern monitors can also be connected via DisplayPort and µHDMI, in addition to the USB Type-C™ interface with DisplayPort.
Displays can optionally be controlled via LVDS, MIPI-DSI or eDP.
Up to 2x Gigabit Ethernet, USB 3.0, USB 2.0, 4x UART (as TTL, RS-232 or RS-485), audio with 2.5 W stereo amplifier, MIPI-CSI, GPIO, SPI, I²C and two CAN ports are available, one of which is optionally isolated.
Sockets for Mini PCI Express™, M.2 Key M and Micro-SD can be used to extend the variety of interfaces and memory diversity with fast storage media.
A WLAN/Bluetooth/NFC module with optional antenna additionally ensures the connectivity of the embedded platform.
Designed for use in industrial environments and is specified for the extended temperature range from -40°C to +85°C. Various heat spreaders and heat sinks are available for easy system integration.
For more information, please visit: MSC SM2S-MB-EP5