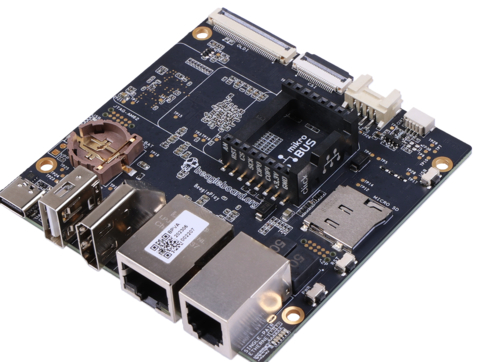 BeaglePlay is an open-source hardware platform with TI AM625 processor
The BeagleBoard Foundation has released BeaglePlay, an open-source performance platform that provides a flexible solution for users with varying levels of experience. With its wide range of connectivity options, BeaglePlay allows users to connect with numerous sensor and prototyping systems, making it an incredibly versatile tool for developers.
BeaglePlay utilizes an open-source Linux approach based on the Texas Instruments AM625 processor that features four 64-bit Arm Cortex-A53 processor cores and low-latency microcontroller subsystems. The processor also includes a dedicated Texas Instruments SimpleLink CC1352P7 sub-1 GHz and 2.4-GHz wireless microcontroller and a Texas Instruments WiLink WL1807MOD Wi-Fi module.
BeaglePlay comes with a tailored Debian Linux image from the BeagleBoard Foundation that includes a pre-installed desktop and features such as a Wi-Fi access point and BeagleConnect gateway functionality allowing rapid and flexible development options. Additionally, the software supports several application libraries and examples from Linux, Zephyr, MicroPython, and other open-source frameworks, making it effortless for users to incorporate various features into their projects.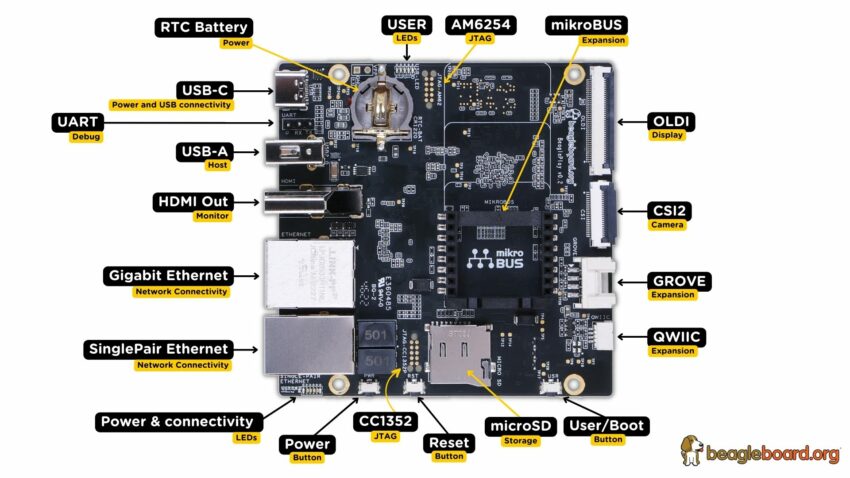 Specifications of BeaglePlay hardware device
Processor: Texas Instruments AM62x Sitara processor series– TI AM6254 multicore A53 with R5, M4s and PRUs
Integrated power management: TPS6521901
Memory: 2GB DDR4 memory
Storage: 16GB eMMC and microSD card slot
Wireless connectivity: WL1807MOD module for 2.4GHz and 5GHz dual-band Wi-Fi and CC1352P7 for Bluetooth Low Energy
Ethernet: Realtek RTL8211F-VD-CG gigabit Ethernet phy
Interfaces: USB Type-C, HDMI port, mikroBUS connector, Grove, QWIIC, CSI connector, and an OLDI connector
Furthermore, BeagleConnect technology allows users to connect to remote sensors up to a distance of 1km away, using the sub-1GHz IEEE 802.15.4 wireless network to a BeagleConnect Freedom, which is particularly beneficial for remote sensing applications. This feature significantly enhances the flexibility of the BeaglePlay platform.
The Texas Instruments AM625 application processors are intended for developing Linux applications and are equipped with embedded features such as 3D graphics acceleration and dual-display support. These processors are available in two sizes: an industrial-grade 13×13 mm package (ALW) and a 17.2×17.2 mm package (AMC), which meets the AEC-Q100 automotive standard.
The processors have integrated Cortex-M4F cores and specialized peripherals, which can be separated from the rest of the AM62x processor to meet functional safety requirements for industrial and automotive applications. The board is currently listed on Element 14 for $108.90.
Join 97,426 other subscribers

Archives