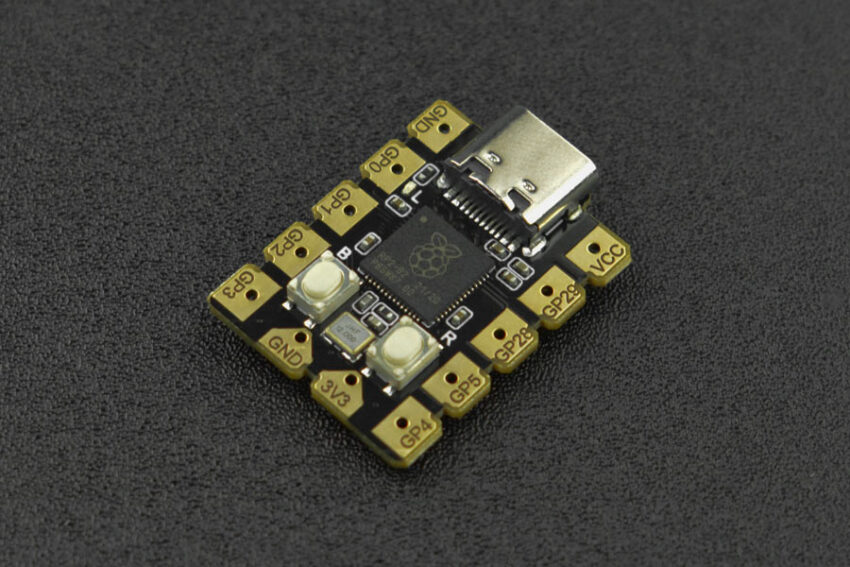 Beetle RP2040 Mini Development Board from dfrobot.com
Designed by Raspberry Pi, RP2040 features a dual-core ARM Cortex-M0+ processor with up to 133MHz clock and 264KB internal RAM, and supports USB 1.1 devices, which allows users to focus on function implementation instead of spending too much time and effort on improving codes.
DFRobot Beetle RP2040 is a development board built around the RP2040 chip. It has a compact size of 27mm×20mm, which is easy to be embedded into small devices or projects.

Features
RP2040 microcontroller chip designed by Raspberry Pi
2M FLASH storage
Small size of 27mm x 20mm
Immersion gold pad for easy soldering
Support C++, MicroPython, and Arduino C programming
8 GPIO pins, I2C × 1, UART × 2, SPI × 1, digital port × 8, analog port × 2
Onboard BLINK_LED light
USB TYPE-C interface
Work well with USB 1.1 device
The board adopts a beginner-friendly large pad design, effectively reducing the difficulty of soldering. And it provides 8 carefully-selected GPIO ports that can serve as I2C, UART, SPI, digital port, analog port, etc., more convenient and flexible for users to develop various applications.
Specification
MCU: Raspberry Pi RP2040
Main Frequency: 133MHz
RAM: 264K
FLASH: 2M
Power Supply: DC 3.3V~5V
System Level: 3.3V
USB Interface: TYPE-C
GPIO: ×8
I2C: ×2
UART: ×2
SPI: ×1
Digital Port: ×8
Analog Port: ×2
Reset Button: ×1
BOOT Button: ×1
LED: ×1
USB Device: USB 1.1
Programming Method: C++, MicroPython, Arduino C, Mind+ graphical programming
Soldering Pad Size: 4×3.5mm
Pad Pitch: 2.54mm
PCB Material: FR-4
PCB Copper Clad Process: immersion gold
Solder Material: environment-friendly and lead-free
Dimension(without package): 27×20×4.91mm (at the highest point)/1.06×0.79×0.19″
Documents
Join 97,426 other subscribers

Archives