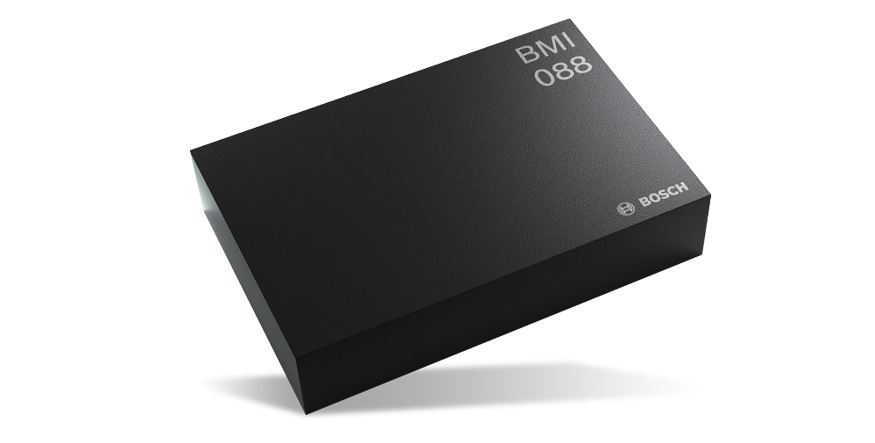 Bosch BMI088 Inertial Measurement Units
Bosch's BMI088 features high vibration suppression for drone and robotic applications.
Bosch Sensortec's BMI088 is a high-performance 6-axis inertial sensor consisting of a 16-bit digital, triaxial, ±24 g accelerometer and a 16-bit digital, triaxial, ±2000°/s gyroscope. BMI088 allows highly accurate measurement of orientation and detection of motion along three orthogonal axes. With high vibration robustness and a small footprint of 3 mm x 4.5 mm x 0.95 mm, BMI088 is unique in the class of high-performance IMUs used in harsh environments, such as those in drones and robotics applications. BMI088 is specifically designed to effectively suppress vibrations that could occur due to resonances on the PCB or the structure of the total system. Apart from high vibration robustness, the excellent temperature stability of BMI088 helps reduce the design effort and costs on a system level.
BMI088 Arduino Library: https://github.com/bolderflight/BMI088
Features
Digital resolution: Accelerometer: 16-bit, Gyroscope: 16-bit
Resolution: Accelerometer: 0.09 mg, Gyroscope: 0.004°/s
Programmable measurement ranges
-40° C to +85° C operating temperature
Calibrated sensitivity
Programmable bandwidths of 5 Hz to 523 Hz
Digital I/O: SPI, I²C, 4x digital interrupts
Less than 10 µA of current consumption in low-power mode
16-pin, 3 mm x 4.5 mm x 0.95 mm LGA package
2.4 VDD to 3.6 VDD supply voltage
1.2 VDD to 3.6 VDD I/O supply voltage
The BMI088 sensor is available from various distributors online for ~$7 for single quantities.
Join 97,426 other subscribers

Archives