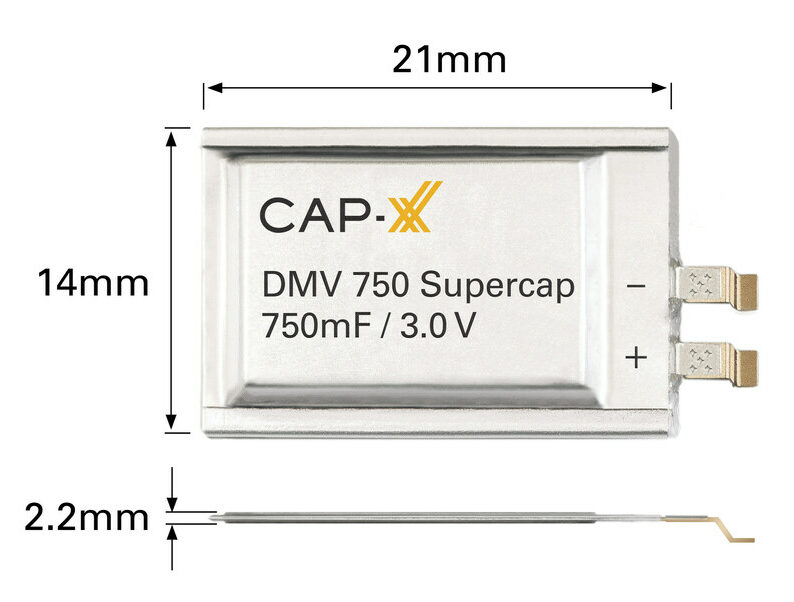 CAP-XX launches ultra-thin prismatic supercapacitor for space-constrained devices
CAP-XX, a manufacturer of ultra-thin prismatic, cylindrical, and Lithium-Ion supercapacitors, has launched its DMV750 ultra-thin 2.2mm prismatic 3V supercapacitor.
The ultra-thin 3V prismatic supercap can efficiently store and release the energy needed to drive peak-power functions in IoT, medical and other space-constrained and mission-critical electronic devices.
According to CAP-XX, the 750mF supercap can be used to complement 3V coin cell batteries, replace bulky 3V cylindrical supercaps to save design space, or replace batteries altogether when energy harvesters can extract enough environmental energy to charge the ultra-efficient supercap in sustainable, batteryless devices.
Packing 23% more energy than a 2.7-volt supercap in the same size package, the 3V, DMV750 supercap is able to provide high peak pulse power to enable either batteryless or more battery-efficient applications. It measures 21 x 14 x 2.2 millimetres, operating from -20°C to +85°C.
"It's estimated that over 5 billion 3V coin cell batteries and 12 billion IoT devices are sold annually," said Anthony Kongats, CEO at CAP-XX. "While not all devices require a supercapacitor, many would benefit from our powerful DMV750 supercapacitor to store and release the energy needed for peak power functions like data transmission."
3-Volt DMV750 applications include:
Energy harvesting for remote wireless sensors, wireless HVAC sensors, and actuators
Asset tracking
RTC and memory backup power
Peak load shaving when configured in parallel with a 3V coin cell battery, like the CR2032
Kongats continued,
"Our DMV750 ultra-thin 3V supercap provides engineers with multiple options to overcome power delivery challenges in space-constrained, mission-critical, sustainable electronic devices."
more information: https://www.cap-xx.com/products/prismatic-overview/
Join 97,426 other subscribers

Archives