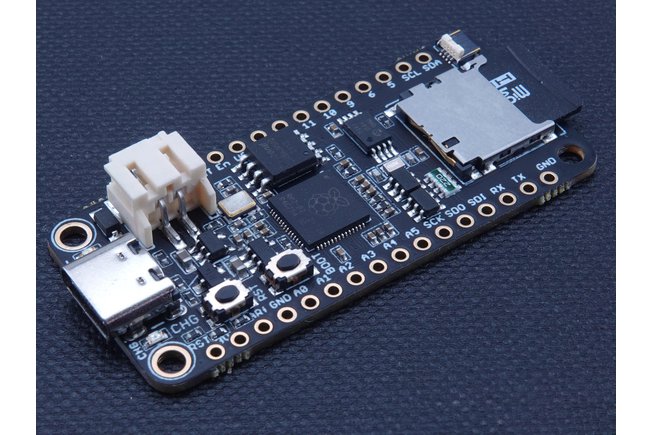 Challenger RP2040 SD/RTC – Feather-Compatible RP2040-Based Microcontroller Board with RTC and microSD Card Reader
Invector Labs (ILABS) has released a new Raspberry Pi Pico-based board equipped with a micro SD card reader and a Real Time Clock. The Challenger RP2040SD/RTC takes the popular RP2040 chip, pops it on an Adafruit Feather form factor board, and adds a micro SD card and an RTC.
Features of the Challenger RP2040 SD/RTC
RP2040 Microcontroller Chip
Raspberry Pi's RP2040 is a high-performance low-cost dual-core Cortex M0 microcontroller chip that can run on a clock up to 133MHz. Since it became available to buy in single-chip quantities on its own, the chip has found its way into a wide range of designs. ILABS paired the RP2040 microcontroller with an 8MByte high-speed flash memory that works at a maximum speed to store instructions for the microcontroller as well as data in a file system. The chip is also equipped with a 264KB on-chip SRAM and support for up to 16MB off-chip flash memory.
Micro SD card reader
The micro SD card connector located at one end of the board is one that accepts standard micro SD cards. This allows your application to store huge amounts of data, especially where you need to catch important sensor data.
Real-Time Clock
Including an RTC makes it perfect for data-logging applications. The onboard RTC used in the board is the highly-integrated Microchip MCP79410 that can provide very high accuracy, allowing you to capture the exact time that the data came in. It has a battery switchover circuit, a timestamp, and digital trimmings. Connect the RTC-backup battery so you would not have to deal with time-related issues anymore especially when dealing with sensor data.
Battery and Power
The low-cost feather board can be powered by a LiPo battery. The battery can be connected using a standard 2.0mm JST connector and can be charged either by connecting either via a USB voltage or an external 5V power source. The company also notes that there are other ways to power the board.
"The board can be powered from multiple sources," said the company. "The most obvious way to run the board is by plugging it into a USB cable and attaching it to your computer. In this mode, you can write software and test the board with all its functionality. There is also a third way to supply the board. This way is more invasive and will disable the onboard 3.3V power regulator. You will have to pull the EN header pin low and then supply your own 3.3V voltage on the 3.3V header pin. Please note that when disabling the onboard power regulator you will have to supply the 3.3V also when running the system on battery power."
Others
The small embedded computer measuring 50.80mm by 22.86mm has equipped with a user-programmable LED and a small indicator LED which indicates the charging status of the connected battery. It is also said to be compatible with Arduino and CircuitPython.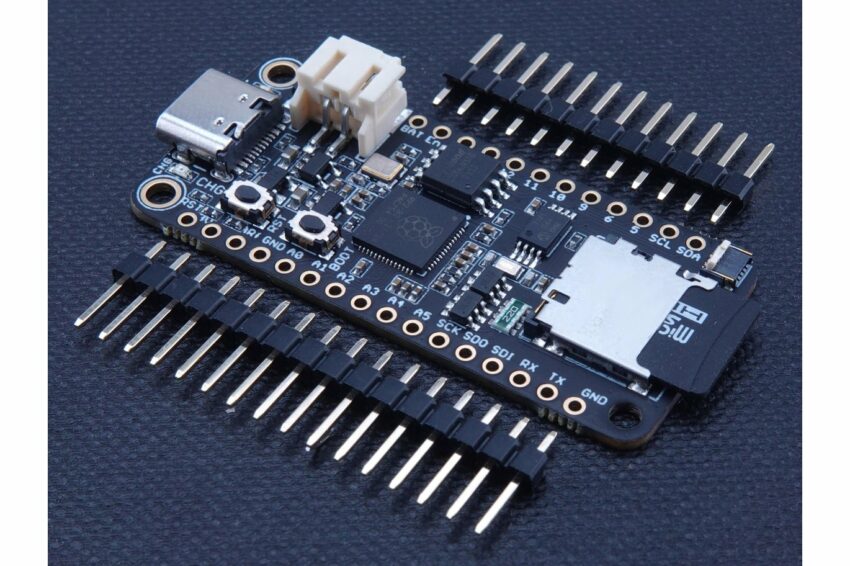 Specifications
MCU: Raspberry's 133MHz dual-core RP2040 Cortex M0
133MHz 8MByte of flash memory
264 KByte of SRAM memory
Full-speed USB 2.0 controller (up to 12 MBit per second)
1x SPI, 1x I2C, 1x UART, 4x Analog input
1x JST battery connector
Onboard LiPo charger (500 mA charge current)
Dimensions: 50.80 mm x 22.86 mm x 3.20 mm
More Information
Further details on the new RP2040-based microcontroller development board including the source codes, datasheet, and design files can be found on the product page and ILABS' Tindle store. It is currently priced at $15.50.
Join 97,426 other subscribers

Archives