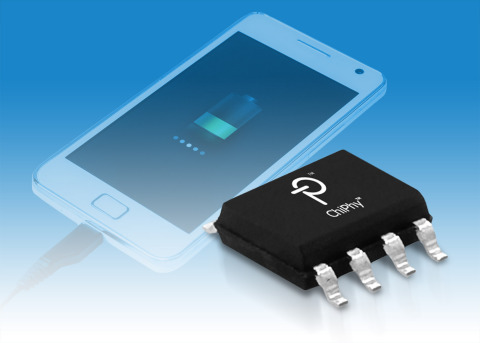 Charger interface IC avoids handset overheating at fast-charge rates
by Graham Prophet @ edn-europe.com:
Power Integrations offers a charger interface IC compatible with Qualcomm's Quick Charge 3.0 specification; PI says its CHY103D IC optimises efficiency to prevent handset overheating during high-speed charging.

Added to the ChiPhy charger-interface IC family, PI saya this is the first IC for off-line AC-DC chargers compatible with the Quick Charge (QC) 3.0 protocol from Qualcomm Technologies. Used alongside Power Integrations' InnoSwitch AC-DC switcher ICs, the CHY103D device incorporates all of the functions needed to support QC 3.0. The QC 3.0 protocol implemented in the CHY103D device substantially reduces losses in the smart mobile device handset during rapid charging. This permits system designers to choose to charge handsets faster or reduce phone touch-temperature during charging, and enhances the efficiency of the charging process.
Charger interface IC avoids handset overheating at fast-charge rates – [Link]