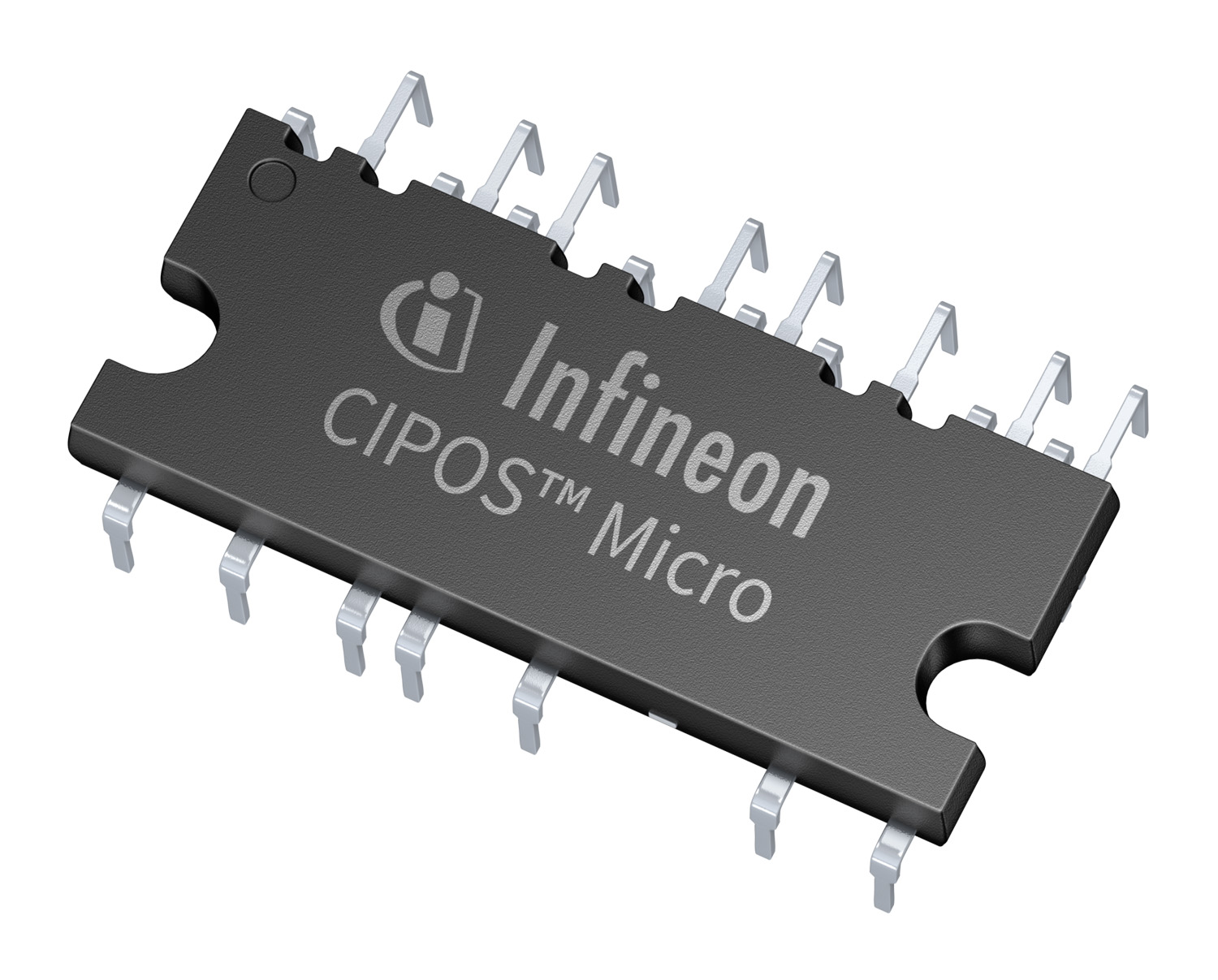 CIPOS™ Micro IPMs are qualified for harsh environments
600V intelligent power modules (IPMs) from Infineon make up the CIPOS Micro IPMs. They are qualified for harsh humid environments, passing 1000 hours of high voltage, high temperature and high humidity reverse bias (HV H3TRB) stress testing.
This makes the energy-efficient IPM suitable for power appliance motor drives particularly in circulator hydronic pumps, drain pumps for washing machines, dishwashers, and kitchen hoods. They can also be used in air conditioning fans, refrigerator compressors, and motorised blinds.
The CIPOS Micro IM231 series features the latest motor drive TrenchStop6 IGBT and optimised switching characteristics for higher efficiency and low EMI. At 2kV, the CIPOS Micro IPMs offer the highest UL1557-certified isolation voltage in its class, claims Infineon.
The series comprises 4A (IM231-M6S1B, IM231-M6T2B) and 6 A (IM231-L6S1B, IM231-L6T2B) models. The CIPOS Micro IM231 is offered in both, through-hole and surface mount form factors. For a smarter design, says Infineon, there is a built-in UL certified NTC thermistor, anti-shoot through and over-current protection and fault reporting. The IPM can be implemented in applications with or without heatsink, pushing power up to 450W.
The anti shoot-through prevents spurious simultaneous turn on of high and low side IGBTs caused by malfunction of the microcontroller or external noise, explains Infineon. In addition, the integrated current protection has a high accuracy of +/-5 per cent. Above that, multiple markets ranging from 100 to 230V AC can be addressed with the same IPM package and an identical PCB design for an easy design-in and fast time to market.
The CIPOS Micro IM231 series is available now.
more information: www.infineon.com
Join 97,426 other subscribers

Archives