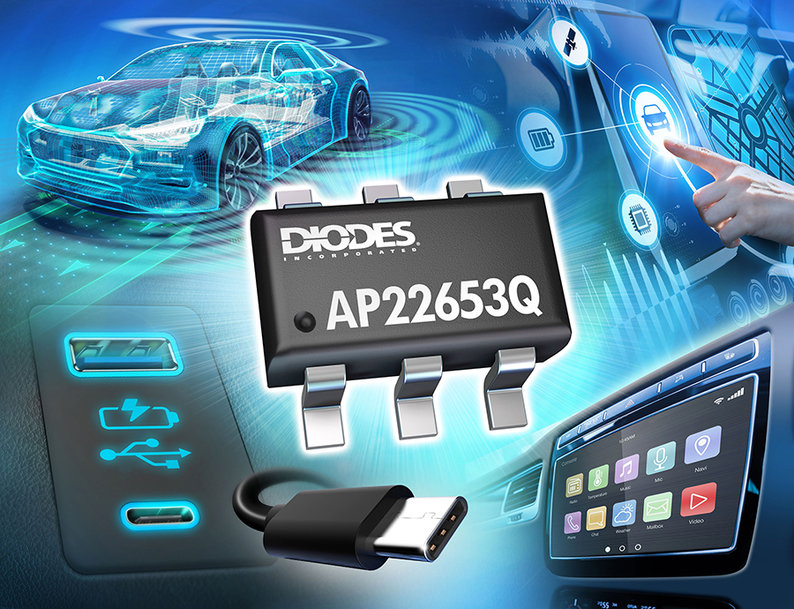 Diodes Incorporated AP22653Q Precision-Adjustable Power Switches

Diodes Incorporated AP22653Q Precision-Adjustable Current-Limited Power Switches are optimized for applications that require precision current limiting or to provide up to 1.5A of continuous load current during heavy loads/short circuits. The AP22653Q Switches provide a programmable current-limit threshold between 125mA and 1735mA (typ) via an external resistor. Utilizing high current limit settings, a ±7% current limit accuracy is achieved. Rise and fall times are controlled to minimize current surges during turn on/off.
The AP22653Q provides a complete protection solution for applications subject to heavy capacitive loads and the prospect of short circuit, offering reverse current blocking and limiting, overcurrent, overtemperature, short-circuit protection, as well as controlled rise-time and under-voltage lockout functionality.
A 6ms de-glitch capability on the open-drain flag output prevents false overcurrent reporting and does not require any external components. The AP22653Q limits the output current to a safe level when the output current exceeds the current-limit threshold.
The Diodes Inc AP22653Q Precision-Adjustable Power Switches have a fast short-circuit response time for improved overall system robustness and are available in the SOT26 (Type A1) package.

Features
Up to 1.5A maximum load current
Accurate adjustable current limit, 125mA to 1735mA
±7% Accurate adjustable current limit, 1.735A with RLIM = 15kΩ
Constant-current version
5µs (Typ.) Fast short-circuit response time
Reverse current blocking during shutdown and reverse current limiting during enable
3.0V to 5.5V Operating range
Built-in soft-start with 0.5ms typical rise time
Over-current, output over-voltage and thermal protection
Fault report (FAULT) with blanking time
2kV HBM, 750V CDM ESD protection
Enable active high
SOT26 Package available in "green" molding compound (no Br, Sb)
16kV ESD protection per IEC61000-4-2 (with external capacitance)
UL Recognized
IEC60950-1 CB Scheme certified
AEC-Q100 qualified with the following results:

Device temperature grade 1: –40°C to 125°C ambient operating temperature range
Device HBM ESD classification level H2
Device CDM ESD classification level C3B

Totally lead-free & fully RoHS compliant
Halogen and antimony free, "green" device
Typical Application

Block Diagram
more information: https://www.diodes.com/part/view/AP22653Q