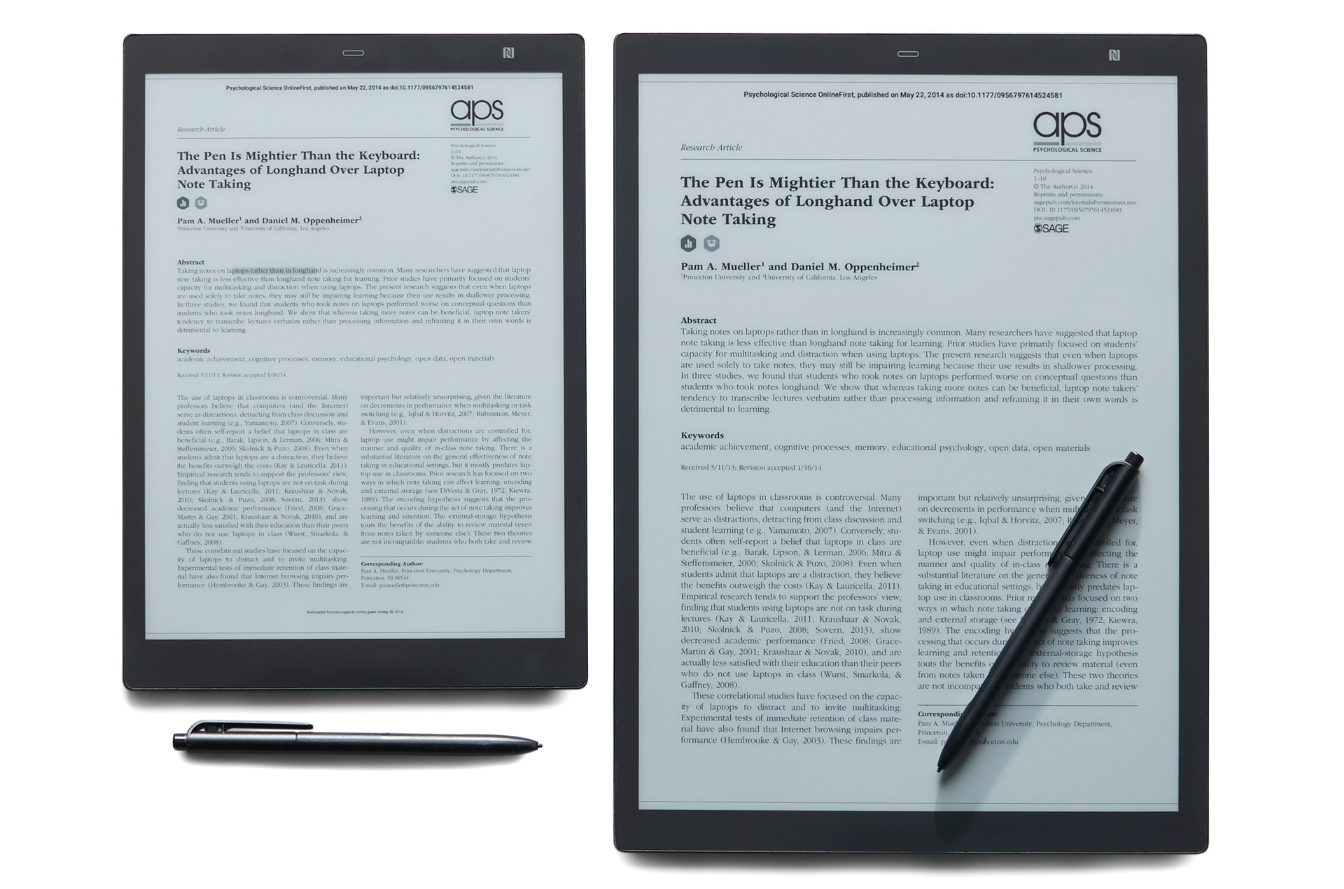 E-Ink Digital Paper Tablet Solution for is ready for Business
E-Ink has developed a Digital Paper Tablet Solution for Business, which enables companies and organizations to design and develop a customized ePaper workflow solution that meets their specific needs. This is useful for reviewing documents, collecting data, or taking handwritten notes. this can enable companies and industries to streamline workflows, improve productivity, and reduce costs. Speaking about the ePaper, the company says "Our end-to-end solution consists of whitebox unbranded tablets, integrated applications, development tools, technical support, and hardware logistics assistance.
We'll work with you to understand your desired workflow and then determine the most efficient process for developing a custom Digital Paper experience for your employees, students, or customers.
The Tablets come in a 10.3" note size and a 13.3" letter size and are thin, flexible, and durable. The tablets feature the latest E-Ink Carta™ 1250 screen technology, which offers a higher contrast ratio, faster page turns, and improved pen writing speed. The Tablets are powered by NXP i.MX 8M Mini-powered Android 9.  Both tablets also feature a digital pen supported by Wacom's battery-free EMR technology. The non-slip, non-glass surface of the tablet makes handwriting fast, intuitive, and natural, thereby giving the user a true paper-like writing experience. The tablets are glare-free, so it's easy on the eyes, and great for long-term reading. The tablet offers up to three weeks of use on a single charge.
The tablets are ideal for cooperative and educative training. You can read and annotate training and education materials on the glare-free, paper-like display. You can also take handwritten notes in meetings and classroom settings or record important thoughts and ideas, while automatically saving it all in digital format.
Features and Benefits
Reads like paper – a glare-free display is ideal for long-term, immersive reading, even in direct sunlight.
Paper-like writing – non-slip, non-glass surface provides a responsive, accurate, and natural writing experience.
Annotate, highlight, erase – Actively read documents and emphasize key points.
Take handwritten notes – organize your thoughts and ideas and file them digitally for future reference
Fill in forms – collect, record, and retrieve data on interactive digital forms.
Long battery life – up to three weeks
Thin, lightweight – take it anywhere.
Durable and unbreakable – use it anywhere.
Wireless enabled – easily access documents and notes.
Standard Wacom stylus – battery-free, no charging required.
Always on – enable quick access to documents and notes.
Autosave – never lose your data.
Secure – keep documents digital, eliminate printing.
The Digital Paper Tablet also enables Businesses, companies, and organizations to design and develop a customized ePaper workflow solution that meets their specific needs. So if you are reviewing documents, collecting data, or taking handwritten notes, the Digital Paper Tablet is capable of streamlining workflows, improving productivity, and reducing costs.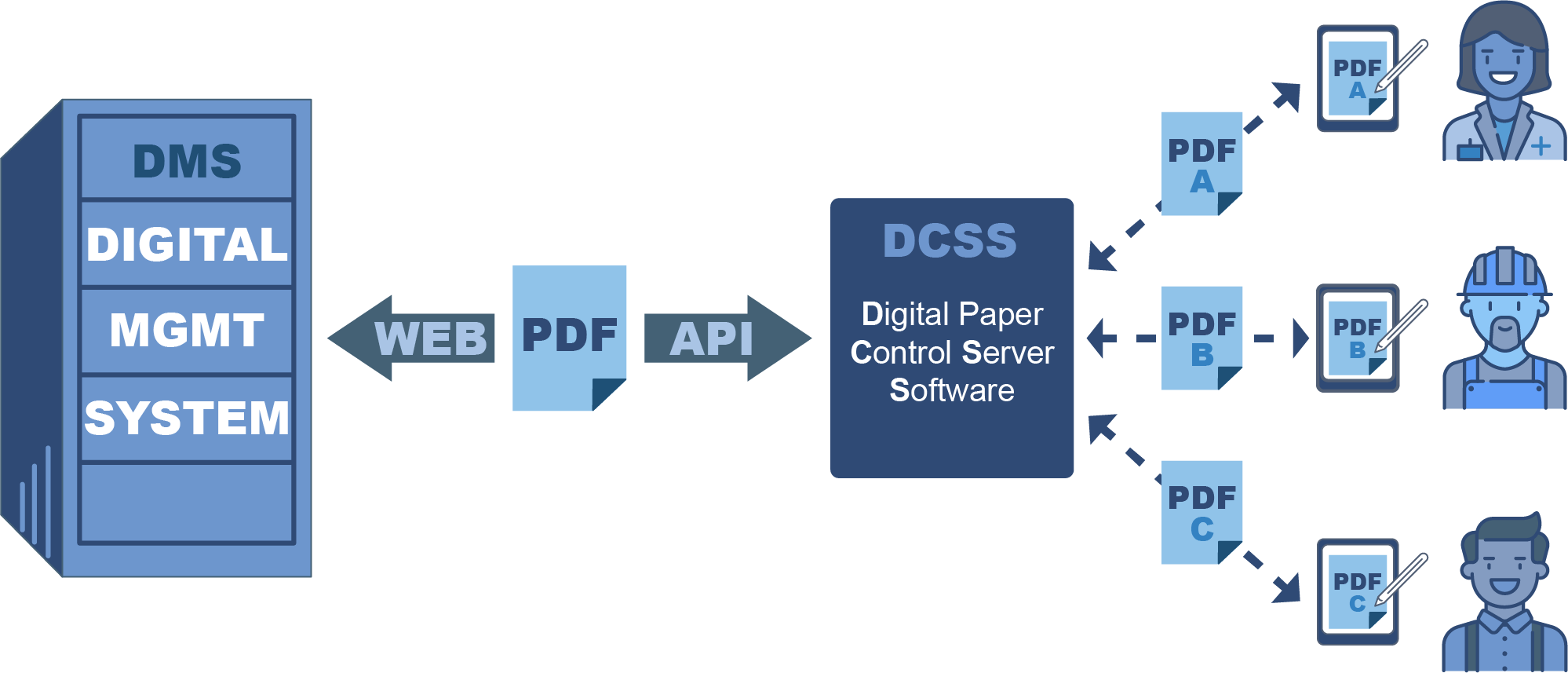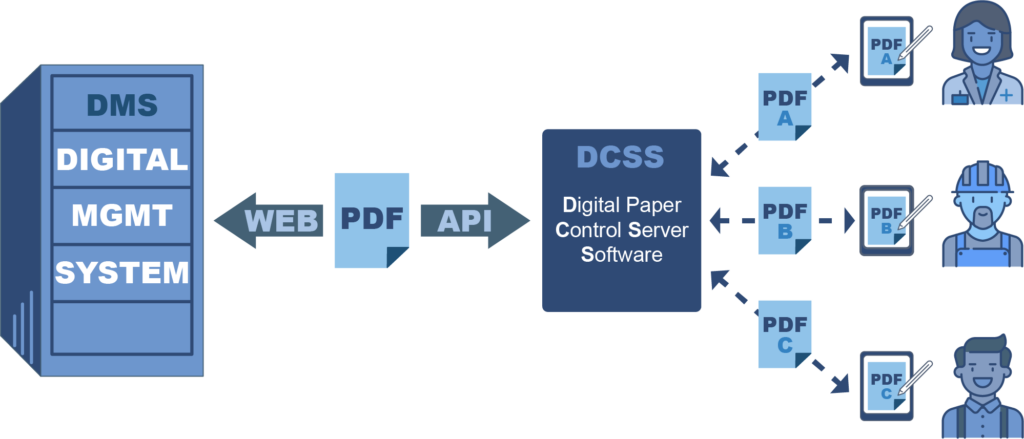 The Tablets feature a Digital Paper Control Server Software (DCSS) which enables the transfer of unique PDF documents to and from unique Digital Paper Tablets, and works in conjunction with the Digital Paper Application. It supports Windows or Linux and features a set of Web APIs that remotely control document functions such as send, retrieve, open, and rename.
It also features a Digital Paper Application which enables PDF document management and includes controls for various reading and writing options. Also available is an embedded Foxit ™ PDF Reader which enables the rendering of standard and interactive form-fill PDF documents.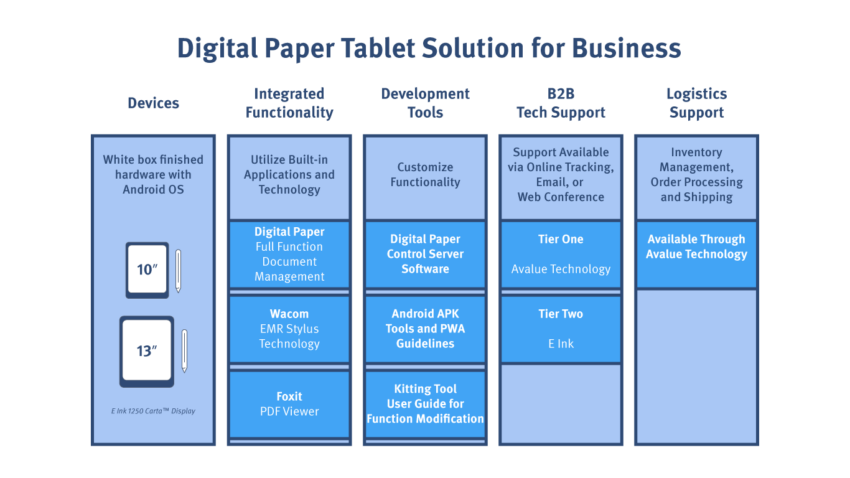 It features Wacom ™ EMR Technology, which enables fast accurate writing with 4096 pressure sensitivity and update times of less than 30 milliseconds. It also comes with a Wacom digital pen, and the tablet is compatible with other Wacom-enabled pens. The tablets run on a progressive web app (PWA), or web application that can be optimized for use on the tablet which runs on a standard Android 9 OS.
It also enables Android APK tools for assisting developers in optimizing Android applications for use on the Digital Paper tablet. It so features a UI design guide, programming guide, and waveform guide.
For more information, and specifications about Digital Paper Tablet Solution, visit E-Ink's product page
Join 97,426 other subscribers

Archives