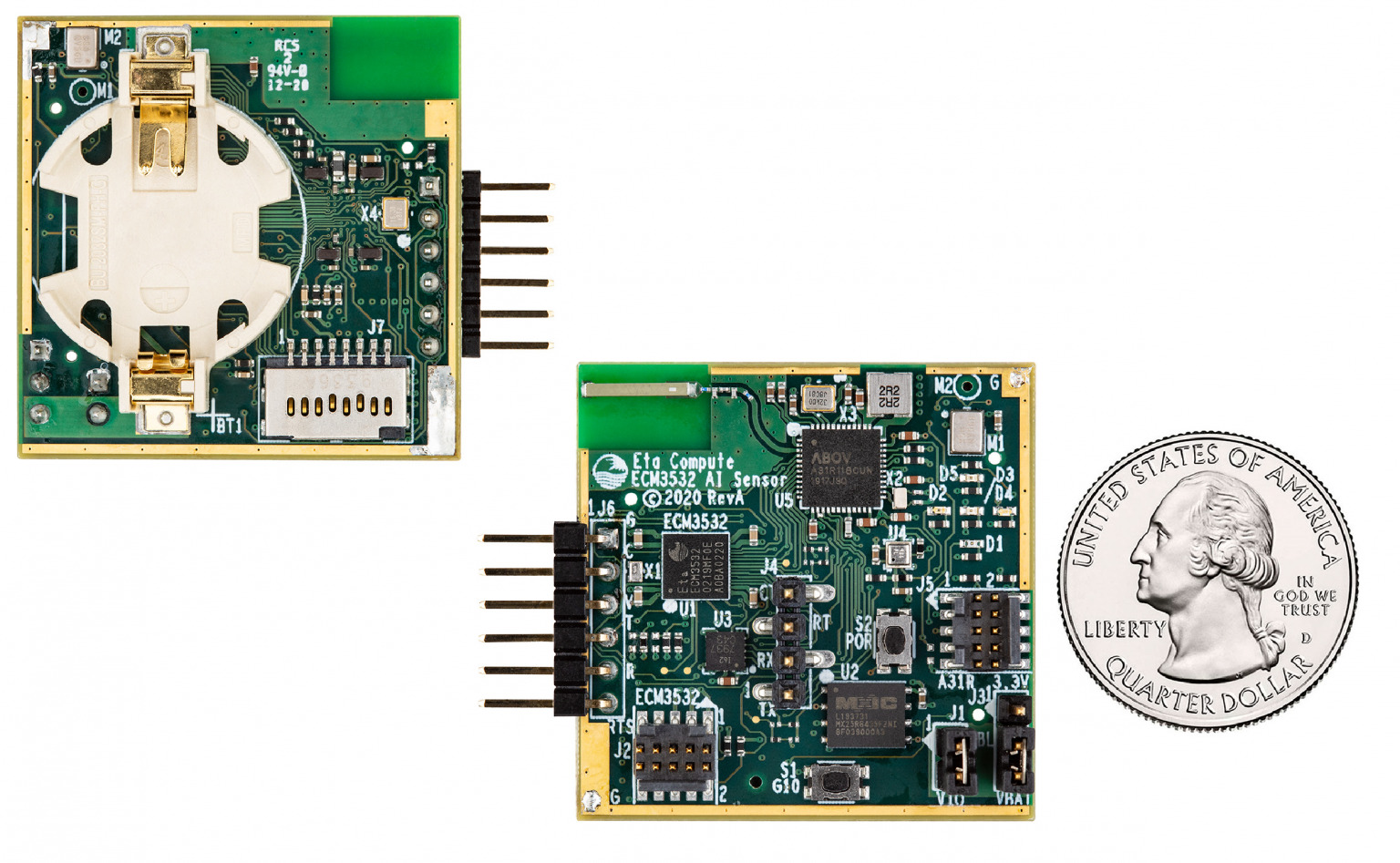 ECM3532 AI Sensor Board
Ultra Low Power Sensor Board for Artificial Intelligence at the Edge.
The ECM3532 AI Sensor board is an ultra-low power AI platform with sensors that can run many algorithms: sound classification, keyword spotting, activity classification, context awareness, defect detection and others.
It showcases the capabilities of the ECM3532 Neural Sensor Processor built with Eta Compute's patented self-timed continuous voltage and frequency scaling technology (CVFS) producing the lowest energy for inference for machine learning algorithms.
Features
1.4 x1.4-inch board with sensors and ECM3532 Neural Sensor Processor

2 x PDM MEMS Microphones: TDK-Invensense ICS-41350
1 x Pressure/Temperature sensor: BOSCH BMP388
1 x 6-axis MEMS Accel/Gyro: TDK-Invensense ICM-20602

Battery cradle for CR2032 battery
Bluetooth Low Energy on board: BLE v4.2: ABOV A31R118 and antenna
Extension for other types of RF through Micro SD card slot
6 pin UART and power port
64Mbit serial Flash for datalogging
5 LEDs and push button
Getting Started
Users can best experience the versatility of the ECM3532 AI Sensor board in minutes by using Edge Impulse's TinyML development pipeline and the 6 pin UART port.
See here for a tutorial how to use the board with Edge Impulse: https://docs.edgeimpulse.com/docs/eta-compute-ecm3532-ai-sensor
Join 97,426 other subscribers

Archives