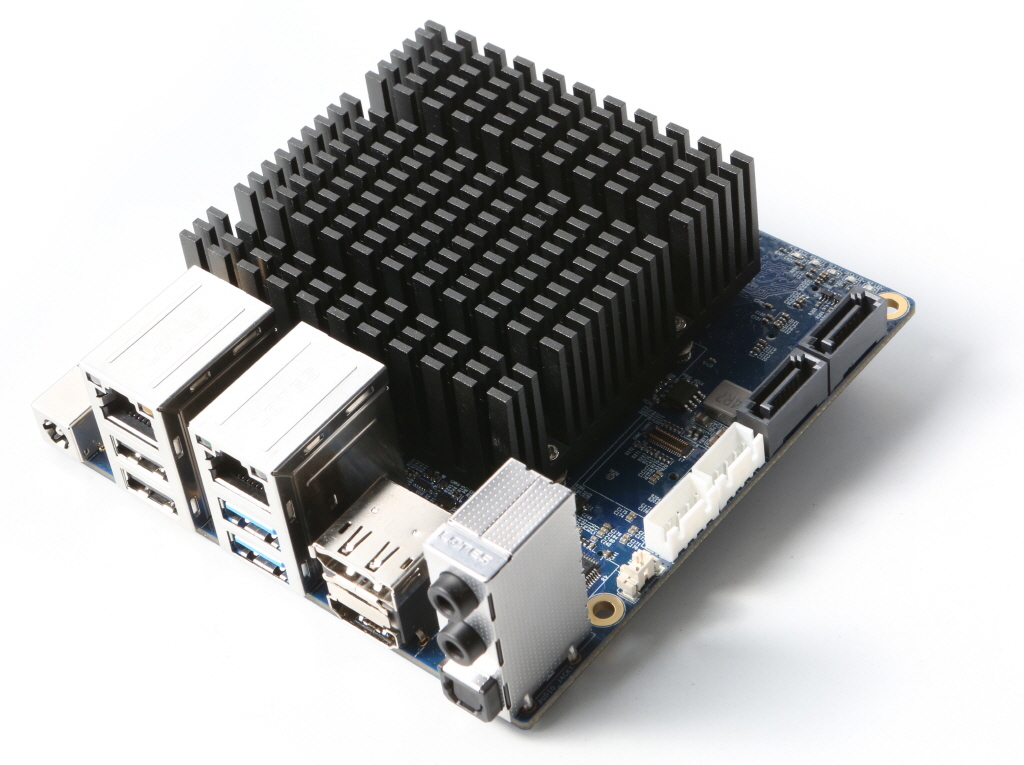 Hardkernel ODROID-H2 with Intel Celeron J4105 To Launch soon
Hardkernel started working on an ODROID x86 board since last year, and the board was slated to launch later in 2017 according to the CEO in an interview published in ODROID magazine. After several repetitions, procedures, and processors considerations, the ODROID-H2 is set to become available by November as the first ODROID x86 board. The ODROID-H2 has an Intel Celeron J4105 Gemini Lake processor, two SO-DIMM slots for memory, two SATA ports, M.2 NVMe slot for storage and two Gigabit Ethernet ports. The Odroid-H2 is equipped with a pair each of USB 3.0 and 2.0 ports, as well as a rather scanty 20-pin GPIO connector. Obviously, this is less of an IoT tinkering board than it is of a media and gaming platform.
ODROID-H2 is in the final stage of development and shipment is expected later in November. A series of performance tests were carried out, like the thermal design and power consumption testing of the board with Ubuntu 18.04. The board can stay cool (under 70°C) under heavy load, it consumes 4 watts at idle mode, and up to 22 Watts during a CPU+GPU stress test and 4K 60fps H.265 to 720p H.264 video transcoding can be done faster in real-time with performance improving by 25% when using dual channel RAM configuration. There's no WiFi, so if you use the M.2 slot for storage, you'll need to tap one of the four USB ports. There's a wide-range 14-20V DC input, a power management IC, and a real-time clock. A large heatsink keeps the CPU running smoothly at 2.3GHz even at 70°C. Since the heatsink is high, the design is able to stack the coastline ports in towers like a mini-PC. So what you get has a compact footprint, but also a high profile.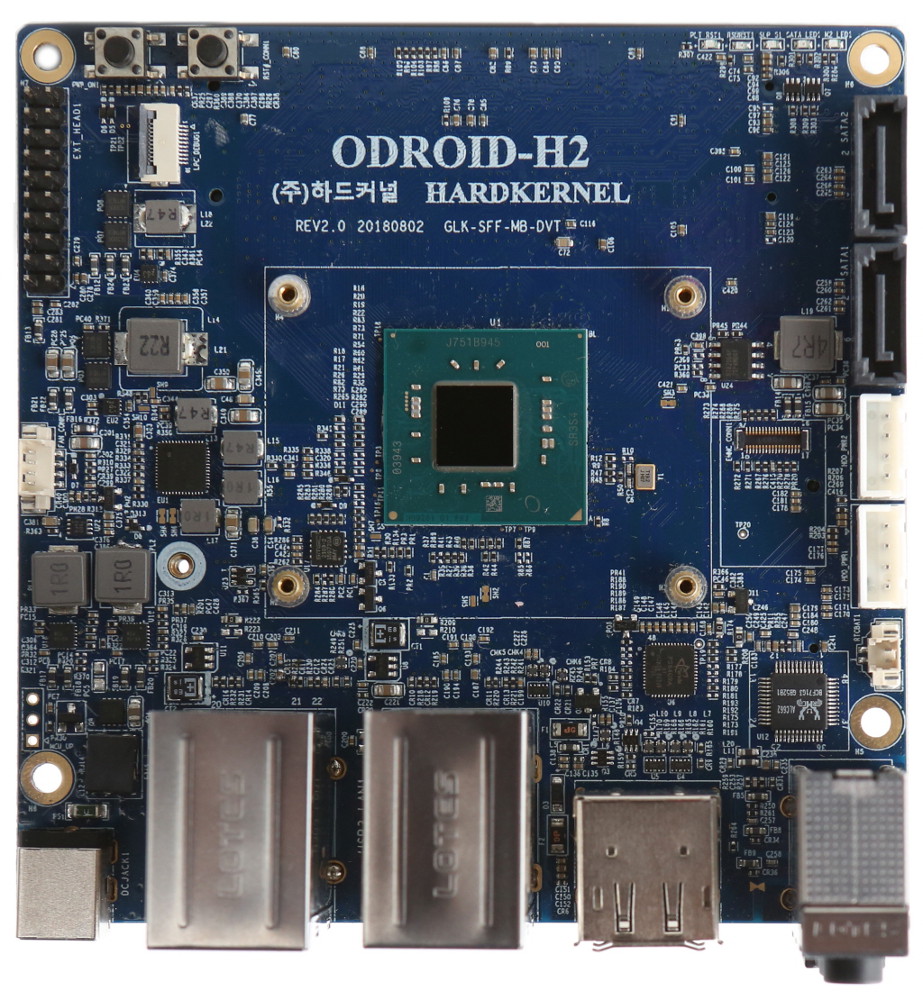 The company also released a video that shows the board runs Ubuntu 18.10 with Kernel 4.18 from eMMC storage. They ran Dolphin emulator accelerated by Vulkan GPU driver and were capable of smoothly playing Wii games with three players . The price for the device is not known yet, but with LattePanda Alpha board as a competitor, we can get an idea of the price of the Hardkernel ODROID-H2.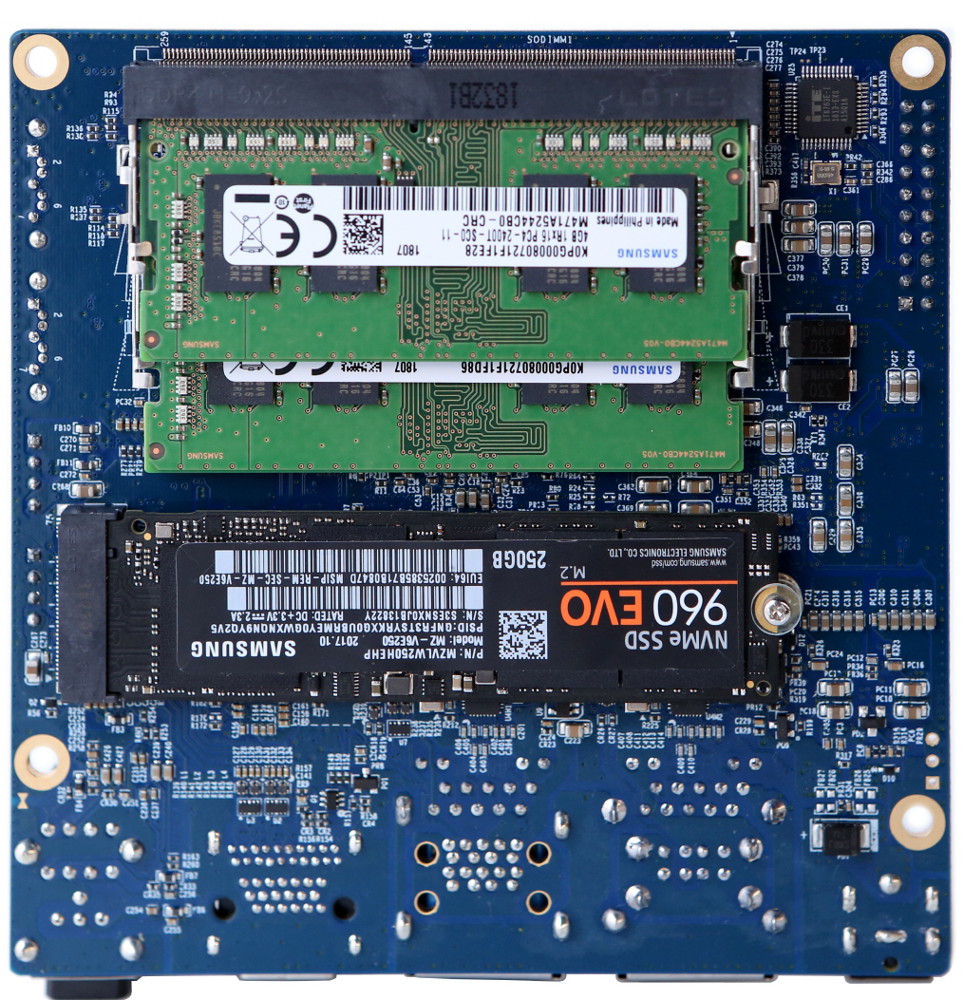 The LattePanda board comes with a similar Celeron N4100 processor, but different to the Hardkernel board, it includes a RAM soldered on the board. The LattePanda Alpha 800 model price is listed as $298 on DFRobot, which includes 8GB LPDDR3 RAM, and active cooling. Based on this price information, and the typical price for Celeron J4105 mini PCs, it is expected the barebone version of ODROID-H2 board to sell for around $180-$200 without accessories due to the fact that it also includes extra features like dual Ethernet, dual SATA, NVMe SSD support, etc, which is not often found in lower cost mini PCs.
The ODROID-H2 board specifications include:
SoC: Intel Celeron J4105 quad-core processor @ up to 2.3 GHz (real frequency) with 12EU Intel UHD Graphics 600
System Memory: Dual-channel Memory DDR4-PC19200 (2400MT/s) supporting up to 32GiB RAM in total
Storage: M.2 PCIe 2.0 x4 slot for one NVMe storage, 2x SATA 3.0 ports, eMMC flash support
Video Output: HDMI 2.0 up to 4K (4096×2160) @ 60 Hz
DisplayPort: 1.2 up to 4K (4096×2160) @ 60 Hz
Audio:  HDMI, audio jacks for HP, MIC. and S/PDIF
Connectivity: Dual Gigabit Ethernet (RJ45)
Expansion: 20-pin header with I2C and UART (3.3V)
Misc: RTC battery
Power Supply: 14V to 20V DC power input
Dimensions: 110x110x43mm
Weight: About 320 grams with a heatsink, two DRAM modules, and M.2 NVMe SSD.
More information can be found on Hardkernel's Odroid-H2 announcement.
[
update 20/11/2018
] Hardkernel launched the board today
for $111 on their online store
with shipments scheduled the start on November 27th.
Join 97,426 other subscribers

Archives