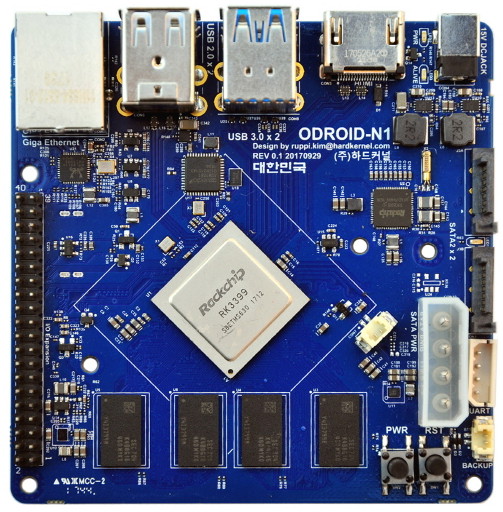 Odroid-N1 Features Gigabit Ethernet And Can Run Android 7.1, Ubuntu, Debian
The Rockchip RK3399 has revolutionized the open-spec single-board computer world. Hardkernel's new Odroid project has made the multi-core SoC RK3399 to firm it's grip further. Recently Hardkernel released images, specs, and extensive benchmarks on a prototype for its storage-oriented new Odroid-N1 board. The boards can be expected to launch for about $110 in May or June this year.
The 90x90x20mm SBC is highlighted for offering dual channel SATA III interfaces and 4GB DDR3-1866 dual-channel RAM. The Odroid-N1 can run Android 7.1, as well as Ubuntu 18.04 or Debian 9 with Linux Kernel 4.4 LTS. This new board can also be open source as its previous flagship Odroid-XU4.
The RK3399 features two Cortex-A72 cores that are clocked at up to 2.0GHz, as well as four Cortex-A53 cores, which are clocked at 1.5GHz. (Some other RK3399 boards have listed 1.42GHz.) This board also includes a high-end ARM Mali-T864 GPU. Hardkernel's benchmarks have shown the hexa-core RK3399 based Odroid-N1 is running significantly faster on most tests, beating the Odroid-XU4's octa-core (4x Cortex-A15, 4x -A7).
The Odroid-N1 is equipped with a GbE port, 2x USB 3.0 ports, and 2x USB 2.0 ports, HDMI 2.0 port for up to 4K Video output. There's also a 40-pin GPIO header. The Power input is mentioned at 12V/2A, although attaching two 3.5inch HDD will require a 12V/4A PSU. As with the other RK3399 boards, there are no hopes of Raspberry Pi add-on compatibility.
The RK3399 has powered many similar SBCs previously. The first major RK3399 SBC was Firefly's Firefly-RK3399, soon followed by Vamrs' similarly open source Rockchip RK3399 Sapphire. More recently we've seen Shenzhen Xunlong's Orange Pi RK3399.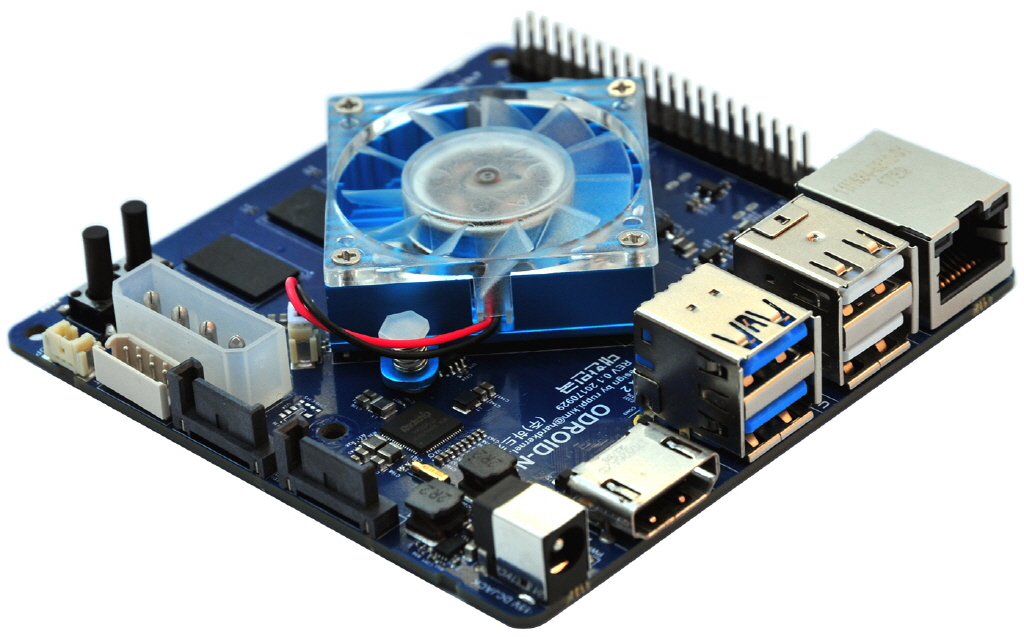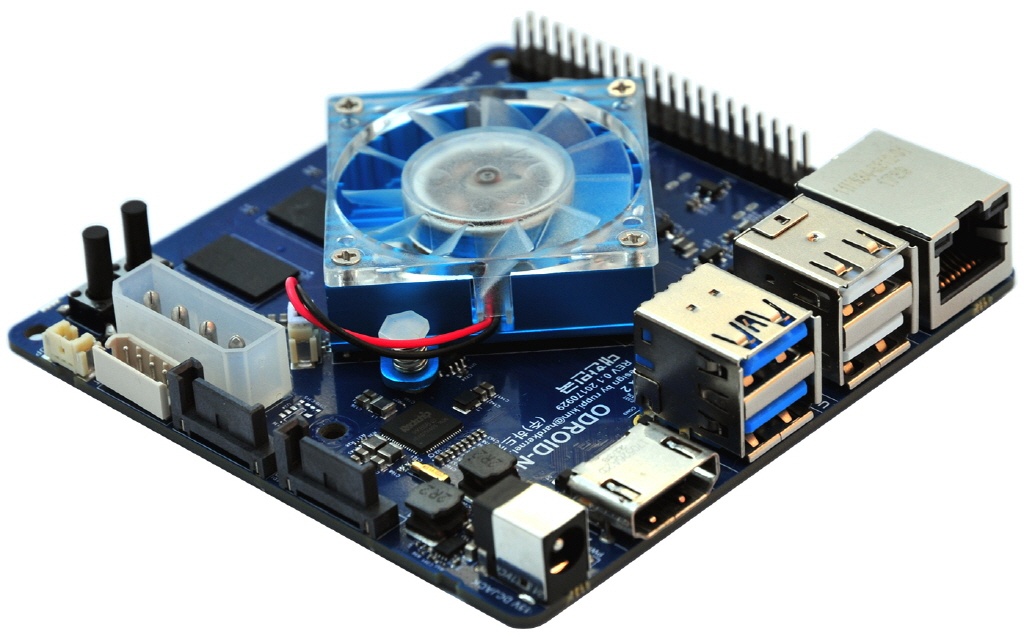 The RK3399 is also finding key roles among many commercial boards. We just saw Aaeon take the leap with its OEM-oriented RICO-3399 PICO-ITX SBC. Earlier, Videostrong announced a VS-RD-RK3399 SBC.
ODROID-N1 key features:
Rockchip AArch64 RK3399 Hexa-core processor
Dual-core ARM Cortex-A72 2Ghz processor and Quad-core ARM Cortex-A53 1.5Ghz processor, big-LITTLE architecture
Mali-T860MP4 GPU, support OpenGL ES1.1/2.0/3.0, OpenCL 1.2
4Gbyte DDR3-1866 RAM, Dual channel interface for 64bit data bus width
2 x SATA3 port, native SATA implementation via PCIe-gen2 to SATA3 interface
eMMC 5.0 (HS400) Flash storage and a UHS capable micro-SD slot.
2 x USB 3.0 host port
2 x USB 2.0 host port.
Gigabit Ethernet port
HDMI 2.0 for 4K display
40-Pin GPIO port
OS: Ubuntu 18.04 or Debian Stretch with Kernel 4.4 LTS, Android 7.1
Size: 90 x 90 x 20 mm approx. (excluding cooler)
Power: 12V/2A input (Attaching two 3.5inch HDD requires a 12V/4A PSU)
Price: US$110 (To be adjusted based on DRAM market price changes)
Mass production schedule: TBD
More information is available in the Odroid-N1 announcement.
Subscribe to Blog via Email
Join 97,456 other subscribers
Archives