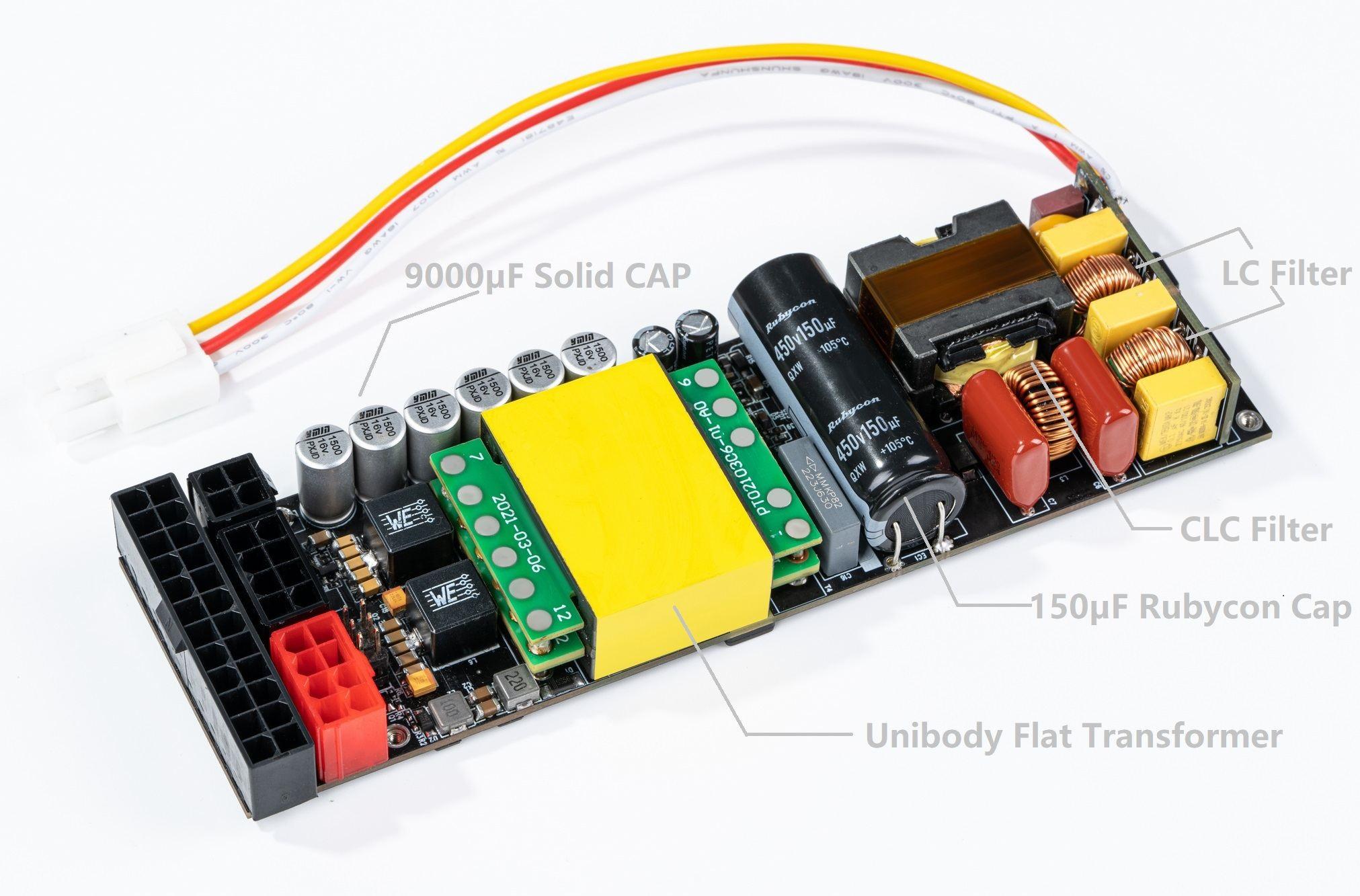 HDPLEX 250W is the World's Smallest Fanless ATX Power Supply Unit
HDPLEX company which is known for its fan-less and compact PCs, reveals its passive GaN AIO (All-In-One) ATX PSU ( Advanced Technology eXtended Power Supply) with an output power of 250W. It makes use of the cutting-edge GaN (Gallium Nitride) technology that can be found in some tiny USB-C power supplies. This compact PSU measures only 170mm x 50mm x 25mm and it works well with applications that have limited space.
The entire HDPLEX unit is just slightly larger and thicker than an average smartphone which makes it a perfect fit for SFF (Small Form Factor) PC configurations. Not only is it the smallest HDPLEX 250W GaN PSU in the world but it also provides a fully passive design that eliminates the requirement for an active cooling solution. This ATX PSU is covered with an aluminum alloy body that helps in quickly dissipate the heat to cool down the system. Since it is a fanless design, under full load it has a robust zero noise operation which makes it a great choice for applications like Home Theater and Recording Lab environments.
Though its size is small, it packs in 1.18W/cm³ super high power density that can effectively break the 1W/cm³ barrier with the help of its cutting edge GaN (Gallium Nitride) chip and a highly advanced LLC+PFC structure. This ATX PSU achieves 94% efficiency at full load while satisfying the Level V Energy Efficiency standard. The PFC stage makes use of two automotive-grade GaN FETs and the LLC stage also uses two automotive-grade GaN FETs. HDPLEX 250W uses four ATX 1KV 8A TTR8MF chips for full-wave rectification and guarantees a stable current for the output stage. It has a 1% Resistors to ensure there is no deviation for every key point in the chain.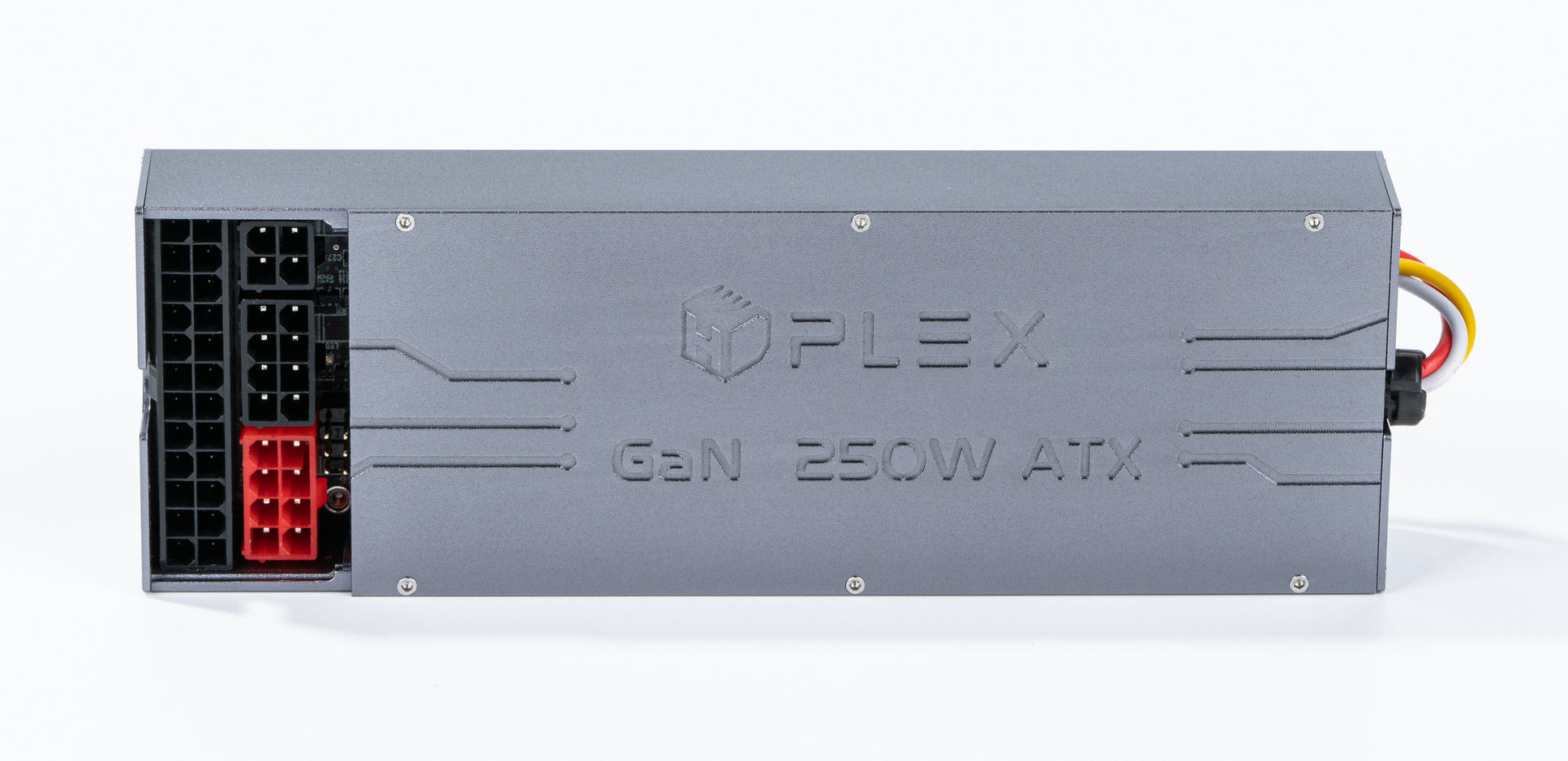 HDPLEX 250W GaN ATX PSU Specifications
Wattage: 250W
Input Voltage: 90V-264V 50/60hz
DC Ouput: +3.3V up to 10A | +5V up to 10A | +12V up to 20A | -12V up to 1A | +5VSb up to 3A
Max combined power for +3.3V and +5V – 80 W
Idle Power: <0.4W/0.1W
Noise Level: zero dB operation with fully passive/fanless design
 Power Density: 1.18W/cm³
Temperature Range: -10°C – 75°C
PFC+LLC Structure, Level 5 energy efficiency
2x auto-grade GaN FETs on PFC stage and 2x on LLC stage
Three Stage AC input filter to eliminate grid noise
4x ATX 1KV 8A TTR8MF Full-wave rectification
150µF Rubycon filter CAP and 9000µF Solid Cap
Detachable C14 IEC connector to support other AC input for custom projects
If the 250W of power is not enough we can also sync the unit with a second PSU to gain a combined output power of 500W. HDPLEX supports modular ATX output and sync with a second HDPLEX 250W via its sync cable. This configuration can be used to run the motherboard and CPU from one, while the second one could power the graphics card. Furthermore, HDPLEX 250W GaN PSU features a unibody flat transformer that has excellent consistency and eliminates the noise caused by vibration. Its PCB is made out of four 2oz copper layers that are fit for high current applications and swift heat transfer. HDPLEX also has a durable 150µF Rubycon filter capacitor and 9000µF solid caps alongside a three-stage AC filter circuit (2 LC+1 CLC) to eliminate interference from the power grid.
To learn more about it, visit the product page.
Join 97,426 other subscribers

Archives