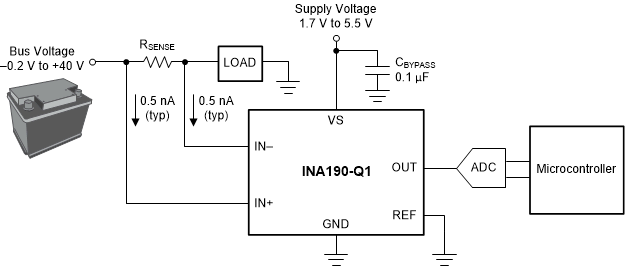 INA190-Q1, 40V, bi-directional, ultra-precise current sense amplifier
The INA190-Q1 is an automotive, low-power, voltage-output, current-shunt monitor (also called a current-sense amplifier). This device is commonly used for monitoring systems directly connected to an automotive 12-V battery. The INA190-Q1 can sense drops across shunts at common-mode voltages from –0.2 V to +40 V, independent of the supply voltage. In addition, the input pins have an absolute maximum voltage of 42 V.
Features
Low Supply Voltage, VVS: 1.7V to 5.5V
Wide Common-Mode Voltage: –0.2V to +40V
Low Shutdown Current: 100nA (Max)
Low Input Bias Currents: 500pA (Typ) (Enables Microamp Current Measurement)
Low Offset Voltage, VOS: ±15 µV (Max)
Accuracy:

Gain Error: ±0.2% (A1 Devices)
Offset Drift: 0.13µV/°C (Max)
Gain Drift: 5ppm/°C (Max)

Gain Options:

INA190A1: 25V/V
INA190A2: 50 V/V
INA190A3: 100V/V
INA190A4: 200V/V
INA190A5: 500V/V

Quiescent Current: 50µA at 25°C (Typ)
Package: 1.8mm x 1.4mm UQFN-10
The low input bias current of the device permits the use of larger current-sense resistors, thus providing accurate current measurements in the microamp range. The low offset voltage of the zero-drift architecture extends the dynamic range of the current measurement. This feature allows for smaller sense resistors with lower power loss, while still providing accurate current measurements.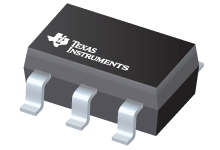 The INA190-Q1 operates from a single 1.7-V to 5.5-V power supply and draws a maximum of 65 µA of supply current. Five fixed gain options are available: 25 V/V, 50 V/V, 100 V/V, 200 V/V, or 500 V/V. The device is specified over the operating temperature range of –40°C to +125°C, and offered in an SC70 package.
more information: https://www.ti.com/product/INA190-Q1
Subscribe to Blog via Email
Join 97,776 other subscribers
Archives