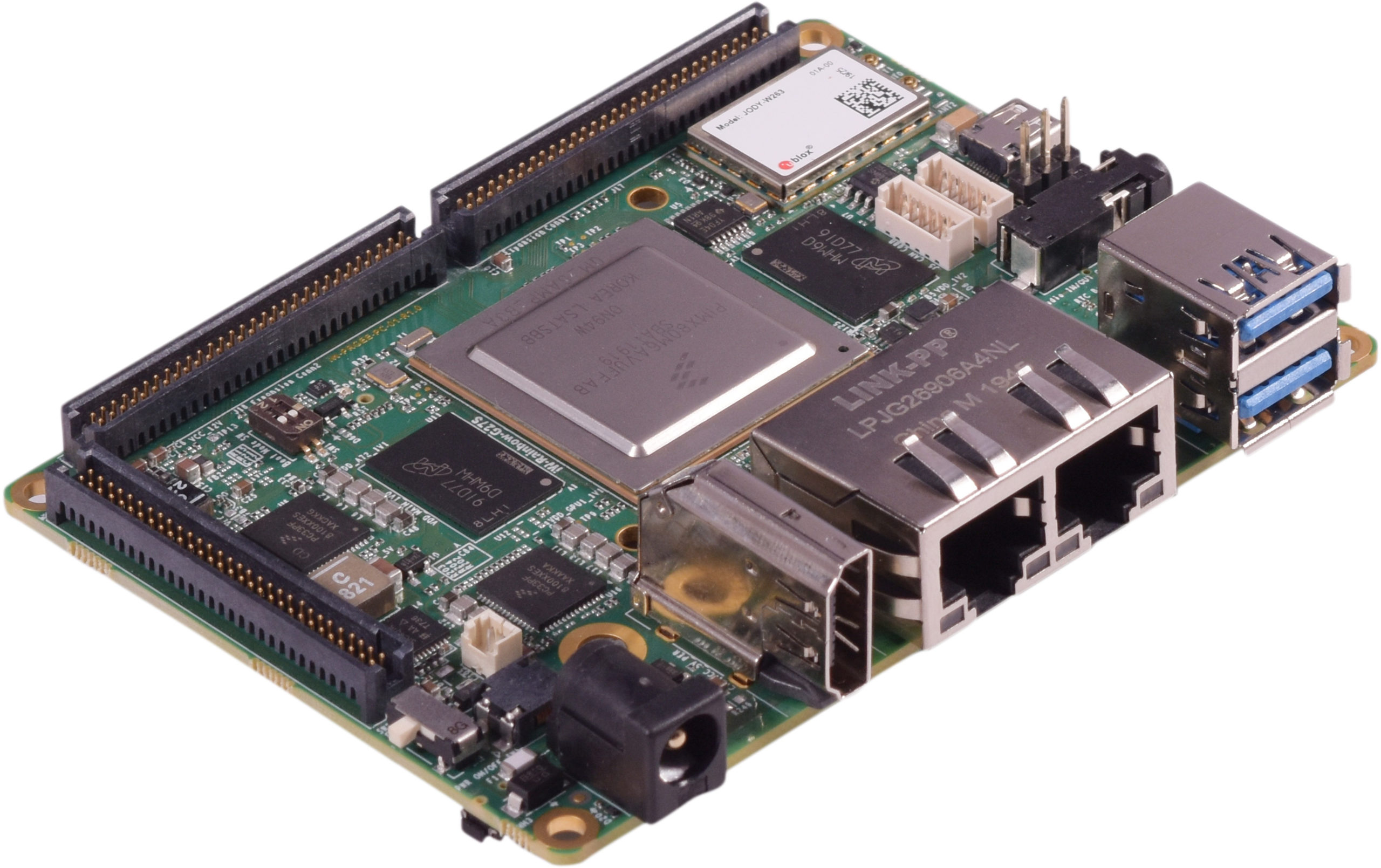 iW-Rainbow-G27S – i.MX8 Quad MAX/Quad Plus Pico ITX SBC
iWave's "iW-Rainbow-G27S" Pico-ITX SBC runs Linux or Android on an i.MX8 QuadPlus or QuadMax with up to 8GB LPDDR4, 2x GbE, 2x USB 3.0, 802.11ac/BT, M.2, HDMI in and out, and -40 to 85°C support. [via]
The i.MX8 Quad MAX/Quad Plus Pico ITX SBC integrates Dual Cortex A72 + Quad Cortex A53 Cores, Dual GPU systems, 4K H.265 capable VPU dual failover-ready display controller based i.MX8 QuadMax SoC with on SOM Dual 10/100/1000 Mbps Ethernet PHY,USB 3.0 hub and IEEE 802.11a/b/g/n/ac Wi-Fi & Bluetooth 5.0 module.
This board offers maximum performance with higher efficiency for complex consumer, medical and industrial embedded computing applications. With the 100mm x 72mm Pico-ITX form factor, the SBC is highly packed with all the necessary onboard connectors.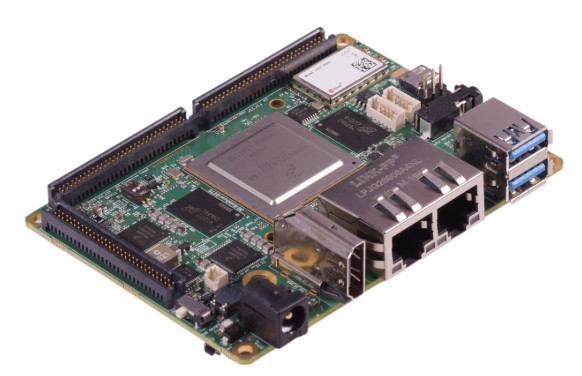 Highlights:
Dual Complex Core System:

 Complex 1:  4 x Cortex-A53 @ 1.2 GHz
Complex 2:  2 x Cortex-A72 @ 1.8 GHz

2 x Cortex-M4F @ 266 MHz for advanced system control
4K H.265 decode & 1080p h.264 enc/deccapable VPU
Enhanced Vision Capabilities (via GPU)
IEEE 802.11a/b/g/n/ac Wi-Fi & Bluetooth 5.0
Dual 1000/100/10 Mbps Ethernet
Up to 8GB LPDDR4 memory
Ultra-compact form size 100mm x 72mm
-40 to +85°C Operation
Specifications
Processor — NXP i.MX8 with VPU and HiFi4 DSP:

i.MX8 QuadMax — 2x Cortex-A72, 4x Cortex-A53, 2x Cortex-M4F, 2x Vivante GC7000 / XVSX GPU/VPU
i.MX8 QuadPlus — 1x Cortex-A72, 4x Cortex-A53, 2x Cortex-M4F, 2x GC7000Lite / XVSX GPU/VPU

Memory/storage:

4GB or 8GB LPDDR4
8GB eMMC (expandable)
MicroSD slot
SATA via M.2 B-key (see expansion below)

Networking:

2x GbE ports
802.11 a/b/g/n/ac + Bluetooth 5.0
M.2 with nano-SIM (see expansion below)

Media I/O:

HDMI 2.0a output port up to 4K
Micro-HDMI 2.0a input port
40-pin eDP connector up to 4K
MIPI-DSI/CSI, LVDS, SAI via expansion connectors (see farther below)
Quadruple display support
Audio I/O jack with I2S audio codec

Other I/O:

2x USB 3.0 host ports
Micro-USB 2.0 OTG port
RS-232 interface
CAN interface
Serial debug with optional JTAG and anti-tamper headers

Expansion:

M.2 B-key slot — 2x PCIe, USB 3.0 and 2.0, SATA, I2S, I2C, and HSIC with nano-SIM slot
Expansion Connector 1 — 4 lane MIPI-DSI and -CSI/I2C, SAI, CAN, QSPI, DMA/I2C, UART, M40
Expansion Connector 2 — 4 lane MIPI-DSI, 4-lane LVDS, CAN/SPDIF, DMA/I2C, SPI
Expansion Connector 3 — 4 lane MIPI-CSI, MIPI-CSI/I2C, 2x 4-lane LVDS, PWM, SPI, M41

Other features — RTC with battery connector
Power – 12/2A DC input via external adapter
Operating temperature — -40 to 85°C
Dimensions — 100 x 72mm (Pico-ITX)
Operating system — Linux 4.14.98; Android Pie 9.0.0; QNX 7.0.0; Xen
No pricing or availability information was provided for the iW-Rainbow-G27S. More information may be found in iWave's announcement and the iW-Rainbow-G27S product page.