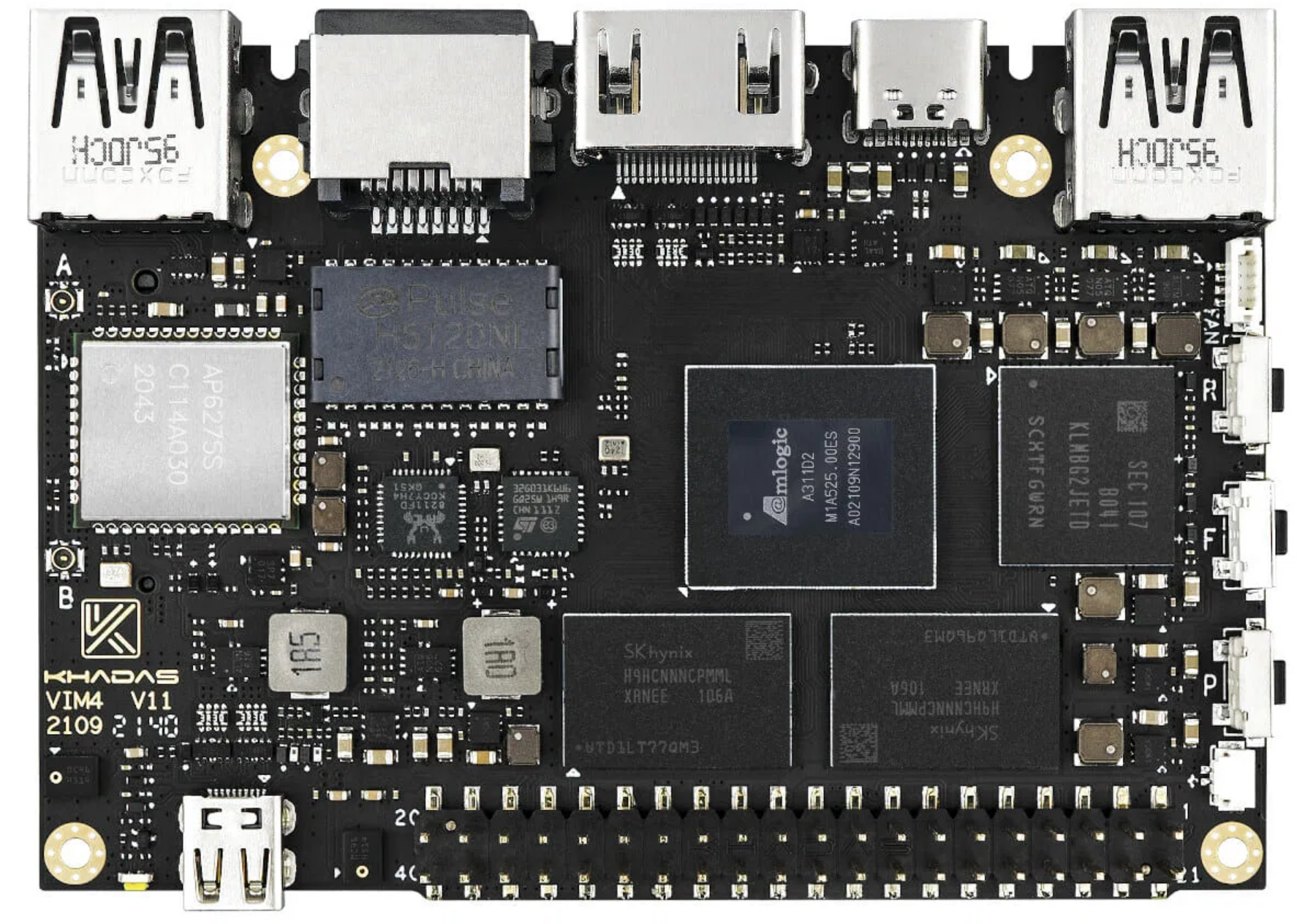 Meet Khadas Vim4 – An 8GB RAM,  Octa-Core Amlogic A311D2 SBC
Recent times have shown a variety of Linux-compatible SBCs. One of the most recent is the Khadas Vim4 launched as an enhanced version of its open-spec Khadas Vim3 to give developers enhanced development and deployment experience.
The Khadas Vim4 is designed on an octa-core – A73 and octa-core – A53 Amlogic A311D2 SoC with an 8GB LPDDR4 RAM for faster systems operation. The Amlogic A311D2 SoC has four Arm Cortex-A73 cores that run at 2.2GHz and four Cortex-A53 cores with a 2.0GHz clock rate.
The A311D2 has an upgraded GPU, an ARM Mali-G5 MP8(8EE) GPU compared to the Arm Mali-G5 MP4 GPU of hexa-core A311D. It supports 8Kp24AV1 video decoding with support for multi-video decoding and 4Kp50 video encoding. The SoC also supports LVDS, eDP, three HDMI 2.1 inputs at 4Kp60 already mentioned and V-by-One interface for fast data throughout over copper twisted-pair communication channels. The on-chip system is also compatible with 16MP ISP at 4Kp50 which allows an extra 4-lane MIPI CSI interface when compared to its junior.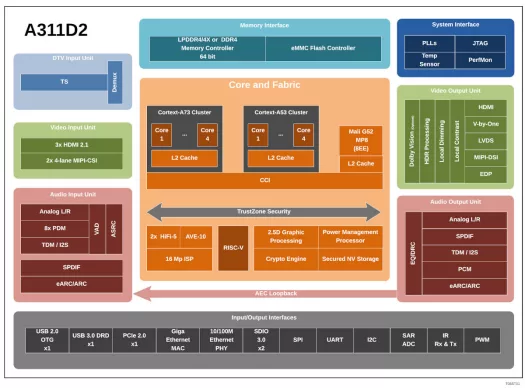 The board is further equipped with WiFi 6, 32GB eMMC flash, microSD card slot, 4Kp60 HDMI input/output; Gigabit Ethernet ports; 40-pins header, USB-3.0, 2.0, 2.0 OTG, 16MP ISP camera support and runs at 2112MHz. The Vim4 also features an STMicro STM32G031 Cortex-M0+ microcontroller that runs at 64MHz to ensure power management and boot media applications. The Khadas' board takes in an operating voltage of 5V – 20V range via its USB-C port or pogo pads to ensure a wide range of application conditions.
Apart from other advanced features, the Vim4 when compared to the Vim3, can be considered as a true upgrade. The Vim4 supports the use of M.2 PCIe and USB 3.0 at the same time, while the Vim3, allows either the use of a USB 3.0 (without PCIe) or USB 2.0 with PCIe at a time.
Key Features And Specifications of Vim4 Include:
SoC: Amlogic A311D2 octa-core processor with 4x Arm Cortex-A73 cores @ up to 2.2 GHz and 4x Cortex A53 cores @ up to 2.0 GHz, Arm Mali-G52 MP(8EE) GPU, NPU shown as TBD
MCU: STMicro STM32G031 Cortex-M0+ microcontroller @ 64 MHz for power management, customizations, and boot media configuration
8GB LPDDR4X @ 2112 MHz
32GB eMMC flash, 32MB SPI flash, microSD card slot
5V to 20V power supply via USB-C port or pogo pads
HDMI 2.1 up to 4Kp60
30-pin 0.5mm Pitch FPC Connector for 4-lane MIPI-DSI interface up to 1920 x 1080
eDP interface
LVDS and V-by-One interfaces
1x Micro HDMI port up to 4Kp60
Decoding
8Kp24 AV1, H.265, VP9
Supports multi-video decoding up to [email protected] + [email protected]
Dolby Vision and HDR10, HDR10+, HLG, and PRIME HDR video processing
Encoding: 4Kp50 H.265 / H.264 60fps decoder
8-ch I2S for microphone array applications over M2 connector
FPC connector for 2x 4-lane MIPI CSI with dual camera support; 16MP ISP
Gigabit Ethernet with WoL support
Dual-band 802.11a/b/g/n/ac/ax WiFI 6, 2X2 MIMO and Bluetooth 5.2 via Ampak 6275S module
1x USB 3.0 Type-A port, 1x USB 2.0 type-A port, 1x USB 2.0 OTG type-C port
KXTJ3-1057 3-axis digital accelerometer
M.2 Socket with single-lane PCIe 2.0, USB 2.0, I2S, I2C, ADC, 100M Ethernet PHY interface, GPIO, MCU_PA2
40-pins 2.54mm pitch header exposing:

CPU signals: USB, I2C, I2S, SPDIF, UART, PWM, ADC
MCU signals: SWIM, NRST, PA1

2x IR receiver
RTC & battery header
4-pin cooling fan header with PWM speed control
3x User LEDs
Power, Function and Reset buttons
XPWR pads for an external power button
On the software support part, Khadas is yet to release information and documentation on the software aspect but a notification on Cnx Software states that the Vim4 should support Ubuntu 20.04 with Linux 4.9 OS and LibreELEC; CoreELEC; Armbian; and Manjaro Arm as third-party images. This is based on the fact that A311D2 is only an enhanced A311D core.
As of writing this, no product page to reveal pricing and availability of the Khadas Vim4 has been created. Also, Amlogic A311D2 is yet to be included on Amlogic's website. Further information on Vim4 would eventually show up on Khadas' website. Information on A311D2 points to the A311D2's reference manual.